Can You Thoroughly Clean a Couch with a Carpet Cleaner?
Over time, fabric couches can accumulate stains, embedded dirt, and odors no matter how clean they appear. Regular vacuum cleaning only removes surface debris while leaving deeper grime untouched. When it's time to revive your couch and thoroughly clean it down to the base of the fibers, can you clean a couch with a carpet cleaner?
Many homeowners already own carpet cleaning machines and wonder if they can double up and use them on upholstery too. The good news is that you can effectively deep clean your fabric sofa or cushions using a carpet shampooer.
However, there are some important considerations regarding attachments, fabrics, and techniques to ensure optimal cleaning results without risking damage. With the right approach, carpet cleaner machines can safely lift stains, eliminate odors, and restore the appearance of well-loved couches.
Assess Your Couch Fabric and Overall Condition
Before deciding to clean your couch with a carpet shampooer, it's important to thoroughly assess the fabric type and current condition first. This careful inspection will help avoid potential risks and determine if using a carpet cleaner is advisable.
First, check any manufacturer's tags or labels on the couch cushions, underside, or frame for details on the fabric content and cleaning codes. Common couch fabrics include cotton, linen, microfiber, polyester blends, and leather. Velvet or very delicate silk fabrics are best cleaned professionally. If the label specifies "dry clean only" do not attempt to shampoo clean at home.
Leather couches require special leather cleaners and conditioners rather than carpet shampoo solutions. We recommend spot cleaning only with mild soap and water. Harsher chemicals may strip the protective finish. For velvet fabrics, it's also safest to spot and treat stains to avoid damaging the delicate pile.
Inspect the overall condition of older or well-worn couches. Excessively faded, ripped, or deteriorating fabrics are best left alone rather than risking further damage. However, cleaning can restore mildly worn cloth, microfiber, linen, and cotton couches. Check for colorfastness by rubbing a hidden area with a damp white cloth to ensure no dye transfers.
Also, assess the level of soiling. Surface dust and pet hair can be handled by regular vacuuming. But for deep stains, ground-in dirt, and lingering odors that normal cleaning can't fix, a carpet shampooer may be warranted.
Choose the Right Carpet Cleaning Solution
When tackling fabric upholstery cleaning with a carpet shampooer, using the correct cleaning solution is paramount. Refer to the machine's instruction manual or labels to verify if the included formulas can safely be applied to couches and other upholstered furnishings.
Many standard carpet cleaning solutions and detergents will also work well for cleaning sofas and chairs. Look for formulations labeled as multi-surface, pet-friendly, or containing natural enzymes that help dissolve stains – these are typically gentle enough for various fabrics. Avoid harsh solvents, bleaches, or acidic cleaners that could lead to discoloration or damage.
Match the cleaning solution to the couch's fabric composition for the best results. For cotton, linen, or polyester blends, an all-purpose, enzyme-based cleaner is suitable. Wool and delicate fibers call for milder shampoos to prevent shrinkage or texture changes. Always spot-test an inconspicuous area first.
While scented solutions may leave a pleasant aroma after cleaning, they can also irritate those with allergies. Fragrance-free options provide stain-fighting power without added perfumes. DIY cleaning recipes like vinegar, dish soap, and water also work well for natural, eco-friendly upholstery cleaning.
Use the Upholstery Tool Attachment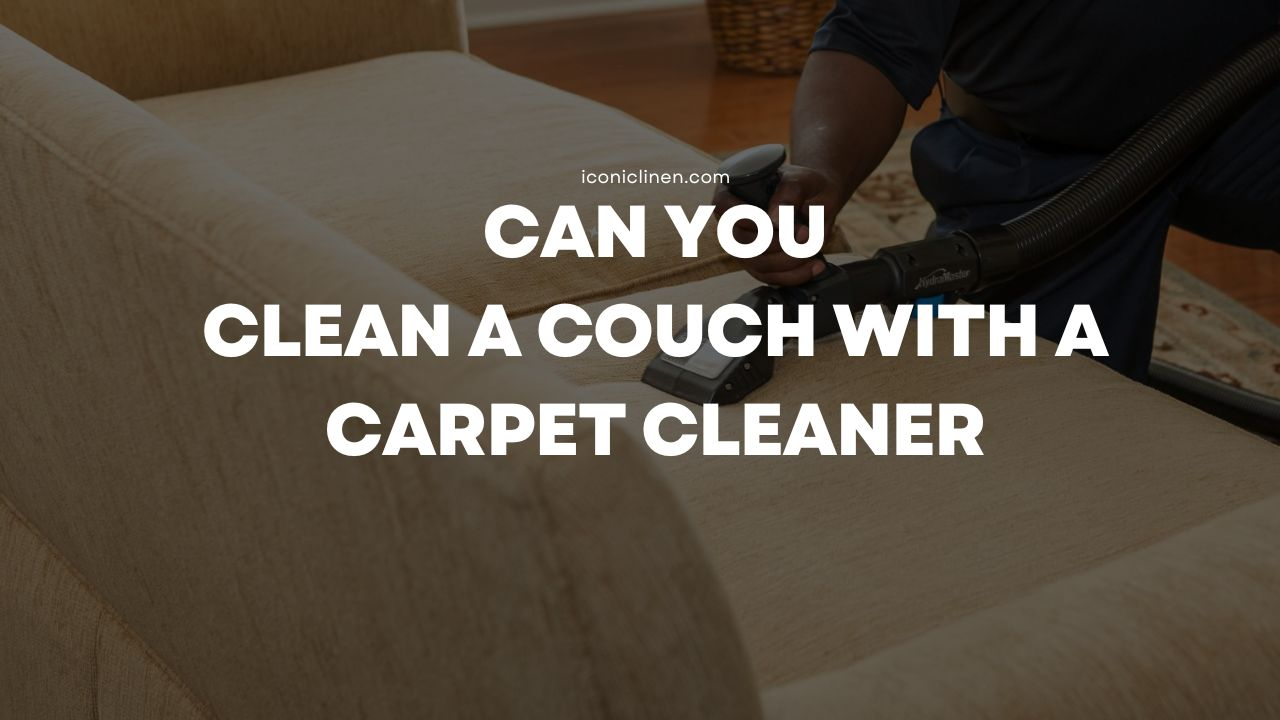 One of the most important accessories for effectively cleaning a couch with a carpet shampooer is using the correct upholstery attachment. Never use the main floor cleaning nozzle on a sofa – it is much too large and abrasive. Upholstery tools are specifically designed for fabric surfaces.
The main differences that make upholstery attachments ideal include:
A narrow cleaning head that can fit into tight spaces between cushions and crevices. Wider floor nozzles would not be able to access these areas.
Soft bristle brush agitators gently scrub fabric without snagging or damage. The brushes help loosen and lift embedded dirt and stains.
Adjustable suction levels to prevent excess water extraction that could ruin couch cushions. Strong suction suited for carpets can damage delicate upholstery.
Avoiding direct contact between the suction intake and fabric, which could cause puckering or tearing. Upholstery tools have a guard plate to prevent this.
Lightweight construction that allows for easy maneuvering over cushions and armrests. Heavy floor nozzles would be unwieldy.
Some also come with a crevice tool for cleaning into tufted buttons, seams, and tight areas.
While using the upholstery cleaner attachment, we recommend further adjusting the suction lower than normal. Test on an inconspicuous area first. Very delicate fabrics may require holding the tool just above the surface to prevent even slight damage from agitation. Work slowly and methodically.
For couches with hard-to-reach spots around the sectional sofa with led lights and USB and corners, detach the upholstery tool and use the hose crevice tool to target clean those areas. The proper attachments make all the difference in safely deep cleaning upholstery.
Test First and Work in Sections
Before fully cleaning your entire couch or sofa with a carpet shampooer, it's highly advisable to do some preliminary testing first. Choose an inconspicuous area on the bottom or back of a cushion to test the carpet cleaning solution and suction.
Apply a small amount of upholstery cleaner to the test spot following the product's instructions. Allow it to soak in for the recommended time.
Use the upholstery attachment to gently scrub and extract the area. Make sure to cover any wet spots with a clean towel to aid in drying.
Once completely dry, inspect for any discoloration, bleeding of dyes, damage or shrinkage to the fabric. If any of these occur, do not proceed! The cleaner or attachment method needs to be adjusted.
If the test section dries normally without any adverse effects, you can move forward confidently with cleaning the rest of the couch. Work in manageable sections so that no cushion or area sits wet for too long.
Divide the sofa into logical cleaning segments – one cushion at a time, outside backs/arms together, etc.
Thoroughly shampoo, rinse and extract one section. Remove any moisture with clean towels.
Allow at least 24 hours of drying time before cleaning the neighboring area.
Proper drying is key to preventing mold or mildew growth within couch cushions and fabrics. Stick to small, segmented cleaning areas rather than trying to shampoo the entire decorating ideas for living room with tan sofas at once. Check for dampness between sections. Fans and dehumidifiers will accelerate drying time if needed in humid climates.
Cleaning Steps and Technique
Once you have thoroughly tested and prepared a section of fabric upholstery for cleaning, follow these tips for proper technique using a carpet shampooer:
First, vacuum the area to remove any loose dirt or debris. This will avoid clogging the machine.
Fill the cleaner with an appropriate upholstery cleaning solution and attach the upholstery tool. Make sure the suction is set on low.
Apply the cleaning solution evenly across the cushion or back according to the product directions. Less is often more – oversaturation risks excess moisture.
Allow the formula several minutes to penetrate and start lifting stains before scrubbing. Don't let it over-dry.
Using gentle overlapping strokes, scrub the upholstery tool across the fabric to agitate dirt. Apply light pressure – excessive scrubbing can damage fabrics.
Work methodically section-by-section until the entire cushion or area has been covered. Focus on stained spots.
Once scrubbed, use suction to thoroughly extract all moisture and clean residue. Avoid wetting the couch padding underneath.
Switch towel covers frequently to absorb excess water and speed drying. A portable fan directed in the area also helps.
When fully dry, vacuum again before moving on to clean the next couch section.
Proper technique is key. Let the cleaning solutions do the work rather than harsh scrubbing. Steady, overlapping motions allow the upholstery tool to cleanse evenly and reach into creases. Avoid over-wetting the fabric which takes longer to dry and risks mold issues. With some practice using a carpet cleaner for upholstery becomes quick and effective.
Finish and Maintain Your Couch
Once you've fully cleaned your fabric couch section-by-section using a carpet cleaner, there are some final steps to finish revitalizing the upholstery and keep it looking its best between cleanings:
After the entire couch has had time to dry completely, give it a final vacuum. This will help lift the nap and pile of fabrics like cotton, linen, chenille, and wool. Use an upholstery brush and crevice tool to remove any remaining debris from seams and tufts.
Consider applying an upholstery protectant spray or fabric conditioner to help repel future stains, prevent fading from sunlight, and make vacuuming easier. Test products first and follow label directions closely. Reapply every few months.
Spot clean stains immediately using a mild laundry detergent and upholstery brush rather than letting them set in. This minimizes the need for frequent overall cleanings.
Depending on your household usage, plan to do a periodic deep clean of the entire couch about 1-2 times per year using the carpet shampooer. For families with kids or pets that cause heavier soiling, you may need to clean couches more often.
Rotate cushions regularly and use upholstery cleaner on tossed pillows too to prevent uneven wear and soiling. Flip reversible cushions as well.
Keep pets off furniture, remove shoes before sitting, and enforce strict no food/drink rules to avoid stains.
Using a carpet cleaner to revive and deep clean upholstery might seem unconventional at first. However, with the right attachments, cleaning solutions, and techniques these machines can safely and effectively freshen fabric couches and chairs.
By thoroughly assessing your couch's fabric and condition first, choosing a gentle upholstery detergent, and using the specialist suction tool, you can lift stains from deep within fibers and restore a worn couch's appearance. Working methodically in small sections is crucial to allow proper drying and avoid water damage.
Homeowners can extend the time in between professional cleanings by properly caring for and maintaining their upholstered living room furniture. Not only does DIY carpet cleaning save money, but it enables you to hygienically refresh upholstery on your own schedule. Follow the guidance here and that worn, stained couch will soon look revived.