The Best Coastal Floor Lamps for A Beachy Living Room Look
Coastal design brings the beauty of ocean and beach landscapes into home decor. The relaxed vibes, natural materials, and bright pops of color create a soothing oasis inside. Floor lamps are a great way to illuminate a beach-themed living room and enhance the coastal look. The right fixture can provide both function and seaside flair.
Floor lamps work well in living rooms to provide flexible lighting for various needs. Task lighting helps illuminate spaces for reading or hobbies while ambient fills the room with soft general lighting. The tall, vertical silhouettes of floor lamps save space and prevent visual clutter. Their height also casts light in helpful downward directions without glare.
Coastal-style options range from weathered driftwood to woven rattan in shades of ocean blue and sand. Nautical accents like ropes, shells or sailboats transport the mind straight to sunny shores. Let's explore the wonderful world of coastal floor lamps to find your perfect match.
Materials for Coastal Floor Lamps
Coastal floor lamps come in natural materials that evoke the textures and hues of ocean landscapes. Driftwood, bamboo, rattan, and wicker offer organic variety for beachy living rooms. By thoughtfully selecting materials, you can create a relaxed, seaside look. Let's explore some top options.
Driftwood Floor Lamps
Driftwood floor lamps bring a raw, organic vibe to coastal living rooms. The gnarled branches and weathered gray wood look like they just washed ashore. Each piece of salvaged driftwood has a unique shape that adds rustic, natural charm.
Pair driftwood lamps with other beachy accessories like woven baskets, linen pillows, or jute rugs. The casual texture pairs perfectly with whitewashed furniture, antiqued mirrors, and reclaimed wood accents. Choose lamps with soft white linen or burlap shades to complement the neutral coastal palette. The organic driftwood base contrasts nicely with the clean shades.
Bamboo Floor Lamps
Bamboo is a renewable grass that makes a sustainable, sturdy material for floor lamps. The smooth texture and natural blond color of bamboo stems evoke tropical getaways.
Bamboo lamp bases have thin segments stacked or woven together for visual interest. Opt for bamboo with a simple design to keep the tropical vibe casual and beachy. Use bamboo lamps to add warmth and texture to coastal living rooms or bedrooms. Pair them with rattan occasional tables, woven wall hangings, or palm leaf prints.
"Bamboo is naturally resistant to water, bacteria, and insects, making it ideal for humid beach homes," says interior designer Laura Sea. "Just avoid direct sunlight to prevent fading."
Rattan and Wicker Floor Lamps
For a lightweight, beachy texture, choose lamps made of woven rattan or wicker. The thin, interlaced strands have a casual, artisanal look perfect for breezy seaside decor. Natural hues like brown and tan add warmth against cool blues and whites.
Rattan and wicker floor lamps have an airy, open weave that maintains visibility and feels less bulky. Use these lamps in small living rooms to avoid visual weight. The organic texture pairs nicely with linen, cotton, and other natural fabrics.
"Rattan's ability to withstand moisture makes it ideal for covered outdoor living areas," says designer Simon Watts. "Just bring them inside during rainstorms."
Look for tightly woven rattan or wicker with few gaps to prevent dust and debris accumulation. Avoid direct sunlight to prevent fading of the natural fibers over time. With proper care, rattan and wicker lamps bring a laidback texture to living rooms.
Styles of Coastal Floor Lamps
Coastal floor lamps encompass a range of styles from nautical to tropical. By selecting a motif that fits your aesthetic, you can refine that breezy, beachy vibe. A rope-wrapped ship wheel lamp feels right at home in a Cape Cod cottage, while palm tree motifs complement a Southern California bungalow. Let's explore some popular coastal lamp styles to inspire your living room.
Nautical Floor Lamps
Nautical coastal lamps incorporate sailing motifs and classic color combos. Anchor shapes, ship wheels, knots, and rope detailing bring maritime character. Combine navy blues, bright whites, and pops of red for a yacht club feel. Use nautical lamps to make even landlocked living rooms channel crisp New England coastlines.
Some key elements that define the nautical lamp style:
Rope-wrapped poles or braided rope shades
Blue and white stripes or color blocking
Anchors, compass roses, steering wheels
Weathered wood with chipped paint
Model sailboats or lanterns as the base
"To reinforce the nautical vibe, hang a large map, display a collection of vintage maritime photos, or drape bold patterned blankets over your couch," suggests interior designer Sara Towers.
Tropical Floor Lamps
Tropical coastal lamps feature playful motifs and bold color palettes inspired by exotic locales. Pineapple and palm tree silhouettes hint at Hawaiian holidays, while bamboo stems and rattan textures conjure the Caribbean. Bright pops of citrus colors like lime, mango and turquoise capture lush vibes.
Key elements of the tropical coastal lamp aesthetic include:
Pineapple and palm tree shapes
Woven rattan, bamboo stems or coconut fibers
Bright pop colors like turquoise, sunshine yellow
Hibiscus flower or banana leaf patterns
Natural materials and casual woven textures
"Don't be afraid to mix patterns for a playful, layered look," says interior stylist Mia Chen. "Just keep the color palette cohesive with similar bright tropical hues."
Cottage Floor Lamps
Cottage lamps focus on weathered, whitewashed wood and subtle coastal accents for cozy charm. Aged driftwood bases and linen lampshades keep the look relaxed and beachy. Pale seashell or starfish appliques add subtle maritime touches without going overboard.
Design elements of the cottage coastal lamp aesthetic include:
Weathered gray driftwood bases
Whitewashed wooden pedestals
Burlap, linen or cotton lampshades
The subtle cream color palette
Pale seashells, starfish or sand dollar motifs
Rope wrapped columns
Wavy textures and shapes
"Cottage lamps pair nicely with wicker chairs, antiqued mirrors, and natural fiber rugs for a beach house living room with rustic charm," recommends interior designer Laura Blue.
Whether you prefer a nautical captain's quarters or a breezy tropical escape, the right coastal floor lamp transports any space to the serene mood of shoreline sunsets. Let your favorite coastal motifs guide you to the perfect lamp style.
Shapes of Coastal Floor Lamps
Coastal floor lamps come in a variety of shapes that provide both form and function. The silhouette makes a statement while impacting the light quality. Arched designs mimic waves and sand dunes with soft, diffused glows. Column lamps occupy narrow spaces with focused light. Let's explore popular coastal lamp shapes to find your perfect fit.
Arched Floor Lamps
Arched floor lamps feature gracefully curved silhouettes that evoke rolling ocean waves and windswept beach landscapes. The sloping shade diffuses light for a soft, glowing ambiance perfect for living rooms and bedrooms. Arched poles are subtle yet striking, adding movement while preventing glare.
An arched floor lamp positioned by a chair or sofa creates a cozy reading nook bathed in ambient light.
Some benefits of arched coastal floor lamps:
Evoke natural ocean shapes
Soften and diffuse light
Add dimension without clutter
Complement curved architecture
When selecting an arched lamp, look for sturdy metal construction and proportional sizes. Avoid extreme angles that seem precarious or shades that are too small for ample lighting.
Column Floor Lamps
Column floor lamps feature tall, vertical silhouettes that direct light downward in a focused beam. The slender pillar design occupies minimal floor space, making it ideal for tight spots and narrow living rooms. Column lamps slide discretely into corners to provide task lighting as needed.
Key advantages of column coastal floor lamps:
Take up little visual space
Direct light where needed
Easy to position in tight areas
Streamlined and modern
Column lamps act like lighting scaffolds, directing illumination precisely where you aim the head.
Look for adjustable column lamps to customize beam direction. Stable wide-set bases prevent tipping.
Geometric Floor Lamps
For a contemporary twist, geometric floor lamps add striking facets and angles to coastal decor. Bold modern shapes like spheres, cubes, pyramids, and octagons make a statement. Crisp lines and edges contrast beautifully with soft furnishings for visual interest.
Benefits of geometric coastal lamps:
Provide a modern update
Make decor focal points
Complement minimalist styles
Add sculptural dimension
Geometric lamps cast diffuse ambient glow when covered with drum shades or directional beams when topped with narrow cylindrical shades.
Varying lamp shapes casts living rooms in the perfect coastal glow. Before selecting a floor lamp, consider your lighting needs and decorative style. The silhouette makes a bold difference.
Where is the best place to put a floor lamp in the living room? Next to seating areas like sofas, chairs, and chaise lounges to provide task lighting for reading or ambient glows for conversation areas.
Where do floor lamps look best? In corners to save space, flanking sofas or chairs to cast surrounding light, and by windows to illuminate views and fill rooms with natural light.
Functionality of Coastal Floor Lamps
When selecting a coastal floor lamp, functionality is key for optimal performance. Think about your specific lighting needs. Do you need a bright task light for reading nooks? Or is a soft ambient glow preferred for relaxation areas? The lamp's adjustability, size and special features also impact functionality.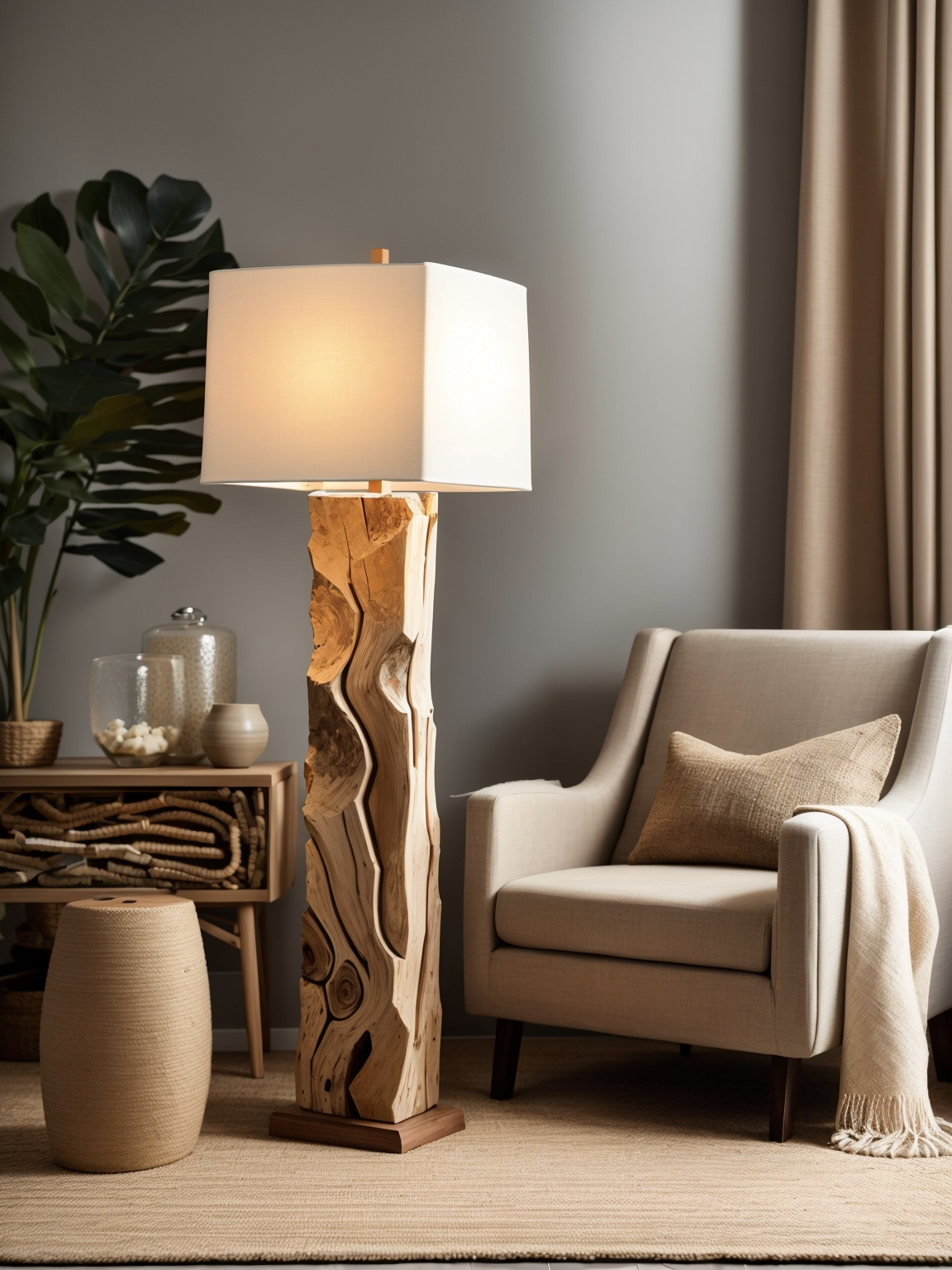 For focused task lighting, look for adjustable floor lamps that let you direct the beam precisely where needed. Multi-jointed arms allow custom positioning while dimmer switches provide control over brightness levels. Seek LED bulbs for crisp illumination without glare.
If ambient lighting is the goal, choose drum or alabaster glass shades that naturally diffuse light in a soft, even distribution. The glow is perfect for illuminating conversation areas and providing overall background lighting throughout a room.
For versatility, multi-head floor lamps offer the best of both worlds. Use one articulated head for task needs like a reading chair while a second head with a drum shade provides ambient glows. The combination ensures lighting suits any activity.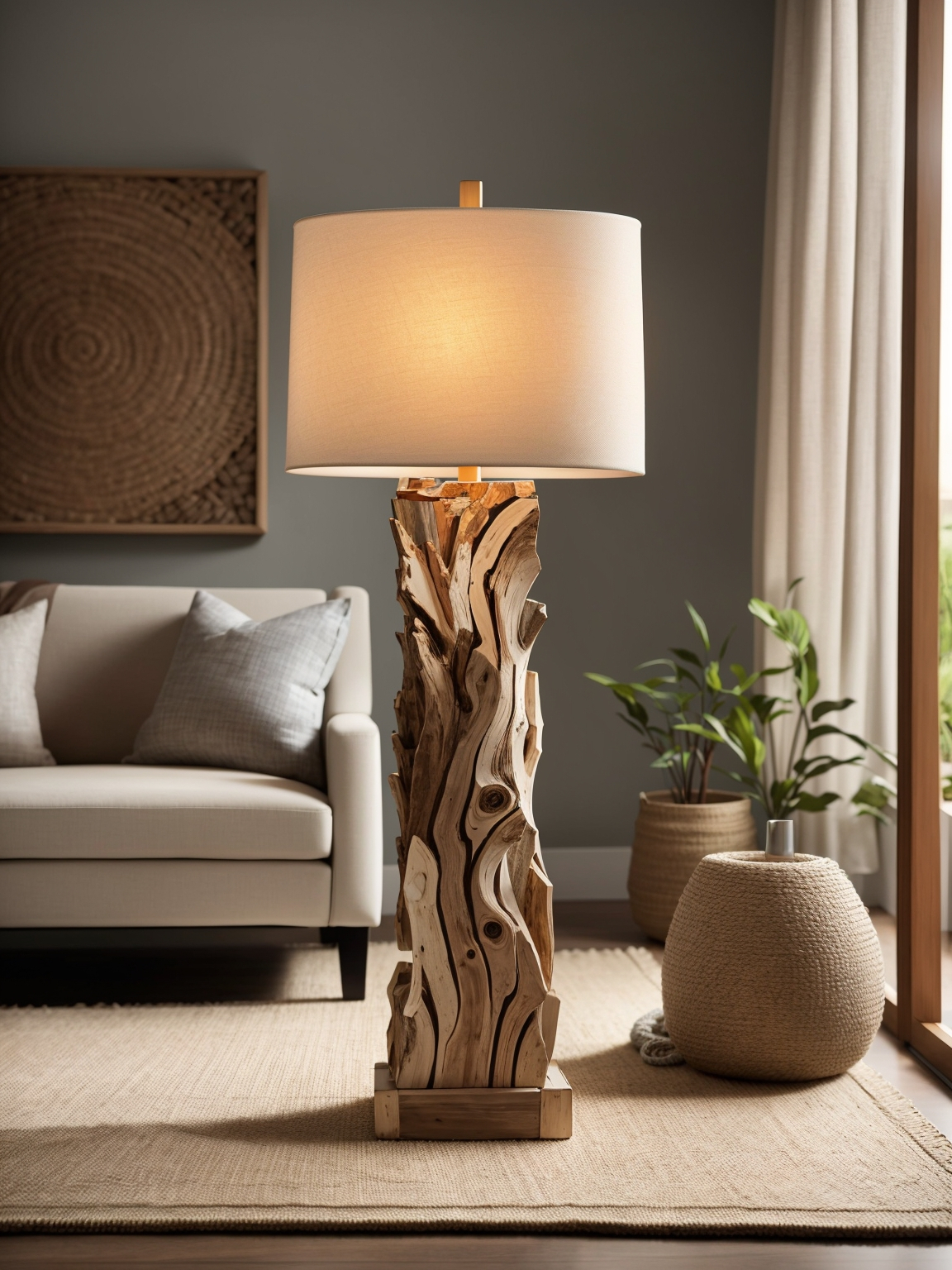 In beachy living rooms with neutral brown carpet and furnishings, add pops of ocean blue or sunlight yellow in the lamp shades and bases. Coastal color accents enliven the space while matching the laidback vibe.
Convenient extras like built-in outlets, USB charging ports and touch-sensitive controls add functionality. Outlets in the pole eliminate messy cords while charging docks keep devices powered. Touch controls provide easy dimming access. Determine which special features will improve usability.
Placement also optimizes function. Position floor lamps in corners to save space, by seating areas to illuminate tasks, or near windows to spotlight views. Measure to ensure the proportions fit well within the room. Careful lighting creates the perfect coastal atmosphere.
With the right blend of adjustable task lighting and ambient glows, plus special features and thoughtful positioning, a coastal floor lamp becomes a functional focal point.