Decorating Ideas for Living Room with Tan Sofas
Are you tired of looking at the same old decor in your living room with tan sofas? Don't worry, there are plenty of creative ways to give your space a fresh, new look. From incorporating furniture pieces and houseplants to creating an environmentally friendly and cozy atmosphere. This blog post will give you plenty of ideas that will inspire and motivate you to make the changes you desire. Read on and find out how you can transform your living room into an activity-filled, cozy space.
Focal Point Creation
Creating a focal point in your living space is essential for a well-balanced and inviting atmosphere. Furnishings play an important role in making this happen and finding the right tan sofa can be the key to success. When you have chosen your perfect couch, it's time to create a statement wall behind it that will enhance its presence. Consider playing with geometric features or displaying artwork or accessories, whatever makes you feel comfortable and most at home.
Using area rugs is also highly recommended as they provide texture, and color, and can 'elevate' an interior look when placed beneath furniture pieces like sofas.
Best Color Palettes to Match Tan Sofas
Tan sofas have a quality that can integrate seamlessly into any space. When it comes to choosing the best color palette for tan sofas, it's important to consider the style of your home and your personal preferences. Painting your walls in modern or contemporary colors or using minimalist shades of grey can all make your tan sofa stand out, while adding a pop of bold and bright colors provides contrast.
Soft and calming colors like blues and browns also transition beautifully with tan furniture, letting you reflect the view from outside while creating a warm and inviting atmosphere indoors. Choosing the best color palette should be based on how much emphasis you want to place on each room's design. Whether you go with a monochromatic color scheme or combine several hues, there's always an opportunity to make your living space come alive.
Accessorizing the Room
Adding decorative accessories to your tan sofa can brighten up and bring a living room together. Throw pillows are a great way to add color and texture, as different fabrics such as knits, florals and more bring out the best in them. They not only add style but also comfort to anyone who sits on the couch. Blankets are another excellent way of adding warmth and design, they're perfect for snuggling up with family or friends during movie night.
Coffee tables and end tables are another great addition that can be used to entertain guests while they're visiting while providing a spot for extra storage or displaying items like plants or vases. Side tables come in various shapes, sizes, and wood finishes allowing you to customize them depending on any theme imaginable.
Wall art or wall hangings such as photographs and paintings over abstract shapes that reflect your decor theme are great additions as well. With these simple touches, you will be able to turn any tan sofa into an eye-catching piece.
Utilizing Wall Space
When decorating with tan sofas, utilizing your wall space is key. Not only does it create a great backdrop for furniture and other elements, but it also adds interest to the layout. To make the most of this area, draw out a plan first and then get creative.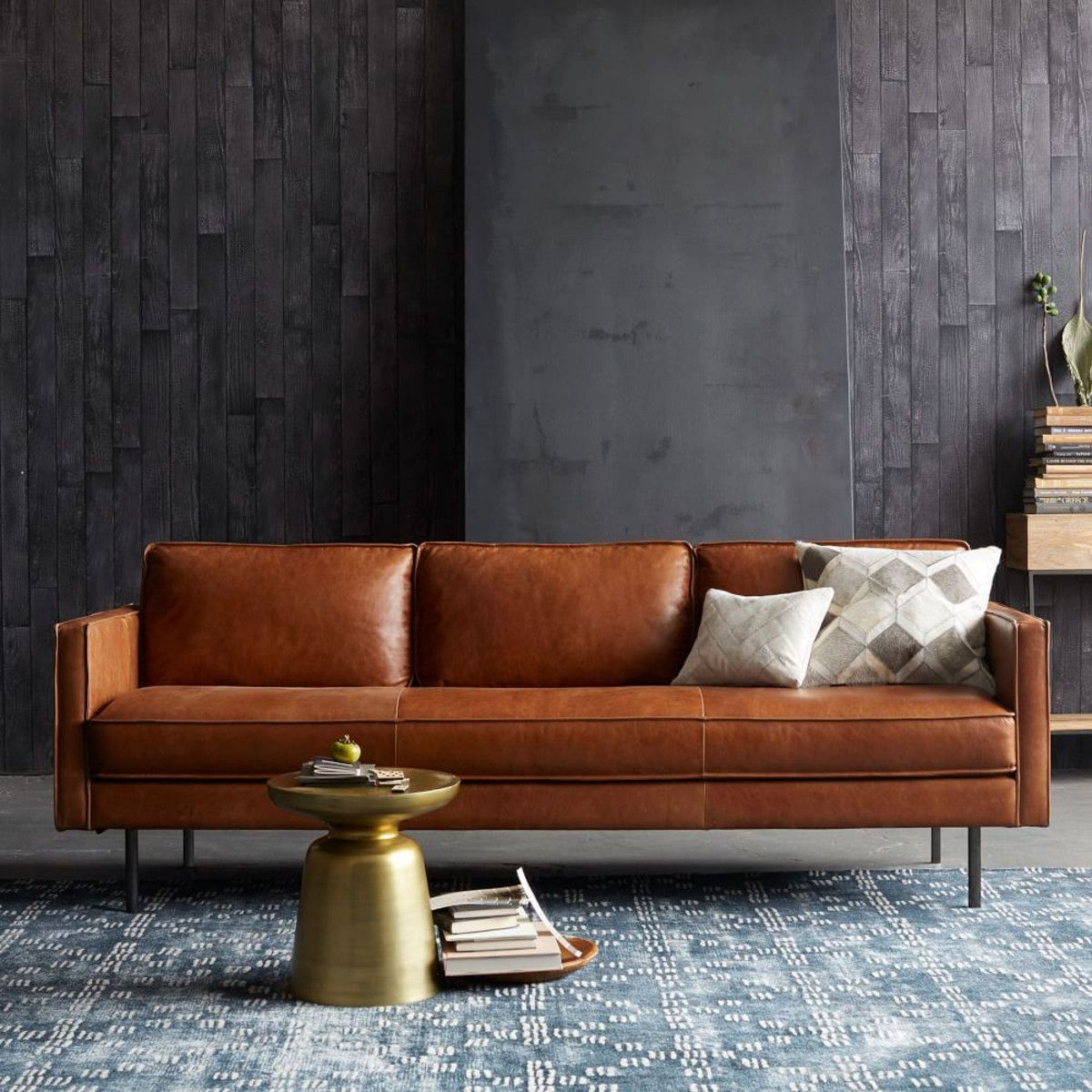 Wall decals can instantly add color and texture to walls; opt for rustic designs or something more traditional. Wallpapers are ideal if you would like something more permanent or intricate, choose a light-colored scheme that complements your sofa's shade of tan.
Mirrors work well in any room as they reflect natural light during the day and artificial lights at night. Use them strategically around seating areas to create an inviting atmosphere.
For artwork, hang pieces on both sides of the fireplace or sofa to fill in empty spaces while providing character within the room; photos will bring out emotion while paintings will provide bold splashes of color.
Shelves can be hung up high over windowsills where small accessories, plants and books can be tastefully displayed without taking away from other elements in the room.
How to Add Warmth With Tan Sofas?
Adding warmth to any interior space is an art that requires careful thought and consideration. At the heart of it all lies the tan sofa, a classic mid-century style piece of furniture that has been used for decades to create inviting, comfy interiors. Tan sofas are not only fashionable, but also functional. They can be paired with hardwood flooring for a luxurious look or contrasted with lighter colors for a more modern take on traditional decor.
Textural elements play an important role in making tan sofas stand out even more. Think tufted leather cushions and ottomans upholstered in chocolate brown hues; these pieces add texture and dimension while also tying together other colors you might have incorporated into your room, such as blues or greens. It's important to make sure all textiles look cohesive by accessorizing them with classic wooden pieces like teak furniture, which will lend the timeless elegance every living room needs.
We can't forget about the reasons for using brown carpet living room ideas which give coziness through their warm color scheme from earthy hues like mahogany to terracotta tones.
Choosing the right lighting is key when incorporating tan sofas into your living space. To truly enhance the elegant appeal, use layered warm tones like brass and copper to bring out subtle shades in your upholstery fabric as well as create an intimate atmosphere. For an extra cozy feel, why not consider adding a fireplace? Whether you opt for electric or wood-burning options, there's no denying the comforting atmosphere fireplaces bring.
Decorating ideas for living rooms with tan sofas have a lot of potential to make your living space look beautiful and reflect your style. With the right combination of colors, patterns, textures and furniture pieces, you can create an inviting atmosphere that is ideal for both relaxation and entertainment.