The Future of Furniture: Sectional Sofas with Built-in LED Lights and USB Ports
Have you ever imagined lounging on a sectional sofa that not only provides comfort but also has built-in LED lights and USB ports? This is the future of furniture! Sectional sofas are an essential part of any living room, and the addition of LED lights and USB ports takes it to the next level.
In this article, we will explore the benefits of sectional sofas with built-in LED lights and USB ports, the different designs available, and the materials used to make them.
The Benefits of Sectional Sofas with Built-in LED Lights and USB Ports
Sectional sofas have undergone a modern transformation, integrating the latest technology to provide enhanced convenience and comfort. The addition of LED lights and USB ports are among the most prominent features of these sofas. The LED lights illuminate the seating area, enhancing the viewing experience while also providing better visibility for reading or working on your laptop. With the USB ports, you can charge your devices without leaving the comfort of the couch, keeping you connected at all times.
These sectional sofas are perfect for those who love entertainment and technology. Some models feature built-in speakers that offer an immersive experience. You can connect your phone or tablet to the speaker system using Bluetooth, providing a surround sound system while you lounge on the couch. Remote controls are also included, allowing you to adjust the volume and bass levels without moving from your seat.
Comfort is always a top priority when it comes to furniture, and sectional sofas don't disappoint. They are designed to provide ample space for sitting and lounging, with upholstered cushions and pillows that are soft to the touch. Some models even have adjustable headrests and handrests, allowing you to find the perfect position for relaxing. With a variety of colors and designs to choose from, you can customize the sofa to match your house's decoration and background.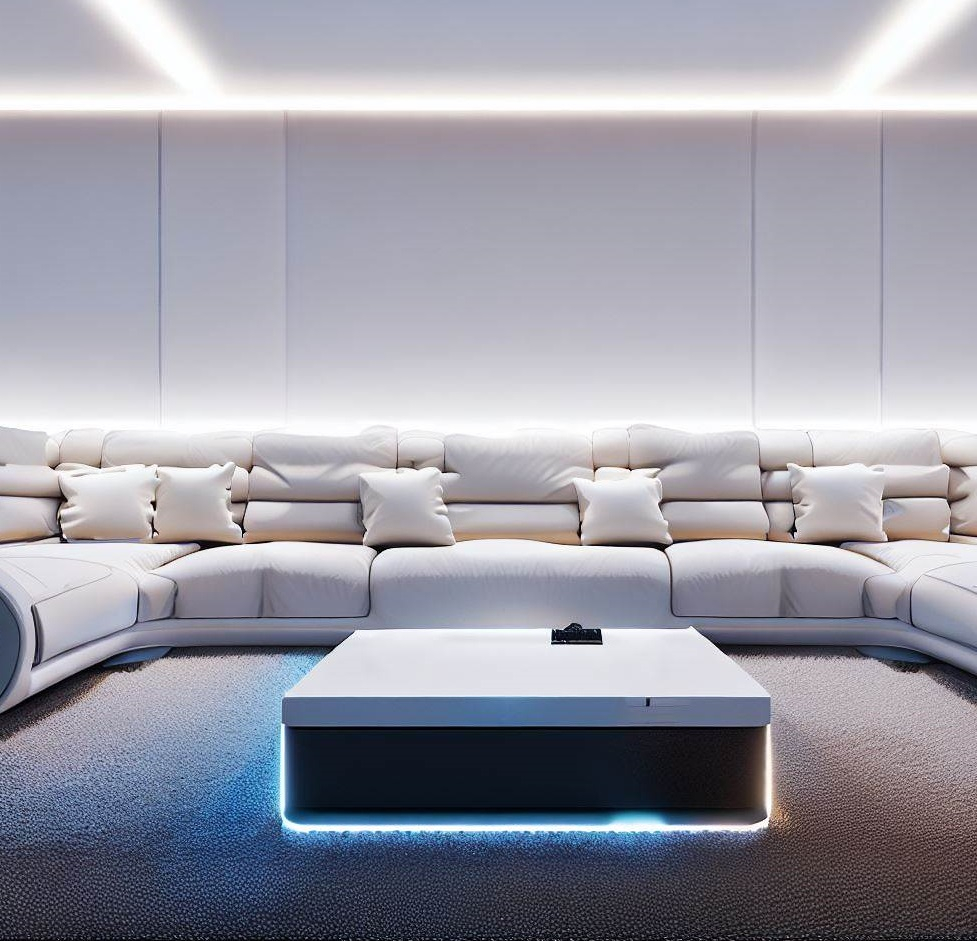 If you're planning to host parties or gatherings, sectional sofas are the perfect solution. They can seat a large number of people comfortably, providing ample space for everyone to lounge and relax. You can configure them in different shapes to fit the layout of your house, with left or right-hand facing options available. Some models also come with a built-in table or compartment for remotes, accessories, and other items.
In addition to providing comfortable seating, sectional sofas also offer a luxurious feel. They are designed to make a statement, with features such as adjustable headrests, backrests, and reclining seats. The frames are sturdy and durable, and the materials used for the upholstery are of high quality. The overall effect is one of sophistication and contemporary style.
Different Designs and Materials Used in Sectional Sofas with Built-in LED Lights and USB Ports
These sofas come in various designs and materials to cater to different preferences and budgets.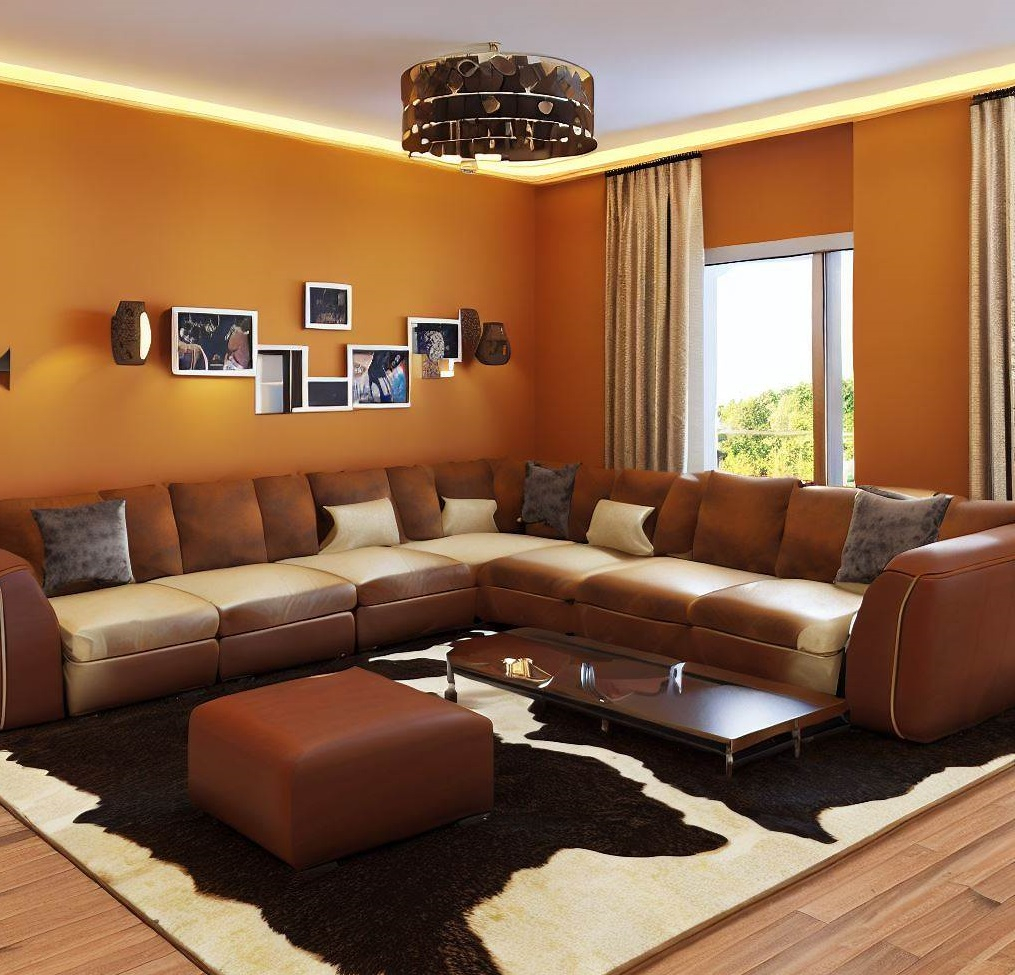 One popular design is the L-shaped sectional sofa, which provides ample seating and is ideal for small living spaces. It usually has a chaise lounge on one side and a regular sofa on the other. Another popular design is the U-shaped sectional sofa, which is ideal for large living rooms and open floor plans. It provides a lot of seating and can serve as a room divider.
In terms of materials, sectional sofas can be made from different fabrics, including velvet, linen, and microfiber. Leather sectional sofas are also popular for their durability and luxurious look. Cowhide is another material that is increasingly being used to create unique and eye-catching sectional sofas.
The frames of sectional sofas can be made of wood, metal, or a combination of both. Wooden frames are sturdy and provide a touch of natural elegance to the furniture. Metal frames, on the other hand, are lightweight and durable, making them ideal for modern and contemporary designs.
The cushions and headrests of sectional sofas are usually upholstered to provide comfort and style. The upholstery can be customized to suit different preferences, including color and texture. Lumbar support cushions are also available to provide additional comfort for those who suffer from back pain.
The Availability and Placement of Sectional Sofas with Built-in LED Lights and USB Ports
Sectional sofas with built-in LED lights and USB ports have become increasingly popular due to their convenience and versatility. These sofas are available in various shapes and sizes, such as sectionals, corner couches, and lounges, and can be customized to fit different configurations. They are often upholstered in different fabrics and come in a range of colors, from white to dark hues, allowing them to blend in with any decor. Additionally, they feature headrests, handrests, backrests, and cushioned mattresses for maximum comfort.
Some of the key features of sectional sofas with LED lights and USB ports include:
LED Lighting: These sofas feature lighting fixtures that are designed to illuminate the area around them, providing a soft and ambient glow. The lighting can be adjusted using a remote control or a built-in console, allowing users to set the mood for different occasions. Additionally, the lighting can be turned off when not in use to save energy.
USB Ports: These sofas come equipped with USB ports that allow users to charge their devices while relaxing on the couch. The ports are often located inside hidden compartments or on the armrests, providing easy access to charging stations. Some sofas even feature built-in docking stations for laptops and desktop computers, making them perfect for working from home.
Center Tables: Many sectional sofas with LED lights and USB ports come with built-in center tables that can be used to display decor, hold drinks and snacks, or as a workstation. The tables can be customized to fit different shapes and sizes, and are often located adjacent to the seating area for easy access.
Sectional sofas with LED lights and USB ports are a luxury item that can add comfort and convenience to any home. They are perfect for entertaining guests or for relaxing with family and friends. If you're interested in purchasing one of these sofas, be sure to visit a showroom or browse online for the latest designs and merchandise.