Kitchens with Gray Flooring: Design Ideas and Material Options
Gray floors can give your kitchen an elegant, sophisticated look while also being highly durable and practical. If you're considering a new kitchen floor, going with gray is an on-trend color choice that works beautifully with both light and dark cabinetry.
Gray floors visually expand smaller kitchens and provide a neutral base that allows you to get creative with wall colors, countertops, backsplashes, and decor. Whether you prefer a cool gray with blue undertones or a warm beige-influenced gray, there are many shades and gray flooring materials to choose from.
Gray Kitchen Flooring Options
When choosing a gray floor for your kitchen, you'll want to consider the pros and cons of different flooring materials. Here are some of the most popular options for gray kitchen floors:
Porcelain and Ceramic Tile
Glazed porcelain and ceramic tiles are elegant and easy-to-clean choices for gray kitchen floors. Made from natural clay and quartz, these tiles are fired at high temperatures to create a dense, durable finish. The color extends throughout the tile (not just on the surface), so porcelain and ceramic tiles resist scratching, staining, and fading. Large format tiles can emulate the look of stone at a lower cost.
Pros: Extremely durable, water-resistant, easy to clean, variety of gray shades and patterns
Cons: Harder underfoot than wood or vinyl, dropped items can crack tiles, grout needs sealing
Concrete
Stained, dyed, and stamped concrete floors provide a sophisticated industrial look. Concrete offers unparalleled durability, customization, and seamless installation compared to tile. If sealed properly, concrete is stain-resistant and functions well in kitchens.
Pros: Strong and long-lasting, can replicate look of stone and wood, seamless installation, stays cool
Cons: Very hard surface, requires intensive sealing and maintenance, staining and cracking possible over time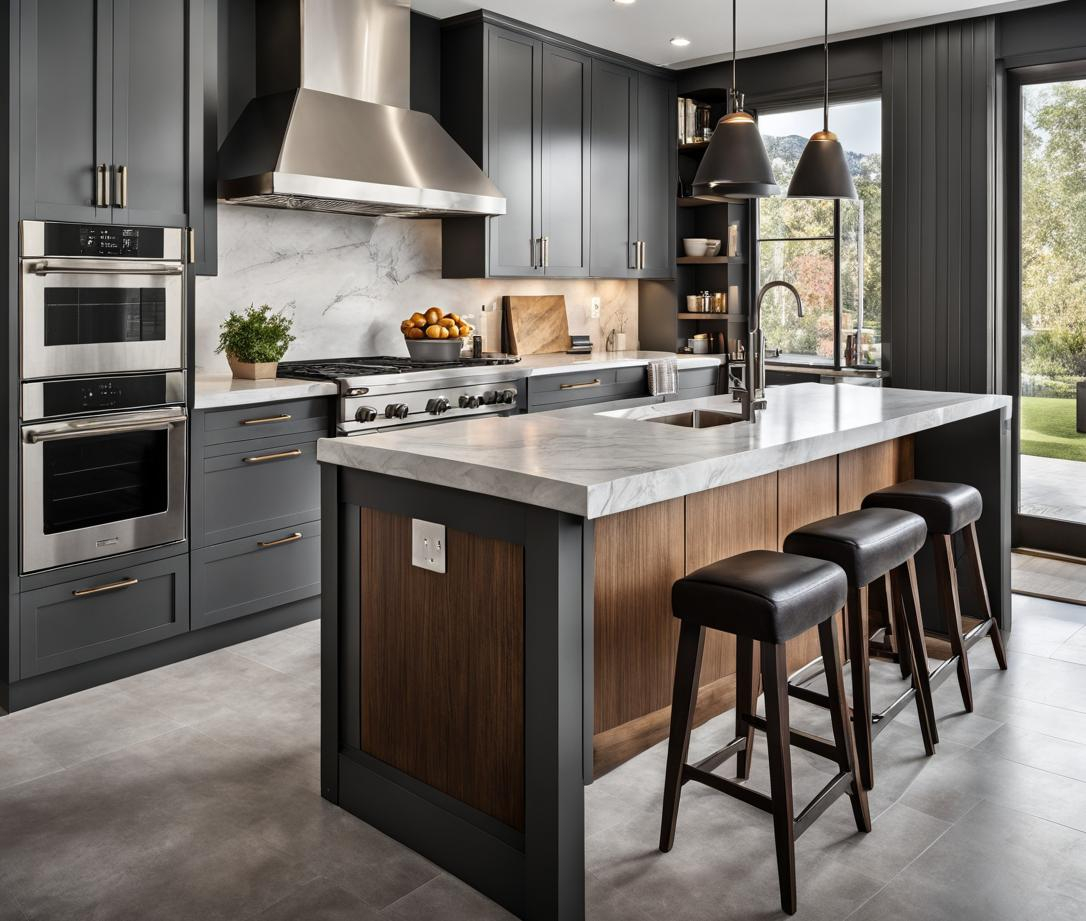 Engineered Hardwood
Made with real wood on top and composite wood layers below, engineered hardwood offers the beauty of real hardwood with added stability. Gray-stained oak, ash, maple, and hickory create a timeless flooring look. Durable finishes reduce scratching.
Pros: Attractive natural wood look, warm underfoot, variety of gray stains, resists warping
Cons: Avoid excessive moisture, susceptible to dents and scratches, higher upfront cost than vinyl or laminate
Laminate
Laminate mimics the look of real wood, tile, and stone floors with a durable melamine surface layer and attached backing. Most laminate now has a scratch, fade, and moisture resistance. Gray laminate is budget-friendly and easy to install and clean.
Pros: Durable, cost-effective, vast color/pattern options, easy DIY installation, kid/pet-friendly
Cons: Not as durable as real wood or tile, not for wet areas, lacks resale value of higher-end floors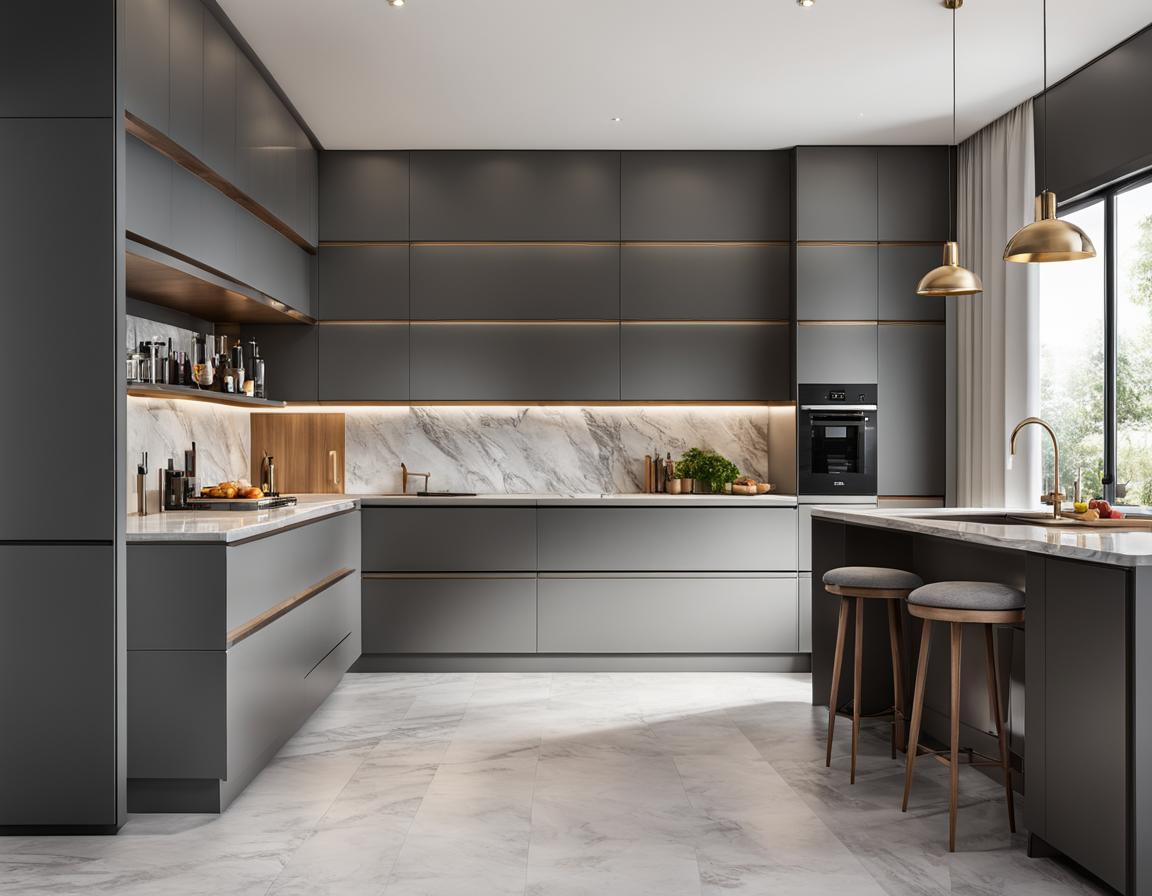 Luxury Vinyl Tile (LVT)
Luxury vinyl tile contains a resilient core topped with a scratch- and stain-resistant wear layer. Waterproof, inexpensive, and easy to install, LVT comes in realistic wood and stone looks. Groutless vinyl is great for beginners.
Pros: Affordable, extremely durable, waterproof, extensive style options, easy DIY install
Cons: Can stain from rubber backing of rugs and mats, needs underlayment on concrete
For most homeowners, porcelain or ceramic tile and luxury vinyl provide the best value, durability, and realism in gray kitchen floors.
The Appeal of Gray Floors in Kitchens
Gray floors offer several aesthetic and practical advantages that make them well-suited to busy, high-traffic kitchens:
Provides an Elegant, Sophisticated Look
Whether you prefer a dark charcoal gray or a softer pale gray, gray floors project elegance and sophistication. The cool undertones of grays feel calming and refined. Gray floors complement both modern and traditional kitchen designs.
Works with Both Light and Dark Cabinetry
The versatility of gray allows it to work beautifully with both light and dark cabinet colors. Pair a dark charcoal floor with crisp white cabinets for contrast. Or match a light gray floor to gray cabinets for a monochromatic vibe.
Visually Expands Smaller Kitchens
The subtle hue of gray floors makes kitchens appear larger and airier. The reflective surface also bounces light around. This helps a dark or windowless kitchen feel more spacious and open.
Easy to Match With Other Kitchen Colors and Materials
As a neutral backdrop, gray floors are easy to coordinate with your existing kitchen design or any color scheme you choose. Gray also pairs well with popular countertop materials like white marble or quartz.
Durable and Easy to Maintain
Options like porcelain tile and luxury vinyl are extremely durable and easy to sweep and mop, perfect for kitchens. Their hardness also resists scratches from appliance dragging and table legs. Less worry about gray floors showing dirt or wear over time.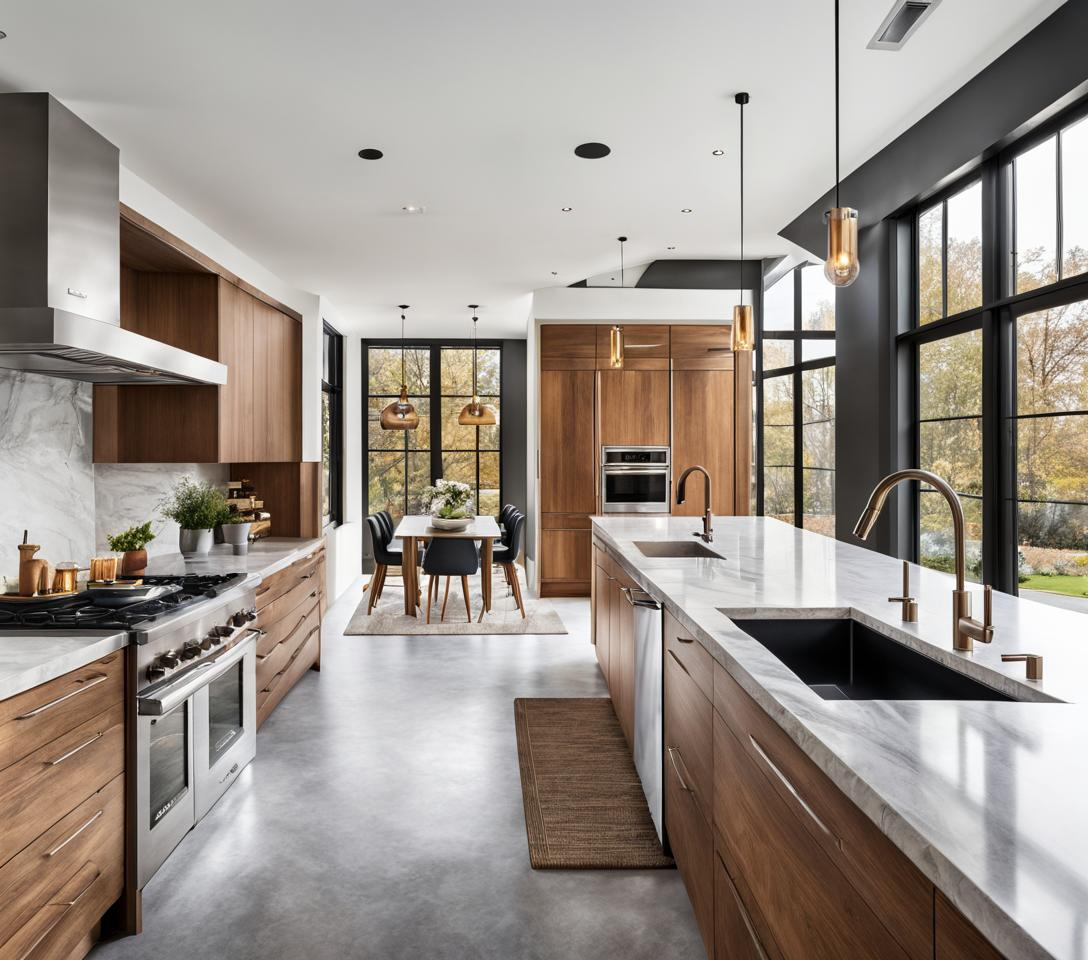 Choosing the Right Shade of Gray
One of the fun parts of choosing a gray floor is deciding on the perfect gray hue and aesthetic for your kitchen. Here are some tips:
Light Gray vs. Dark Gray
The level of contrast you want will impact whether you choose a lighter or darker gray floor. Dark charcoal gray makes cabinets and walls pop. Light gray reads a bit more subtle and is easier to keep clean looking.
Warm Grays vs. Cool Grays
Gray floors come in a spectrum from warm grays with beige, brown, or taupe notes to cooler grays with blue undertones. Generally, warm grays pair well with wood cabinets, while cool grays complement modern kitchens.
Consider How Lighting Impacts Color
The way light hits your floor impacts how the gray color is perceived. Large windows wash floors in natural light, muting the color. Lower-light kitchens appear a bit darker. Factor in light when choosing a gray shade.
Doing some sample boards with your cabinetry, countertop materials, and paint colors can help your home in on the perfect gray. You'll get to see how the gray floor pairs with other kitchen elements under your actual lighting conditions.
Design Ideas for Gray Kitchen Floors
Ready to see how stylish gray floors can look in real kitchen designs? Here are some eye-catching ways to incorporate gray floors with various cabinetry and decor styles:
Dark Gray Tile Floors with White Cabinets
For crisp contrast, pair charcoal gray floor tile with bright white cabinets. Glass-front uppers keep the mood airy. Add pops of color with a multicolored backsplash and brightly colored appliances.
Light Gray Wood Flooring with Medium Wood Cabinets
Warm up a kitchen with hardwood floors stained a weathered gray. Contrast with medium walnut cabinets. Accent walls in materials like brick, shiplap, or marble provide texture.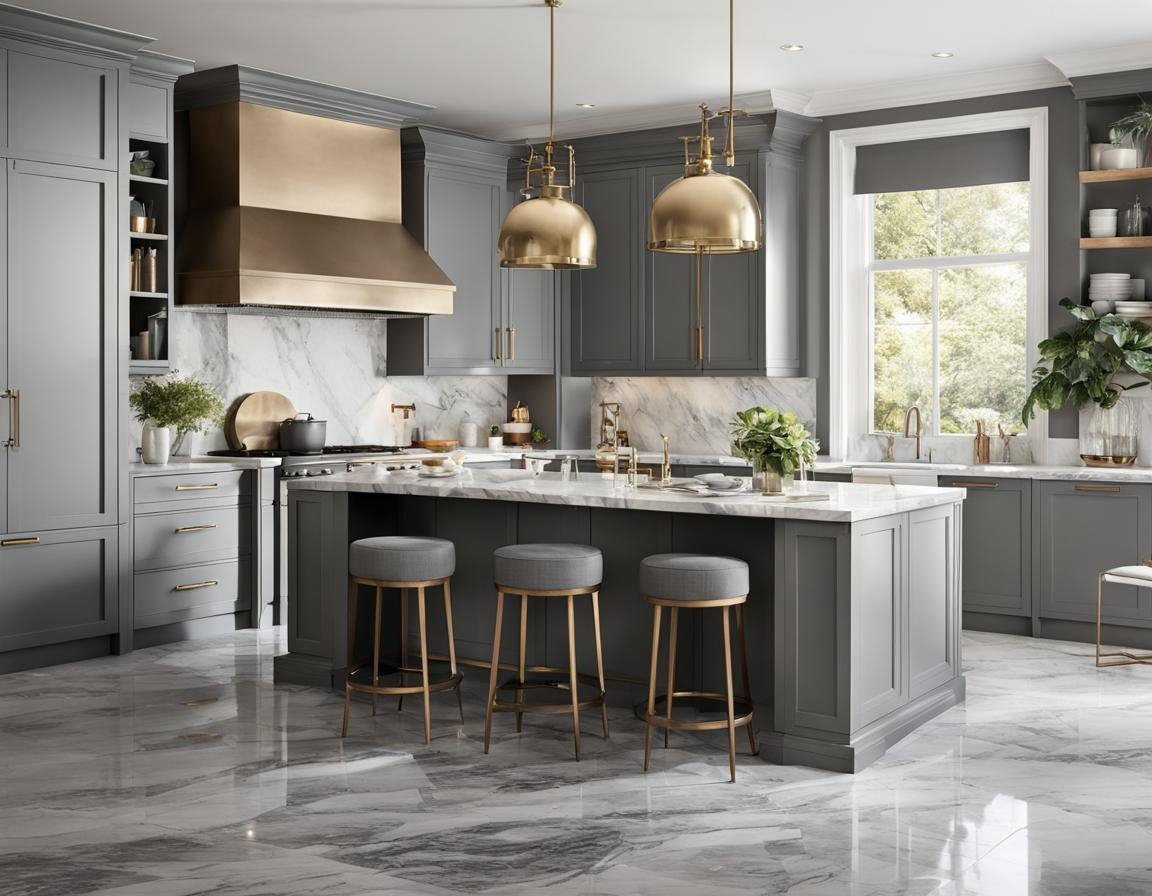 Gray Concrete Floors with Dark Gray Cabinets
Industrial chic meets modern farmhouse with stained gray concrete floors and deep gray painted cabinets. Exposed beams, stainless steel appliances, and brass hardware continue the aesthetic.
Gray LVT Floors with White and Gray Cabinets
Two-toned kitchens are on trend, like this combo of white uppers and gray lowers. Pair with easy-care luxury vinyl plank flooring in a light neutral gray with subtle variation.
Bold Gray Tile Floors with Colorful Cabinets
Make a gray floor pop with unexpected cabinet colors like navy blue, teal, or emerald green. Keep the rest of the decor minimal for a bold, graphic look.
With the right kitchen cabinet and countertop combinations, gray floors work beautifully as part of both minimal, modern spaces as well as cozy traditional kitchen designs.
Gray Flooring Costs
The cost of gray floors ranges quite a bit depending on the material:
Ceramic and porcelain tile: $3-20 per sq. ft. installed
Concrete: $4-15 per sq. ft. installed
Engineered hardwood: $6-15 per sq. ft. installed
Laminate: $1-5 per sq. ft. installed
LVT vinyl: $2-8 per sq. ft. installed
More affordable options like laminate and LVT provide the look of gray floors for less. For best value, stick with standard sizes versus custom cutting. DIY installation can also reduce costs dramatically.
Caring for Gray Kitchen Floors
To keep gray floors looking fresh, follow these care and maintenance tips:
Sweeping and Mopping
For tile, stone, and waterproof vinyl floors, regular sweeping or vacuuming then mopping are the main upkeep. Use pH-neutral cleaners. Check grout and seam sealer yearly.
Avoiding Scratches
Softer woods and laminates require furniture pads, avoiding spiked heels, and prompt spill cleanup to minimize scratches and moisture damage.
Sealing and Resealing
Penetrating sealers help protect concrete and grout lines from stains. Reapply sealers every 1-2 years as directed. Avoid acidic cleaners on concrete.
With the right gray flooring material for your lifestyle and proper care, your new gray kitchen floors can maintain their good looks and water resistance for years to come.
Alternatives to Gray Floors
While gray floors are incredibly popular right now, they aren't for everyone. Some alternatives to consider:
White or cream floors for an airy, beachy vibe
Wood-look tile or planks for traditional charm
Black floors for a modern edge
Patterned or colored concrete adds uniqueness
Marble, slate, or travertine natural stone tiles
Talk to flooring specialists to weigh the pros and cons of all kitchen flooring options. Be sure to bring home samples to see colors in your space before finalizing your selection.
Designing Your Dream Kitchen with Gray Floors
Gray floors can add stylish refinement or sleek modern appeal to any kitchen design. With numerous shades and durable flooring materials to choose from, it's easy to find the perfect gray flooring to match your cabinets, counters, and overall aesthetic.
Take your time deciding on the right gray hue and visit stores to view floors in person before committing. A well-chosen gray floor could just be the transformative design element your kitchen needs.