L-Shaped Twin Bed with Storage to Make the Most of Your Space
Maximizing space in a small bedroom could be made easier with an L-shaped twin bed with storage. However, there are a few things you should know before making a purchase. Moreover, functionality should also be considered when picking the right L-shaped twin bed with storage unit. In this blog post, we'll discuss everything from the amount of storage space an L-shaped twin bed offers to how to make the most of this versatile bed.
These beds take up less floor space than two separate twin beds and offer extra storage underneath the bed frame. Here's a closer look at why l-shaped twin beds with storage might be the right choice for your child's bedroom.
Types of L-Shaped Twin Beds with Storage
L-shaped twin beds with storage are a great way to save space in a small room. There are many different types and styles of L-shaped twin beds, so you can find one that fits your needs and taste. Here is a list of some popular types of L-shaped twin beds:
Bunk Beds
Bunk beds are perfect for siblings who share a room or for sleepovers. Most bunk beds have stairs leading up to the top bunk, but there are also models available with ladders. Many bunk beds come with built-in drawers or shelves underneath the bottom bunk, which is perfect for storing extra bedding or toys.
Futon Beds
Futon beds are usually less expensive than regular twin-size mattresses, and they offer more flexibility since they can be used as both a bed and a sofa. Some futon models even come with storage beneath the seat cushion, making them ideal for small spaces.
Captain's Beds
Captain's beds feature drawers underneath the mattress frame. It's perfect for storing clothes, linens, or other items out of sight. These twin beds come in cherry or espresso wood finishes and are great in transitional or traditional homes.
Reasons Why an L-Shaped Twin Bed is Ideal for Small Spaces
If you live in a small space, you know that every inch matters. When it comes to choosing furniture, you need pieces that are both functional and stylish. An L-shaped twin bed is the perfect solution for those who want to make the most of their smaller living spaces. Here are a few reasons why an L-shaped twin bed is ideal for small spaces:
It maximizes floor space
With an L-shaped twin bed, you can make use of all the available floor space in your room. This means there's more room for other furniture pieces or even extra walking space.
It's versatile
An L-shaped twin bed can be used as a sofa during the day and transformed into a comfortable sleeping surface at night. This makes it perfect for homes where space is limited but guests are often present (such as studio apartments).
It looks great
Let's face it: Regular beds can be kind of boring to look at (especially if they're crammed into a tiny guest bedroom). But with its sleek lines and modern appeal, an L-shaped twin bed will add style points to any room decor.
It's affordable
An L-shaped twin bed is a great option for small space living. And since it doesn't take up much room, you can splurge on other things like decor or storage solutions.
It's easy to find
These days, you can find L-shaped twin beds at most major retailers (even Ikea carries them!). This means that you don't have to spend hours scouring online or driving around town to track one down.
Not only does it have the ability to be adjusted to fit either person , but it also offers more storage room under the bed than a traditional double bed. Additionally, headroom is plentiful, so you don't have to worry about bumping your head on the ceiling.
The Benefits of Investing in an L-Shaped Twin Bed with Storage
The storage features make this bed the perfect choice for anyone who wants to store items in one place without taking up a lot of room. Plus, it can double as a bedroom set and a bonus room-making it a great investment!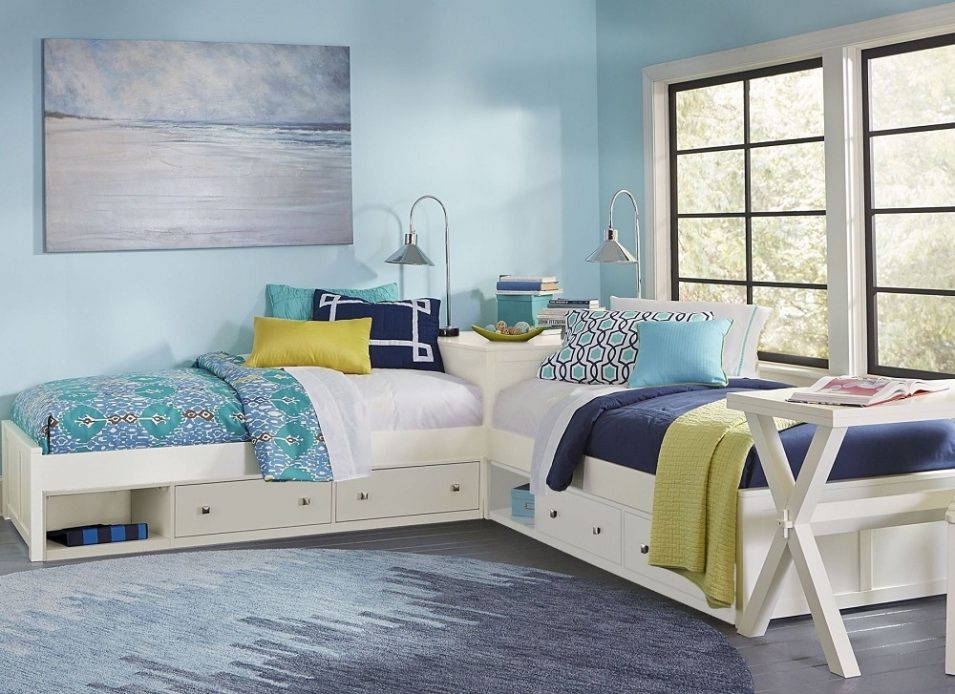 If you're looking for a bed that's both stylish and functional, an L-shaped twin bed with storage is a great option. Here are some of the benefits of investing in this type of bed:
Maximize space in your bedroom. An L-shaped twin bed takes up less floor space than a traditional twin bed, making it a great option if you're tight on space. In addition, the built-in storage lets you keep your bedroom tidy by storing extra blankets, pillows, or clothes out of sight.
Create a multi-purpose room. If you want to create a multi-purpose room in your home (like a guest bedroom/office or playroom/bedroom), an L-shaped twin bed is perfect because it can easily be converted into two separate beds when needed. Simply push the two beds together to form one larger sleeping area, or pull them apart to create two individual spaces.
Save money. Because an L-shaped twin bed includes storage, it's like getting two pieces of furniture in one! This means you'll save money compared to buying separate beds and dressers or nightstands for your bedroom.
Enjoy extra features. Many L-shaped twin beds come with extra features like trundle beds, built-in desks, or shelving units. These extras make the bed even more versatile and functional, so you can use it for a variety of purposes depending on your needs.
Another benefit is the sturdy wood construction. This type of bed is very durable, which makes it a great investment.
Maximize Space
There is no need to live in a cluttered home with a little bit of creativity, you can make the most of your limited space. Here are 10 creative ways you can use this type of bed:
Use the extra space under the bed for storage bins or baskets. This is a great way to keep items like blankets and pillows out of sight but within easy reach.
Place a nightstand or small dresser at the end of the bed near the headboard. This will give you additional surface area for lamps, books, and other nighttime essentials.
Create a reading nook by placing the L-shaped twin bed near a window with plenty of natural light. Add some cozy blankets and pillows for extra comfort.
The top bunk of an L-shaped twin bed makes a perfect play area for kids – just add some soft mats or carpeting underneath to make it cozier!
Another way to utilize the top bunk is by using it as extra storage space – perfect for things like holiday decorations or out-of-season clothing.
If you have a smaller bedroom, try positioning the L-shaped twin bed against one wall to create more floor space. This can also make your room appear larger and airier.
Use the area under the bed as a home office! With a little bit of planning, you can fit a desk and chair underneath – perfect for when you need to get some work done at home but don't have a dedicated office space.
For bedrooms with sloped ceilings, take advantage of that extra headroom by creating a cozy loft space on top of the L-shaped twin bed. This is great for kids who want their own private hiding spot or adults who want a relaxing retreat within their own home. It could even be used. Just add some throw pillows and blankets up there for additional comfort. You might want to install a curtain around this area too, for added privacy. (I would recommend leaving this option open in case someone wants to change it back into 2 beds.)
Planning on having a guest room? The L-shaped twin bed can easily be converted into a comfortable futon – perfect for impromptu sleepovers! Simply arrange the mattress and pillows on the floor in front of the sofa to create a makeshift bed.
If you have more than one child, bunking the beds is a great way to save space, giving each child their own bed while freeing up some extra room in your home. Just make sure there's enough headroom (usually at least 2 feet) so that whoever is sleeping on top doesn't get bumped in the night!
Having a small space is a common problem that many people face. However, with the right furniture, you can maximize your living space and make the most of it. An L-shaped twin bed is a perfect option for small spaces, as it not only provides extra sleeping space, but also storage space. By investing in this type of bed, you can free up valuable space in your room and make it easier to live in.