How to Choose Kitchen Cabinets Countertops and Flooring for a Cohesive Look
Finding the perfect kitchen cabinets countertops and flooring combinations is key to creating a cohesive look for your kitchen design. With the wide range of options for cabinets, counters, and floors, it can be daunting to mix and match everything into a seamless aesthetic.
The style of your cabinetry establishes the tone, while your counters and flooring should coordinate to pull the whole look together. Rather than randomly picking materials, use a strategic approach to select complementary elements.
From defining your overall design style to choosing materials and finishes that work together, we will share practical tips to help you fashion a pulled-together kitchen that suits your unique taste. With some thoughtful planning and design knowledge, you can craft your dream kitchen that delights the eye from the cabinets to the floors. Let's get started on choosing winning combinations for a seamless kitchen makeover.
Define Your Style
The first step in choosing cohesive kitchen cabinets, countertops, and flooring is to define the overall style you want for your space. This will be the guiding force as you select materials and colors. Consider these popular kitchen design styles:
Modern kitchens are sleek and contemporary, often with a minimalist vibe. Common traits include flat-panel cabinetry, solid surfaces like quartz countertops, and unadorned finishes.
Farmhouse style offers a warm, traditional feel with vintage character. Signature farmhouse kitchen elements include wide-planked wood floors, substantial cabinetry like shaker doors, and butcher block countertops.
Traditional kitchens have an elegant and timeless refinement. Flourishes like raised panel cabinetry, marble countertops, and ceramic tile floors establish this formal style.
Contemporary kitchens blend modern and traditional for a simplified yet sophisticated look. Expect clean lines, flat panels, and mixes of wood, marble, and metal.
Also consider your home's architecture and personal taste. With a firm style in mind, you'll have a clear roadmap for choosing complementary cabinets, counters, and floors.
Select Cabinetry to Set the Tone
The cabinetry sets the foundation for your kitchen's style, so choose door fronts wisely. Different cabinet door styles like shaker, slab, or raised panel impact the kitchen's overall look, as do colors and hardware.
Shaker-style cabinet doors with their simple recessed center panel and clean lines, provide a versatile and timeless look that works in both modern and traditional kitchens. Contemporary two-toned shaker cabinets offer a modern edge.
Slab cabinet door fronts have a minimalist, streamlined appeal that pairs well with modern kitchen designs. Go bold with a lacquered slab style in a dramatic dark color, or create a more rustic casual feel with slabs that showcase wood grain textures.
Raised panel cabinet doors feature a framed and elevated center panel for a more ornate, traditional style. This type of cabinetry nicely complements marble counters and ceramic tile floors for a refined, formal look. Glass front upper cabinets keep the overall aesthetic light and airy.
Beyond door style, cabinet colors also set the tone. Bold saturated hues like navy blue and emerald green make a dramatic modern statement. Off-whites and grays have a more subtle, contemporary feel. Traditional kitchens lean toward painted cabinet colors like cream and sage green or classic wood stains.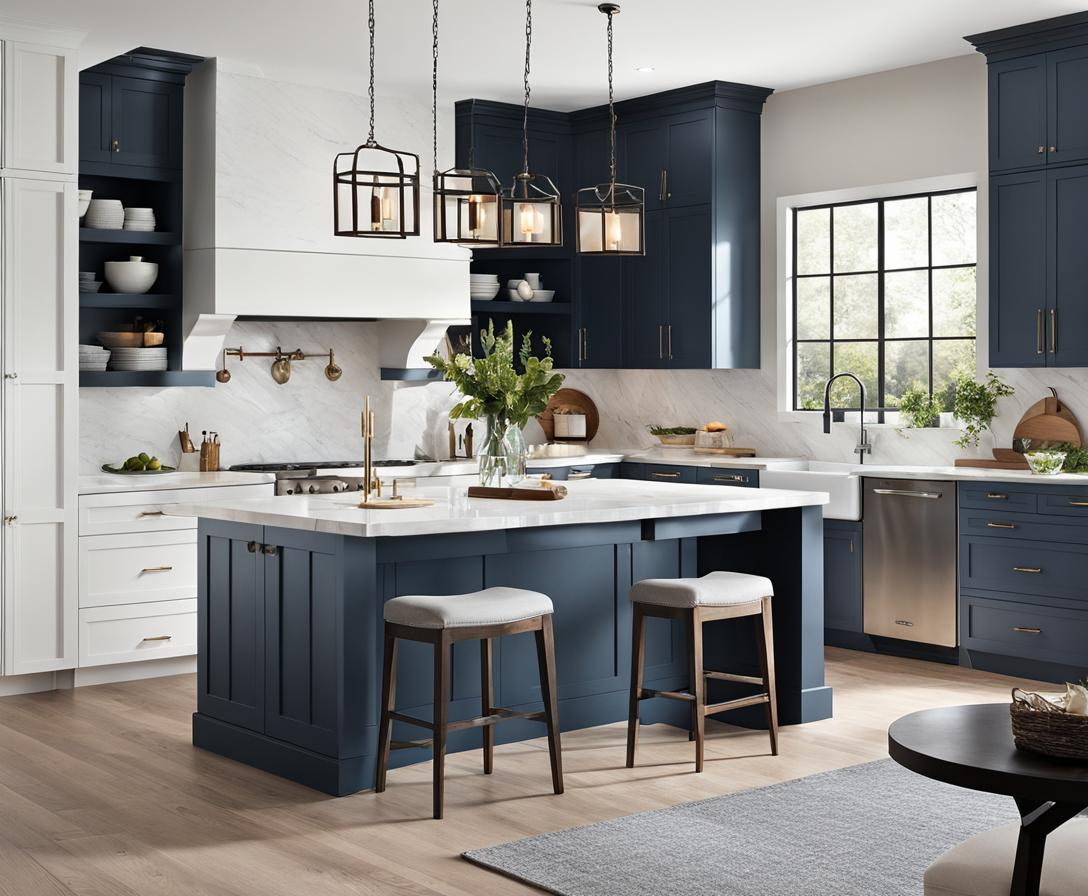 Hardware is another impactful choice. Sleek modern kitchens shine with long pulls or integrated handle-less designs. Farmhouse spaces come alive with bin pulls and distressed finishes full of character. For ornate traditional cabinetry, polished brass or nickel knobs and pulls add just the right sophisticated touch.
With your target style in mind, mix and match cabinet elements like door styles, colors and hardware for a cohesive look. Creative ideas for kitchen soffits and accent walls can reinforce your cabinetry choices. Keeping cabinets, counters, and floors all aligned to your desired aesthetic results in harmonious style.
Choose Countertops to Coordinate
Selecting countertops that complement your cabinetry is key to a cohesive look. Consider these popular countertop options:
Granite countertops provide an elegant, durable natural stone look with unique patterning. Wide color range from light to dark hues.
Quartz counters offer a low-maintenance alternative to natural stone with an appealing manufactured look. Resist scratches and stains.
Butcher block wooden countertops bring warmth and texture. Require regular sealing and maintenance.
Laminate is an affordable option that convincingly mimics stone and wood. Resists scratches, heat, and stains.
For visual harmony, choose counter hues that complement your cabinets. Dark dramatic granite or quartz pairs well with bold cabinet colors. Light counters keep things airy along with white cabinets. Butcher block makes a lively contrast with painted cabinetry. Research kitchen cabinet colors with dark countertops for ideas. Careful counter and cabinet coordination results in a cohesive style.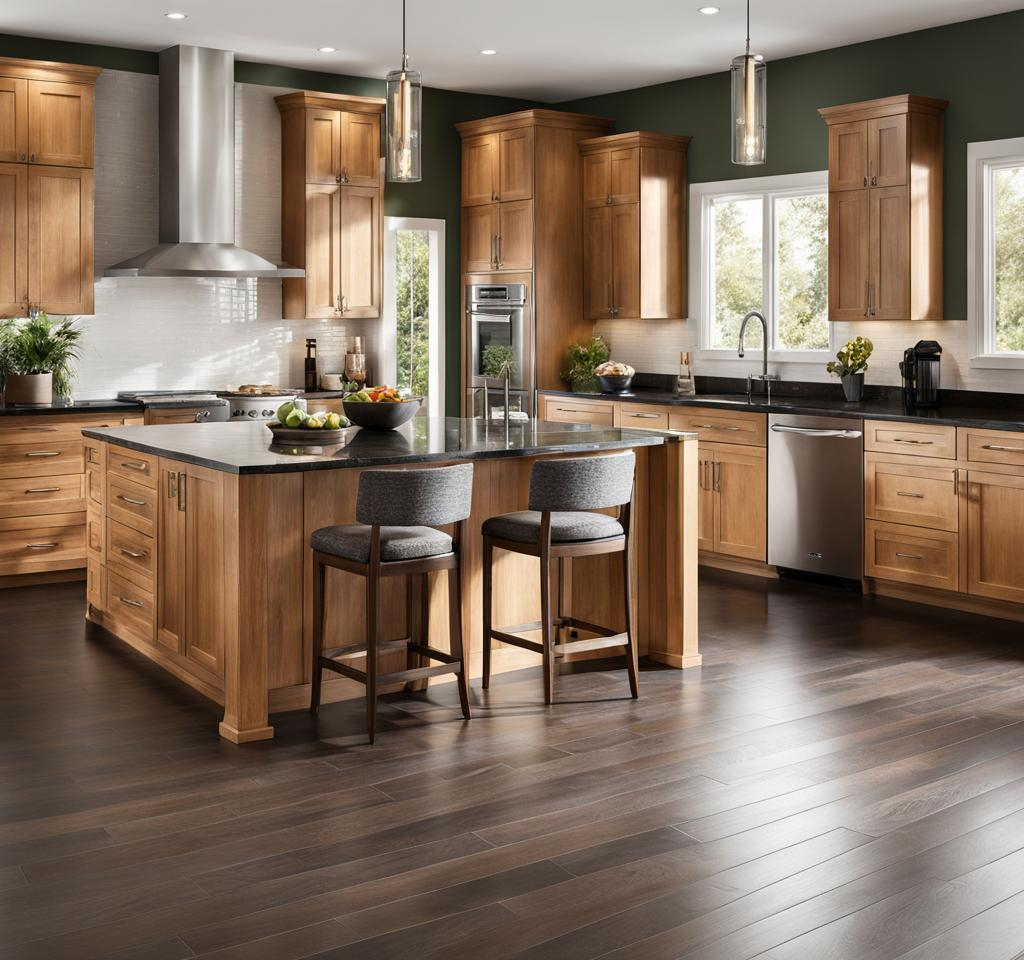 Flooring That Completes the Look
The kitchen flooring should work in harmony with your cabinets and counters. Consider these flooring options:
Hardwood floors provide timeless warmth and elegance. Options like oak and hickory complement both traditional and modern styles. Keep in mind that moisture and scratching can damage hardwoods.
Tile is naturally at home in kitchens thanks to its water resistance and durability. Choices like porcelain, ceramic, or natural stone tiles pair well with both wood and painted cabinetry. Grout lines may need frequent cleaning.
Vinyl plank flooring offers the look of wood at a lower cost, along with water and scratch resistance. Styles like distressed plank vinyl suit rustic kitchens. Limit intense sunlight exposure to avoid fading.
Laminate floors mimic wood or tile visually while standing up well to kitchen usage. Many newer styles boast great durability and realistic textures. Use underlayment for sound dampening.
For a unified look, opt for flooring in a similar tone family as the cabinets and counters. Light floors keep things airy, along with painted white cabinetry coupled with light granite. Richer wood floors complement medium wood cabinetry paired with darker stone counters.
Refer to the kitchen floor plan dimensions and layout when selecting flooring. Choose durable, easy-care materials suitable for heavy kitchen use. With the right flooring in place, your kitchen makeover comes full circle.
Add Final Touches for Cohesion
Once your major elements like cabinetry, counters, and floors are selected, finish pulling your kitchen together with the final decorative touches.
Consider a backsplash that complements the countertop. Mosaic tiles, metal splashes, and stone slabs extend your counter material up the wall for a seamless look. For example, pair white marble counters with marble subway tile backsplashes.
Strategically add accent colors that connect to your main finishes. Introduce these hues with mixing bowl sets, rugs, barstools, and other decor. Tie light wood cabinetry, dark stone counters and neutral floors together with pops of teal or mint accessories.
Unify cabinets, counters and floors through coordinated hardware and fixtures. Opt for cabinet knobs and pulls in a finish that matches the faucets and lighting pendants, like brushed brass or matte black.
Carefully plan the kitchen layout and work triangles to maximize workflow. Position the refrigerator, stove and sink in the optimal arrangement for cooking convenience. Introduce intentional breaks between cabinets for openness. Strategically placed kitchen islands with bench seating create a natural visual separation.
Vary textures and gloss levels so the overall palette isn't too homogenous. For example, pair flat panel cabinets with granite counters that have a lathered finish and a brick-pattern backsplash for added interest.
With finishing touches applied, your kitchen cabinet, counter and floor combinations should look like they were designed in tandem. Careful coordination of colors, textures and materials creates a holistic, harmonious environment.