Create an Organic Focal Point with Tree Root Coffee Table Bases
Tree root coffee table bases bring the raw, organic beauty of nature into any living space. Handcrafted from slabs of ethically harvested tree roots and stumps, they offer flowing, sculptural silhouettes that make jaw-dropping focal points.
Unlike mass-produced furniture, each tree root coffee table base features a completely unique shape with natural, rustic edges that showcase the wood's grain and imperfections. From juniper to pine, there are many tree varieties used to create these sustainable works of art.
Incorporating a tree root coffee table base into your decor adds an earthy, boho-chic vibe and plenty of conversation-starting appeal. Their sculpted edges bring visual interest to even the simplest of spaces.
Beyond aesthetics, tree root furniture made from locally salvaged woods have a smaller carbon footprint than factory produced pieces. Read on to learn more about the sourcing, crafting process, and design possibilities of these eco-friendly slab coffee tables that blur the line between nature and art.
Types of Trees Used for Live Edge Furniture
From rugged pine to smoothed sequoia, different tree species each lend their own rustic beauty to living edge and tree root furniture. Here are some of the most common types of wood used:
Juniper – With its gnarly knots and swirling grain patterns, juniper adds amazing visual texture. The natural whorls and colors make each juniper slab completely one-of-a-kind. Its soft muted tones work well in both traditional farmhouse and modern spaces.
Pine – Known for its amber hues and prominent growth rings, pine has a distinctly rugged cabin vibe. Pine tree roots tend to have wonderful natural edges that add organic interest. The wood develops a lovely patina over time.
Sequoia – Sequoia has a refined smoothness and uniform texture. Ranging from warm reddish-browns to creamy blonde, sequoia has a statuesque quality. Its grand size allows for stunning coffee table slabs.
Oak – Quartersawn white oak is prized for its pronounced ray-fleck patterns. The grain has an almost metallic shimmer. White oak's durability makes it perfect for tabletops. Meanwhile, red oak imparts a richer russet hue.
Maple – From birdseye to curly, maple has diverse figuring that creates visual depth. It stains well, allowing makers to enhance maple's creamy hues. Ambrosia maple adds spalting and streaks for a striking aged look.
Walnut – With chocolate and mocha tones, walnut conveys warmth. Burl Walnut has elaborate contortions for organic impact. Walnut pairs well with both modern and traditional spaces.
Sourcing and Harvesting Tree Roots
The natural beauty of tree root furniture comes from sustainably sourced wood straight from nature. Responsible harvesting involves:
Finding fallen trees, stumps, and logs from storm damage, beetle infestations, wildfires, and other natural causes. This reclaims wood that would otherwise go to waste.
Cutting roots and stumps from land being cleared for responsible development. Salvaging these materials prevents them from being burnt or discarded.
Working with arborists to gather urban tree parts removed for safety reasons. Giving tree waste new life honors the material's legacy.
Establishing relationships with local tree services to obtain wood from routine jobs. This diverts tree trimmings from the landfill.
The ideal pieces have a flowing organic shape with sculptural edges. Harvesters assess the form and look for sections with:
Fascinating bark textures and natural markings showcase the wood's origins.
Interesting burls, knots, and grain patterns that add character.
Potential for sanding, smoothing, and refining while preserving the authentic live edge.
Structural integrity to support building furniture from the raw slab.
Crafting and Processing Tree Root Furniture
Creating finished furniture from raw tree roots and stumps involves extensive craftsmanship. Here is an overview of how artisans transform reclaimed wood into functional art:
Drying and Curing
Once trees are sustainably sourced, the live edge slabs are cut and transported to the wood shop. Leaving the bark on one edge preserves the organic shape. The wood then undergoes a slow drying process to prevent cracking and checking. Moisture content is reduced to 6-8% for stability.
Next, the slabs cure for 1 to 3 years depending on thickness. This allows the wood fibers to relax and achieve equilibrium. Proper drying and curing prevent future warping or splitting.
Smoothing and Sanding
Skilled artisans use specialty rasps, shavers, and carving tools to hand-shape the sculptural live edges. They smooth knots, bark inclusions, and other organic features while retaining the original contour. The slab's underside is flattened to create a level surface.
The slab goes through multiple grits of sanding, starting coarse and becoming finer. This refines the texture and opens the grain to receive a finish. Sanding also enhances the visually striking patterns of the wood.
Applying a Finish
To protect the slab while showcasing its natural color, makers apply finishes like tung oil, penetrating resin, or matte polyurethane. Multiple thin layers seal the surface. The finish stabilizes moisture content and prevents stains while allowing the wood's beauty to shine through.
Creating the Base
Finally, the artisan mounts the slab onto a base designed for visual cohesion. This provides structural support. The legs are made from complementary materials like iron, steel, or epoxy for a stable foundation.
Every tree root coffee table base is a handcrafted work of art showcasing the unique fingerprints of nature. The expert craftsmanship involved honors these sustainable materials.
Benefits of Tree Root Furniture
Bringing the raw beauty of nature into your living space, tree root furniture offers many advantages:
Visually Striking Shapes and Textures
The undulating natural edges and swirling grain patterns of tree root tables create an organic sculptural look. Knots, bark inclusions, and crevices add unique character. These flowing lines and rustic textures effortlessly become focal points. No two pieces ever look the same.
Sustainable and Eco-Friendly
Responsibly harvesting reclaimed wood prevents useful materials from going to waste. Tree root furniture gives fallen trees and salvaged stumps a second life. Loving the imperfections eliminates the need for timber. Many makers use local woods, reducing carbon footprints.
Inherent Originality
Rather than cookie-cutter perfection, the slabs celebrate the mesmerizing diversity of nature. Each tree has its own story etched into the wood's markings. Tree root furniture retains this soul and history. You'll own a truly one-of-a-kind creation.
Warm, Inviting Ambiance
With its earthy hues and authentic feel, tree root furniture brings the outdoors inside. The raw wood grain and textural appeal add cozy allure to any space. Its presence fosters casual relaxation and easy living, making you feel more connected to nature.
Design Versatility
Natural wood and flowing organic shapes act as a neutral foundation for a wide array of styles. Whether your aesthetic is modern, traditional, rustic, or bohemian, tree root furniture can enhance the look seamlessly. Its gnarled edges and natural flaws let you incorporate nature into diverse decor themes.
Decorating with Tree Root Tables
The organic edges and natural wood grain of tree root furniture mesh well with multiple interior design aesthetics when used thoughtfully. Here are some tips for incorporating slab coffee tables into your space: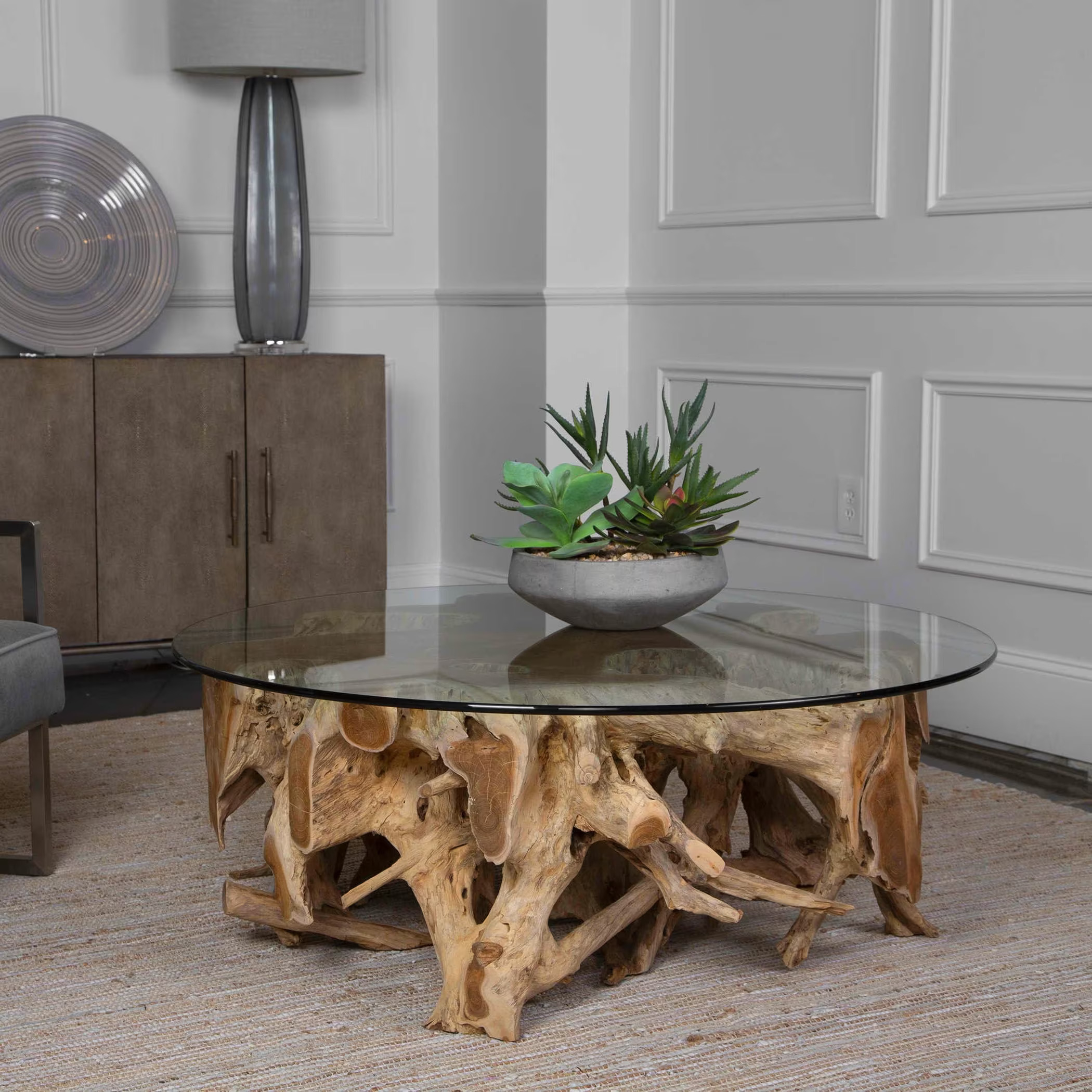 Rustic and Farmhouse Styles
The raw, textural appeal of tree root furniture is perfect for rustic spaces. Pair it with elements like exposed beams, antique rugs, and distressed leather. For farmhouse decor, add painted chairs, woven baskets, and floral accents. The contrast between refined and natural creates a cozy feel.
Bohemian and Boho Chic Rooms
Tree root coffee tables lend themselves beautifully to bohemian living rooms. Combine with other natural materials like jute rugs, woven wall hangings, and rattan seating. Incorporate relaxed fabrics like linen, cotton, or velvet in muted tones. The slab's organic form embodies boho's nature-inspired vision.
Modern and Contemporary Spaces
While tree root furniture skews traditional, it can fit modern rooms with the right pairings. Mix with sleek leather or velvet sofas and acrylic or glass accent tables. Metallic bases in gold, rose gold, or matte black contrast nicely with the wood. Keep walls, pillows, and rugs neutral to let the live edge pop.
Eclectic and Vintage Interiors
For maximalist layered decor, tree root coffee tables anchor eclectic spaces without competing. Complement with items like antique trunks, ornate mirrors, and lush houseplants. Vintage accents like worn oriental rugs, candlesticks, and leather-bound books feel right at home. Let your slab be the standout.
Ideal Rooms
Living room, family rooms, and dens are perfect for tree root coffee tables. Their sculptural silhouette serves as a statement anchor point. Use tree root end tables or stump stools in bedrooms layered with textiles. Tree root dining tables encourage lingering conversations in kitchens or dining nooks.
Whether your style leans toward a modern farmhouse or urban boho, there is a way to thoughtfully incorporate the beauty of these organic wood pieces. Let it inspire your design.
Purchasing Tree Root Furniture
For those seeking a statement-making slab coffee table, here are some tips on sourcing these custom pieces:
Finding Specialty Woodworkers
Many tree root furniture makers sell directly through their own websites. Browse portfolios to find designers that share your aesthetic. Custom work allows you to select the slab and visualize the final table. Other places to find artisans include Etsy, specialty home goods stores, and local craft fairs.
Custom Ordering
Commissioning a piece means you can pick the exact slab and base to suit your vision. Communicate your ideal style, size, and finish. Custom tables range from $1,200-$5,000 depending on complexity. The typical turnaround is 4-12 weeks. Many artisans ship nationwide.
Online Retailers
Several online retailers offer curated selections of tree root coffee tables. While not customizable, this allows faster shipping. Standard sizes like 36″ or 42″ round tables cost $900-$1,800. Online shops also sell live edge dining tables, sideboards, bed frames, and statement wall shelves.
Local Galleries
In areas like the Pacific Northwest, local furniture galleries showcase regional woodworkers. Visit to get a feel for the quality and see tables in person. While pricing is higher, you support local makers and can take pieces home immediately. Ask about custom work.
With custom ordering, online shops, local retailers, and specialty craft fairs, options exist for any budget and style. Lead times allow anticipation to build before your unique tree root coffee table arrives to become the sculptural centerpiece of your space.