The Best Extra Long Twin Daybeds with Trundles for Small Spaces and Guests
Extra long twin daybeds with trundles provide the perfect multifunctional solution for small spaces. As urban living spaces shrink, savvy homeowners seek furniture that can flex between needs for seating and sleeping. The extra long twin size allows these daybeds to accommodate taller sleepers, while hidden trundles slide out to welcome overnight guests. With creative design hacks, these beds can transform cramped rooms into comfortable gathering spaces.
Discover how to choose the ideal frame, mattress and bedding to create this winning combination. Get tips for decorating and learn safety guidelines for setup. Let's delve into how this smart, space-saving furniture option can maximize both sleep and storage in your home.
What is a Trundle Bed?
A trundle bed provides an extra sleeping space that slides on wheels or casters out from beneath another bed. This versatile furniture item serves as a spare bed you can roll out right when you need it, then tuck away again just as easily.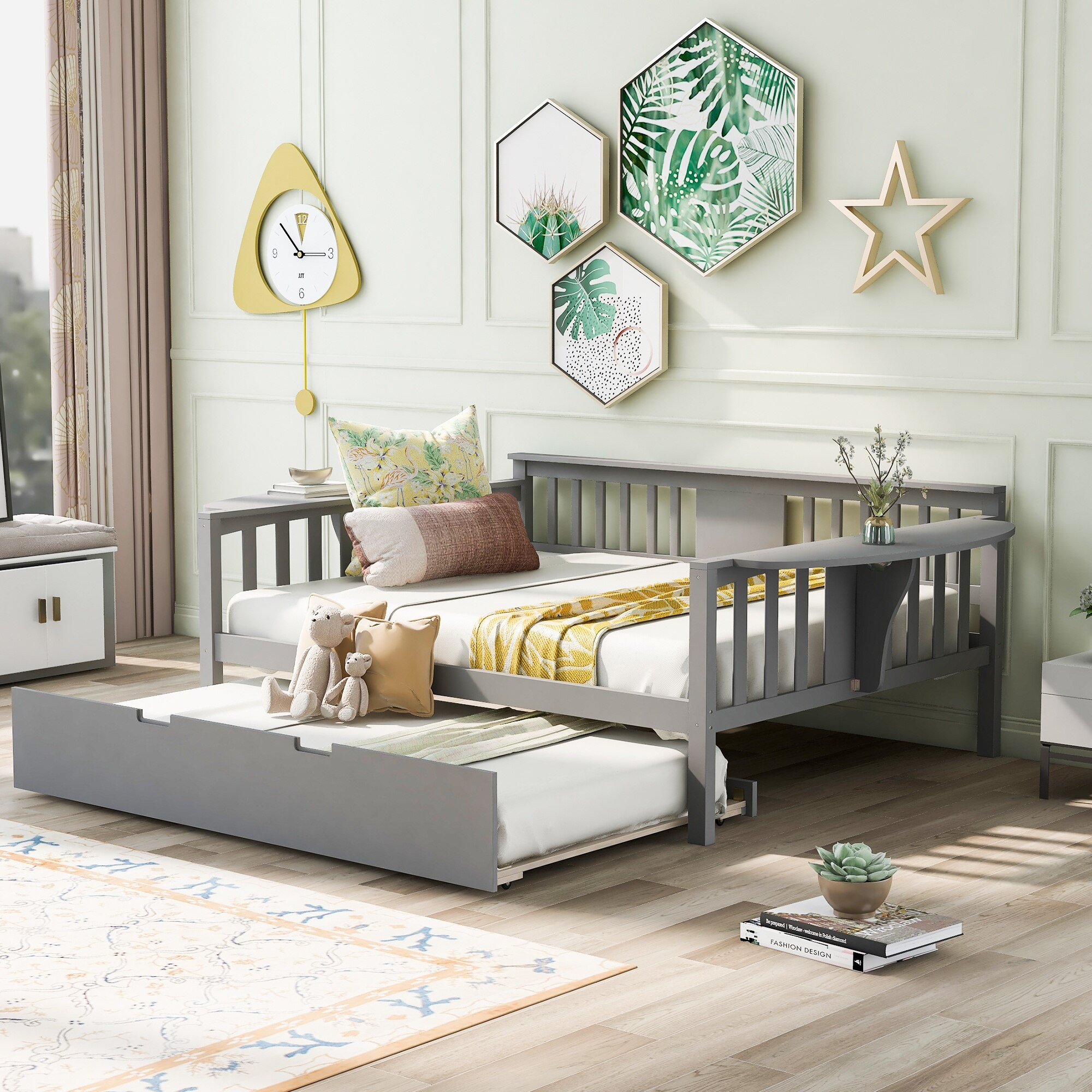 Trundle beds most often pair with daybeds to create a two-for-one furniture piece. The low profile daybed frame rests several inches above the floor with enough clearance for a twin or full-sized trundle bed to slide underneath. Trundles feature a roll-out structure of wood slats or metal mesh to support the mattress. Some provide additional storage space with built-in drawers.
When it's time for overnight guests or a sleepover, just pull out the trundle to reveal a ready-to-use extra bed at a moment's notice. It's the perfect space-saving solution for adding flexible capacity in small rooms, apartments and offices.
Trundle mattresses typically match the size and style of the daybed. A twin trundle pairs best with a twin daybed, while full trundles match full daybeds. For wood or metal frames, choosing a trundle in the same finish creates a cohesive look. Upholstered trundles can coordinate through matching fabrics or accent colors.
Consider both your space and sleeping needs when selecting a trundle. Here are some key factors to keep in mind:
Size – Twin or full/double to accommodate kids or adults
Height – Low profile fits under lower daybeds
Design – Drawers for hidden storage or open design
Wheels – Casters for easy mobility or stationary legs
Material – Sturdy wood, metal or upholstery
Mattress – Choose comfort level and thickness
Benefits of Extra Long Twin Daybeds with Trundles
Extra long twin daybeds with trundles offer versatile solutions for small spaces. Here are some of the key benefits these beds provide:
Space Saving
In rooms where square footage is limited, extra long twin daybeds maximize both seating and sleeping capacity without dominating the layout. Their slim profile fits in cozy alcoves or alongside walls, leaving floor space open. Trundles tuck completely under the bed frame when not in use. This smart, dual-purpose furniture enables you to get double duty out of every inch.
Multi-Functional
Extra long twin daybeds pull triple duty as a couch, bed and seating area. Trundles add a fourth function for occasional guests. During the day, ample padded cushions create a cozy place to curl up with a book or your laptop. At night, the bed provides a comfortable sleep space equipped with bedding layers. The versatile design adapts to the needs of the moment.
Accommodates Taller People
With several extra inches of length compared to a standard twin, extra long twin mattresses better accommodate sleepers over 5′ 9″. Those who previously found their feet hanging off twin beds can finally stretch out. The 80″ length gives even tall teens and adults the fully supportive foundation they need for healthy rest.
Allows for Sleepovers and Guests
Trundles maximize sleeping capacity for visiting family and friends. Kids will love pulling out the hidden bed for sleepover fun. Holiday guests can enjoy privacy and a good night's rest. The space-saving setup is ideal for studio apartments, small bedrooms, home offices and other multipurpose rooms.
Pairs Well with Trundle for Extra Sleeping Space
Together, the extra long twin bed and trundle provide two full sleeping spaces. Trundles come in both twin and full/double sizes to sleep one or two. Some feature storage drawers to hold bedding, pajamas or extra blankets when closed. With a couple of different design options, you can find the perfect trundle to coordinate with your extra long twin frame.
By combining dual-purpose style with flexible sleeping capacity, extra long twin daybeds with trundles unlock small spaces. Discover how this smart furniture solution can meet your household's changing needs for seating, sleeping and storage.
What to Look for in an Extra Long Twin Daybed
When shopping for an extra long twin daybed, especially one you plan to pair with a trundle, keep these key features in mind:
Dimensions – Extra long twin mattresses are approximately 80″ long by 39″ wide. Make sure the daybed frame accommodates this extended length. Also check that the height allows enough under-bed clearance for a trundle.
Sturdy Construction – Durable wooden or metal daybeds support sleepers up to 400 lbs or more. Look for quality joinery without creaks or wobbles for long-lasting use.
Under-bed Clearance – Allow 8-12″ clearance between the floor and daybed frame for trundle access. Low profile daybeds around 24″ high work best.
Weight Limits – Multi-purpose daybeds need to safely support both sleepers and loungers. Choose a design rated for at least 400 lbs.
Style – Consider your room's decor. Choose from sleek modern frames, elegant upholstered daybeds or whimsical kids' styles.
Features – Convenient storage drawers allow keeping linens, toys or clothes under the bed and out of sight.
Mattress Quality – A supportive innerspring or memory foam mattress ensures comfortable seating and sleeping.
Best Extra Long Twin Daybed Frames
When selecting an extra long twin daybed, you'll find options at various price points to suit different budgets. Here are some top-rated picks:
Zinus Suzanne – Budget Pick
This affordable daybed from Zinus features a minimalist style with rounded corners and sleek black metal framing. The 39″ x 80″ twin XL size provides cozy seating and sleeping space for under $250. With a 250 lb weight capacity and included wood slats for the mattress, it makes an excellent starter daybed.
Novogratz Her Majesty – Mid-Range Choice
For classic elegance, the curved back and turned legs of the Novogratz Her Majesty lend refined style. The sturdy rubberwood frame comes in white, black, navy and gray linen upholstery. Storage drawers and an extending winged back maximize functionality. Priced around $400, it's ideal for guest rooms.
CB2 Snippet – Splurge Pick
With polished stainless steel framing and lush velvet upholstery, the CB2 Snippet daybed elevates any space. The tailored design feels both modern and inviting. It supports up to 500 lbs with its metal frame and engineered wood platform. Around $1,000, it's a worthwhile investment for luxury living.
Choosing the Right Trundle for Your Extra Long Twin Daybed
Selecting a trundle to pair with your extra long twin daybed involves considering design, size and storage needs. Here are some key factors to keep in mind:
First, decide whether you prefer a pop-up or pull-out trundle. Pop-up styles remain low to the ground and flip vertically to create the bed. Pull-out trundles roll out horizontally from under the daybed on casters.
Next, choose between twin or full/double size. Twin fits one child or teen comfortably while full accommodates most adults. Make sure to match the same size trundle to daybed.
Calculate the clearance needed between the daybed frame and the floor. Allow 8-12 inches for accessing a low profile trundle. Trundles ranging from 6-10 inches high work best in most spaces.
Determine whether you want a trundle that matches the daybed style or contrasts as an accent. Matching finishes from the same collection create a cohesive look. Mixing painted metal with an upholstered trundle adds flair.
For optimal storage, select a trundle with built-in drawers. These provide ample out-of-sight space to tuck away extra bedding, pajamas, toys or clothes when closed.
Carefully weighing your needs for design, size, storage and style will ensure you find the ideal trundle. One that perfectly complements your new extra long twin daybed to provide maximum versatility. With the right trundle in place underneath, you'll be ready to accommodate sleepovers, visitors and multi functional spaces.
Extra Long Twin Daybed Mattress Options
Choosing the right mattress completes your extra long twin daybed setup. Here are some key considerations for daybed mattresses:
Yes, a standard twin XL mattress will fit most daybeds sized 39″ x 80″. Twin XL offers extra length for tall sleepers without the width of a full or queen.
For the mattress type, weigh the benefits of memory foam versus innerspring. Memory foam conforms closely and offers motion isolation. Innerspring may have more bounce and airflow.
Look for a mattress between 6 to 8 inches thick. Low profile daybeds need slender mattresses that don't exceed the frame height. But too thin sacrifices comfort.
Since daybeds pull double duty for lounging and sleeping, prioritize quality with dense, supportive foam or tempered coils. Aim for at least 1.5 pounds per cubic foot density foam or a coil gauge under 15.
Further, maximize daytime use with a quilted top layer for cushioning. Consider convenient features like waterproof covers, antimicrobial fabric or removable/washable covers.
To finish your new extra long twin daybed setup, carefully select a mattress tailored to your comfort preferences and space requirements. Investing in quality materials makes a difference for both seating and sleep. Once you add plush bedding layers like foam toppers or padded shams, you'll be able to relax in style.
Decorating with an Extra Long Twin Daybed
Once you've selected the ideal extra long twin daybed and trundle, it's time to decorate your new multi functional space.
Start by dressing the bed in comfortable linens and bedding. An extra long twin duvet or quilt along with cozy pillows and soft sheets will make lounging a dream. For style, layer on decorative shams and an accent throw.
In smaller bedrooms, the daybed can transform a corner into a tucked-away workstation or reading nook when framed with a privacy screen. Add a pendant light overhead for tasks or ambiance.
For teenage gamers bedroom, style the daybed into a lounge area centered around play. Flank the bed with gaming chairs facing a wall-mounted TV, and add atmosphere with accent lighting. Use insets shelves for displaying favorite collectibles.
Tie your color scheme together through painted walls, patterned bedding and coordinating throw pillows. Contrast the daybed upholstery with lively print sheets, or opt for crisp white linens to let the frame stand out. Have fun mixing materials like wood, metal, velvet and linen.
Transform your extra long twin daybed into a stylish centerpiece that suits work, rest, and play with the right furnishings and finishes. Personalize your space based on your preferences, and enjoy the comfort of a bed cleverly disguised as seating.