Surprise Joints With Cushioned Christmas Kitchen Mats
The holidays are one of the busiest times in the kitchen with loads of cooking, baking, and prep work for festive meals and parties. All that time standing on hard floors can take a toll on your joints, muscles and feet. An aching back or throbbing knees are no fun, but Christmas cushioned kitchen mats provide a festive way to give your body a break.
Cushioned mats are like little pieces of heaven for your tired feet and legs. The plush padding helps absorb impact and reduce pressure on joints that have to endure hours of holiday kitchen duty. Just a little cushion can go a long way toward making kitchen chores more enjoyable.
Choose Materials for Comfort and Support
Kitchen cushion mats come in a variety of materials to provide different levels of softness and support exactly where you need it. Consider your own comfort needs and the type of padding that would feel best underfoot while prepping stuffing and pie dough.
Do you want firm stability or ultra plush squishiness? Should the mat mold closely to your feet or provide structure? The material determines these factors.
Foam Mats
Foam kitchen mats offer luxurious softness to pamper hard-working feet. The dense foam padding conforms to the shape of your feet and absorbs impact. This cradling effect helps prevent fatigue in heels, arches and toes.
The buoyant foam also provides cushioning for knees and back when bending down to grab ingredients from lower cabinets. Ease muscle tension and soak up shock with a foam mat's gentle give.
Gel Mats
Gel padding has become popular for anti-fatigue mats because it offers firm support with cushioning comfort. The gel material molds closely to the arches and contours of the feet to provide customized comfort and stability.
Unlike foam, gel won't flatten out over time and retains its shape better. The gel also stays cooler than foam, rubber or plastic mats. The softer but supportive feel makes gel appropriate for those with plantar fasciitis or other foot pain.
Rubber Mats
For those who need firm footing with a touch of relief, rubber kitchen mats are an excellent choice. Solid rubber construction provides a stable surface that still has enough give to ease pressure points.
Many rubber mats feature small raised nubs or massage points. These stimulate circulation in feet and legs while gently massaging away aches. The durable rubber also cleans up easily.
Festive Christmas Prints and Themes
A fun way to energize your kitchen for the holidays is with cushioned mats boasting seasonal prints and designs. Christmas-themed mats remind you of all the joy the season brings while also pampering your body.
Look for festive patterns that spark nostalgia and excitement for beloved holiday traditions. Bring warm, fuzzy Christmas vibes to your cooking space with prints that make your heart merry and bright.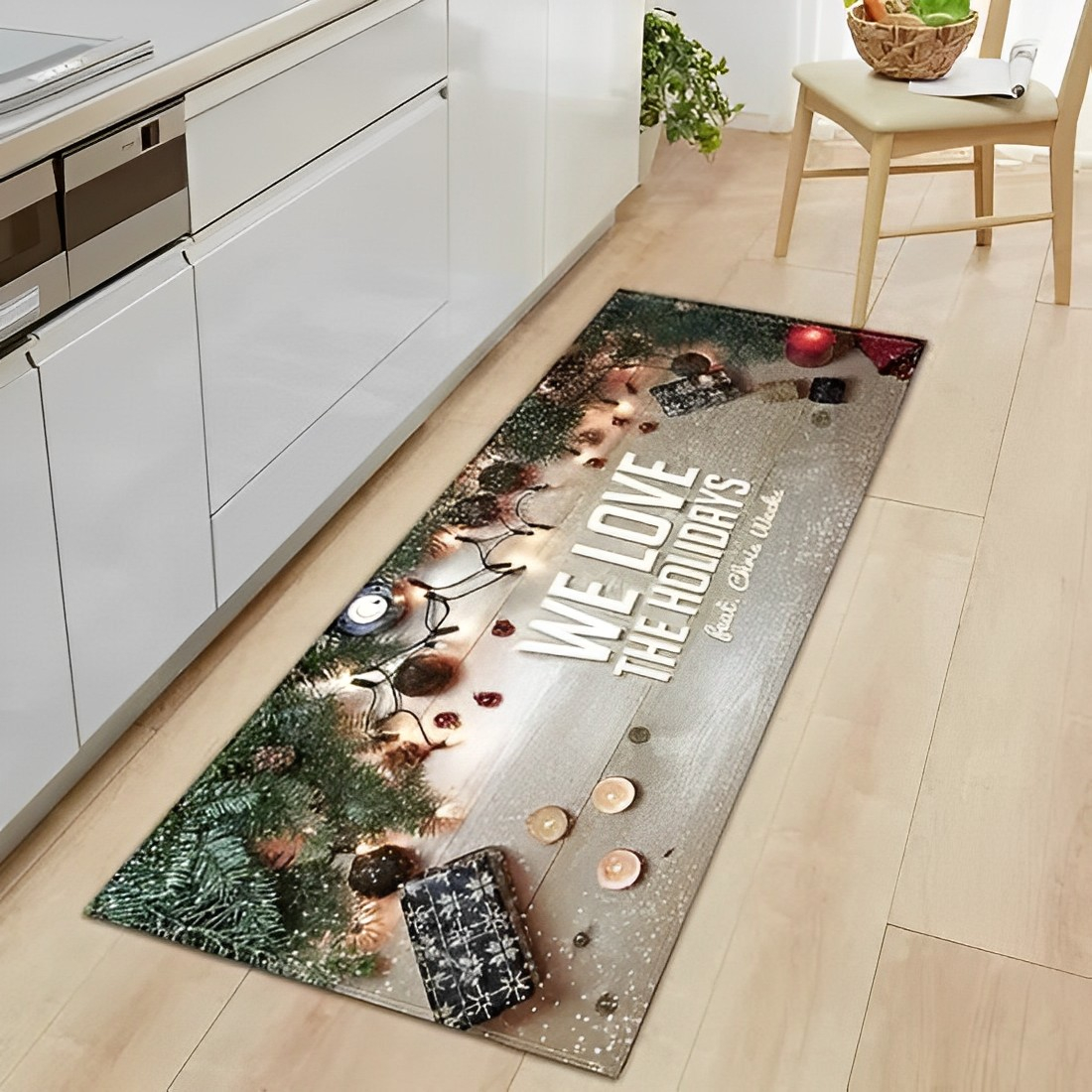 Traditional Holiday Colors and Symbols
Some designs stick with the classic red, green and white color scheme symbolic of Christmas. These traditional mats feature snowflakes, trees, stockings and reindeer in cheerful holiday scenes.
Simple Christmas tree silhouettes or alternating rows of red and green make any kitchen much more festive. Embrace the season with mats trimmed in plaid or candy cane stripes.
Winter Wonderland Scenes
For those who love crisp, cold winter weather, mats decorated with snowy landscapes set the seasonal mood. Sparkling snow-covered forests, mountains and cozy cabins capture the magic of the winter season.
Mats picturing ice skates, snowmen, sledding and falling snowflakes infuse your cooking space with the excitement of favorite winter pastimes. Feel like you're in a snow globe when standing on a snow-filled mat.
Christmas Treats and Sweets
What better way to highlight beloved holiday flavors than with kitchen mats decorated with Christmas cookies, pies and other goodies? Gingerbread men, candy canes and mistletoe berries celebrate sweet edible traditions.
Mat designs showing steaming mugs of hot cocoa, frosted sugar cookies or holiday pies embrace flavors that make December delicious. Surround yourself with images of your favorite Christmas desserts and meals.
Non-Slip Safety is a Must
When choosing any kitchen mat, non-slip safety should be your top concern. Cushioned mats provide comfort underfoot, but only if they stay securely in place.
Look for cushioned mats made of textured vinyl or with rubber backing. These gripping surfaces keep the mat from shifting on smooth floors. Quality kitchen mats give you stable footing, even on wet or greasy floors.
Mats that don't slide around build confidence for safe holiday cooking and food prep. You can focus on festive tasks instead of worrying about slipping or falling.
This holiday season, give your hardest working body parts—your feet, legs and back—a break with Christmas cushioned kitchen mats. The plush padding not only feels heavenly but provides vital support and relief from hours of prepping, cooking and mingling.
Choose a mat with your ideal firmness and thickness to ease muscle fatigue. Get in the holiday spirit with festive designs that spark nostalgia and joy while also treating your body right.
With a cushioned mat keeping you comfy and secure, you can fully embrace the holiday hustle and bustle with cheer. Just be sure to give your mat some rest once Santa heads back to the North Pole!