Why You'll Love Having Kitchen with Honey Maple Cabinets
Kitchens with honey maple cabinets offer a warm, inviting aesthetic perfect for creating a cozy yet stylish home. Characterized by their rich, golden hues, honey maple cabinets have unique wood grain patterns that add beautiful visual interest. Compared to traditional maple, the honey stain enriches the natural wood tones and draws the eye.
Beyond aesthetics, maple wood itself provides durability, hardness, and stability that make it well-suited for cabinetry. Its smooth, uniform texture allows for an elegant painted or stained finish. With the rising popularity of maple kitchen cabinets, the honey stain gives a fresh update to this versatile classic.
Blending contemporary design with rustic charm, honey maple cabinets create an ideal balance for any kitchen. Their subtle glow and organic texture bring out the wood's natural elegance. For those seeking a refined yet casual look, kitchens with honey maple cabinets offer an inviting warmth ideal for gathering and entertaining.
Most Popular Styles of Kitchens with Honey Maple Cabinets
When selecting maple kitchen cabinets, homeowners have an array of classic and contemporary styles to match their personal taste and kitchen design aesthetic.
Traditional maple cabinet options like Shaker, raised panel, and recessed panel offer understated sophistication prized for their lasting appeal. Shaker style cabinets are recognized by their flat recessed center panels and clean, straight lines. This minimalist design pairs nicely with modern and traditional kitchen settings.
Raised panel maple cabinets have a more formal look, with the center panel slightly raised from the frame for added dimension. Recessed panel cabinets feature center panels set back within the frame for a streamlined, seamless appearance. These traditional styles highlight the smooth beauty of maple wood grains.
For a contemporary twist, flat panel or slab door maple cabinets provide a sleek, modern update. Slab cabinet doors eliminate door frames entirely for a bold, minimalist look. Flat panel doors offer a similar streamlined aesthetic, with a simple recessed slab design set into the cabinet face frame. Both styles place the stunning maple wood patterns front and center.
In addition to door styles, choosing between painted or stained maple cabinets allows further customization. Stained maple utilizes transparent stains to enhance the wood's natural swirls and tones. Popular stain shades include cinnamon, chestnut, mocha, and walnut. Painted maple cabinets make a crisp statement, available in any color from brilliant white to deep navy blue to matte black.
While stained maple highlights the depth and variation of maple's natural grains, painted maple allows creativity in color palettes. Homeowners can match either to their overall kitchen design vision. For a light and airy look, white painted Shaker style maple cabinets keep the space feeling open and breezy. For richness, espresso-stained raised panel maple cabinets add striking elegance.
Difference Between Honey Maple and Farmhouse Hickory Kitchen Cabinets
Honey maple and farmhouse hickory each offer distinct beauty and style for kitchen cabinetry. Here are some key contrasts between these two natural wood options:
Maple has a smooth, fine grain while hickory has a bold, varied grain with natural knots. Maple leans subtle and refined, hickory organic and rustic.
The honey stain on the maple creates warm, golden undertones. Hickory shifts from blonde to deep brown naturally.
Maple suits painted cabinets in any color. Hickory looks best stained to highlight the dynamic wood grain.
Maple has a dense composition resistant to dents. Hickory is also hard but prone to showing impact marks.
Contemporary to traditional styles suit maple's versatility. Farmhouse and country aesthetics best fit hickory's rustic vibe.
While both offer durability and charm, maple provides a bit more flexibility for kitchens learning modern or wanting to paint cabinetry. For outgoing traditional to country charm, hickory's uniquely bold grain stands out beautifully.
The blonde to dark brown tones of hickory wood creates striking variation and interest. The grain tends towards organic irregularity with small knots that add rustic appeal. Staining allows depth and dynamic graining to shine.
In contrast, maple wood offers a more subdued canvas with its smooth, uniform grain punctuated by few knots. This consistency allows maple to suit painted finishes in any shade. The honey stain adds welcoming warmth without overwhelming it.
As a rugged wood, hickory withstands heavy use but shows impact marks like dents and scratches more easily. Dense maple better resists daily knocks and scuffs while providing durability. Its tighter composition helps hide surface imperfections.
While hickory leans distinctly rustic and countryside, maple offers exceptional versatility. It's refined aesthetic adapts well from contemporary spaces to ornate traditional. Hickory looks most at home in a farmhouse or cottage setting.
So for an outgoing, livelier wood full of character, hickory delivers on unique rustic style. For an adaptable subtly elegant glow, maple creates a warm, welcoming kitchen backdrop for any home. We discussed farmhouse hickory kitchen cabinets earlier. If you find it appealing, feel free to explore all the details in our comprehensive article.
Design Considerations for Maple Kitchen Cabinets
Granite countertops beautifully complement maple's natural wood tones. Darker granites like Ubatuba granite have rich brown and black speckles that accent maple's grain patterns. For a lighter pairing, New Caledonia granite's soft grays and gentle white veining blend nicely. Quartz countertops mimicking natural marble also coordinate well with maple cabinetry.
In terms of backsplashes, maple cabinets suit both tile and natural stone. Classic white subway tile adds clean lines and brightness. Bold printed or mosaic tiles make a lively statement. For organic texture, travertine or marble backsplashes in soft neutrals complement maple's warmth.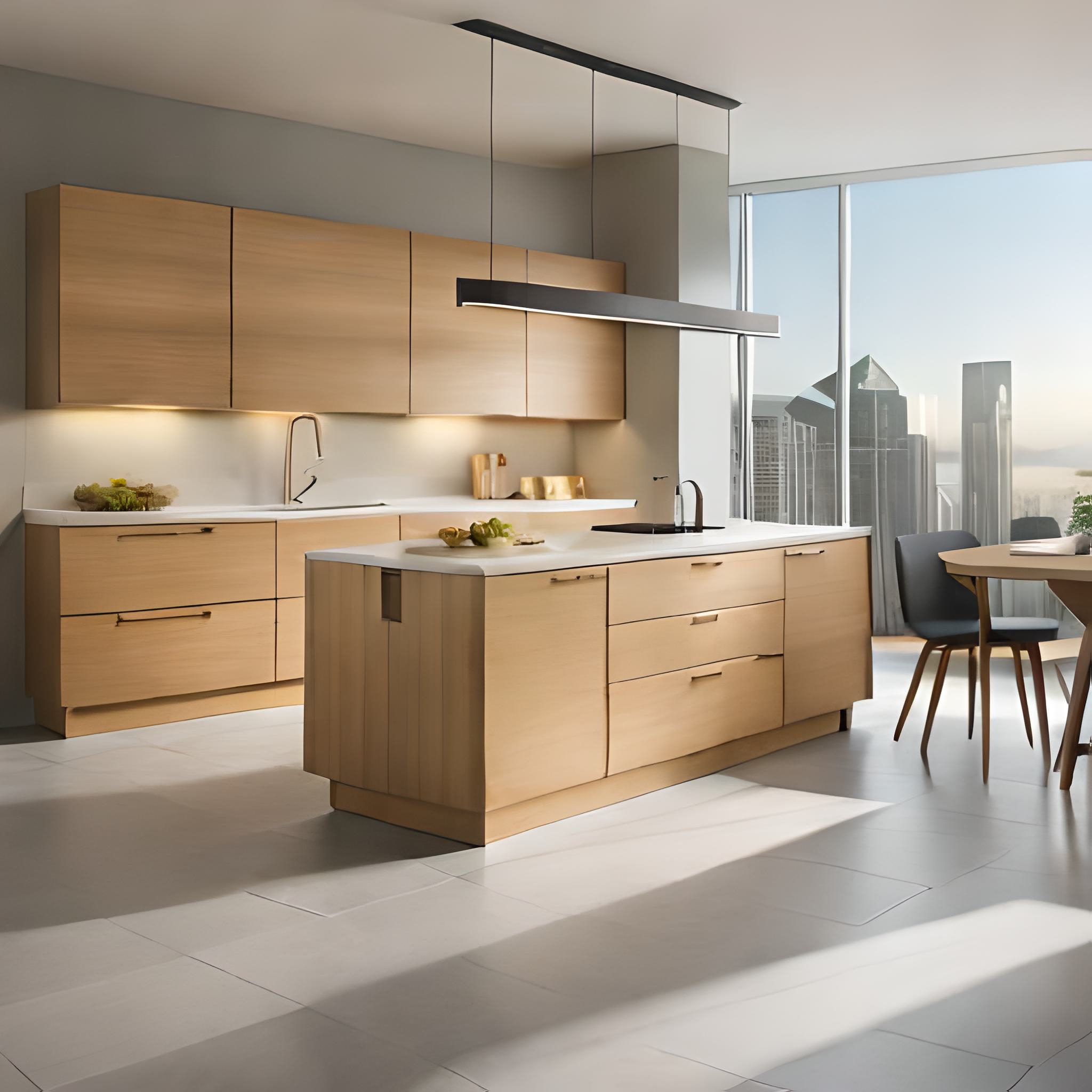 For hardware, oil-rubbed bronze and brushed nickel finishes bring out the brown undertones and subtle grain of maple cabinets. Matte black hardware provides modern contrast against lighter maple finishes.
Intentional kitchen lighting shows off maple's beauty. Pendant lights over islands or dining spaces provide direct illumination. Undercabinet lighting spotlights work areas. Even ambient lighting from recessed ceiling lights fills the room. Mixing warm and cool lighting temperatures adds visual interest.
Stainless steel, black, or white appliances coordinate seamlessly with maple cabinetry. Stainless steel's modern gleam matches maple's sleek lines in contemporary kitchens. Black appliances pop against pale maple finishes. White appliances blend into painted white maple cabinetry.
By thoughtfully selecting complementary finishes and materials, maple kitchen cabinets can anchor an array of stylish, cohesive designs from organic and rustic to sleek and contemporary.
Decorating a Maple Kitchen – Colors, Textures and Materials
Maple cabinetry brings warmth and elegance to kitchen designs across styles from traditional to contemporary. Coordinating wall colors, flooring, and decor completes the look. Here are some decorating recommendations for beautifully accentuating maple's natural beauty:
Wall Colors
Soft neutrals like light tans, grays, and pale greens allow maple cabinetry to take center stage while keeping the space airy and bright.
Blues from powder blue to deep navy add stylish contrast and bring out maple's brown undertones.
Vibrant paint colors like coral, mint, or canary yellow complement maple's woodsy aesthetic in playful cottage kitchens.
Flooring
Hardwood flooring in similar brown and tan wood tones as the maple cabinets establish cohesion.
Natural stone tile in travertine, limestone, or marble creates organic contrast against maple cabinetry.
Light colored vinyl plank flooring keeps the space feeling open and airy.
Decor Styles
Modern design pairs sleek metal hardware and pendant lighting with maple's clean lines.
Rustic country looks blend nicely with maple through farmhouse sinks, woven baskets, and antique-inspired accents.
Cottage decor embraces maple's charm through floral curtains, painted tiles, and pastel hues.
Contemporary maple kitchens feature bold solid surface countertops, subway tile, and metallic finishes.
Traditional maple cabinetry suits classic white shaker cabinets, dark granite, and elegant fixtures.
Whatever your personal style, maple kitchen cabinets offer warmth and versatility to create a customized, inviting space. Through coordinated wall colors, flooring, lighting, and decor details your design vision can come to life.
Reasons Homeowners Love Honey Maple Kitchen Cabinets
With their warm, organic style and exceptional durability, honey maple cabinets offer the perfect blend of beauty and everyday functionality. Here are some key reasons this versatile cabinetry remains a favorite:
Adaptable style aligns with any aesthetic from modern to traditional. Painted, stained, or whitewashed maple allows customized alignment with current design trends.
Maple's fine wood grain and minimal knots create refined, organic visual interest. The honey stain enriches maple's sophisticated natural tones.
Quality construction and materials like durable joinery and finishes ensure maple cabinets withstand years of regular use.
Maple wood's density makes it resistant to surface scratches, scuffs and impacts from cooking and cleaning.
As a replenishable hardwood, maple is an eco-friendly choice managed sustainably for future growth.
Bringing together outstanding style, quality, and environmental responsibility, it's easy to see why honey maple remains a beloved cabinetry choice. Its welcoming glow complements any kitchen.
With an array of classic and contemporary door styles, honey maple adapts well to personal tastes and design visions. Painted, stained or whitewashed finishes keep options open. This flexibility suits any aesthetic.
The honey stain highlights the maple's naturally sophisticated, golden brown tones. Subtle variations in the wood grain add organic interest. Maple's refined, muted color palette establishes cozy elegance.
Quality maple cabinet construction includes sturdy joinery and durable finishes that withstand moisture, daily wear and tear, and years of regular use. Manufacturers back their cabinetry with warranties.
As a dense hardwood, maple resists dents, surface scratches and scuffs from everyday cooking and cleaning. It's built to last through changing trends and busy homes.
And eco-friendly maple meets sustainability standards for responsible forest management so future generations can enjoy this beautiful wood.