The Ultimate Guide to Choosing Adjustable Bed Headboards and Footboards
Adjustable beds have seen a resurgence in popularity in recent years as more people discover their benefits for comfort and health. A key part of creating an adjustable bed setup is choosing the right headboard and footboard to complement the adjustable base. Headboards and footboards allow you to add style, storage, and functionality to complete the look and utility of your adjustable bed.
In this guide, we will explore the range of adjustable bed headboard and footboard options to help you find the perfect match for your needs and bedroom aesthetics. From upholstered headboards that soften the look to storage footboards that maximize space, there are many ways to customize your adjustable bed.
Types of Adjustable Bed Headboards and Footboards
When selecting a headboard or footboard for your adjustable bed frame, one of the first decisions is the type of design. There are several main options to consider:
Upholstered Headboards
Upholstered headboards covered in fabric are a popular choice for adjustable beds. The soft padded upholstery creates a more elegant and refined look. Upholstered headboards also help absorb sound and can dampen noise from the adjustable base motors. From tufted to channel-stitched designs, upholstered headboards allow you to integrate your adjustable bed into a traditional or contemporary bedroom aesthetic.
Wood Headboards
Wood headboards and footboards provide a classic, timeless look. Oak, maple, cherry, and other hardwoods bring warmth and natural texture. The style can range from traditional carved wood to rustic reclaimed boards to contemporary simple lines. Wood headboards often include storage options like shelving, cubbies, and side tables built into the design.
Metal Headboards
Iron, brass, and bronze metal headboards and footboards bring an industrial edge to the adjustable bed. The metal material offers a streamlined, modern look and feel. Metal headboards can include decorative finishes, from powder-coated colors to rubbed bronze. The simple metal slats allow flexibility in design from basic frames to more ornate metalwork shapes.
Tufted Headboards
For a touch of elegance, tufted headboards add shapely button details and padded cushions to the adjustable bed. The classic tufted look provides a tailored, dressed-up style while still being comfortable and inviting. Tufted headboards come in a range of fabrics from velvet to linen.
Storage Headboards
Storage headboards maximize the functionality of the adjustable bed by incorporating shelves, cubbies, and side tables into the design. Built-in storage space helps reduce nightstand clutter and makes the most of the bedroom footprint. Storage headboards are available in upholstered, wooden, and even metal designs.
Materials for Adjustable Bed Headboards and Footboards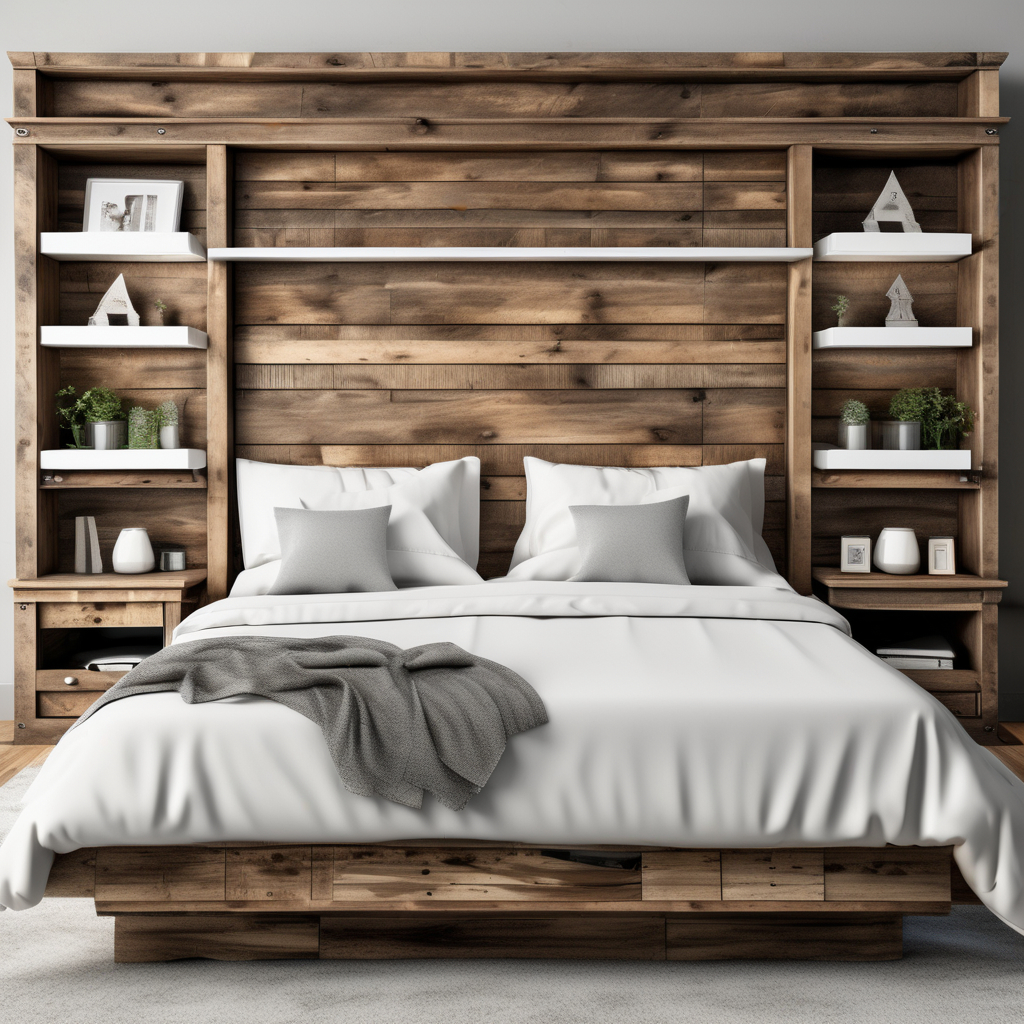 When selecting materials for an adjustable bed headboard or footboard, there are a few main options to consider:
Wood
Oak – A classic hardwood with a distinctive grain pattern. Durable and stainable.
Cherry – A rich reddish-brown wood that darkens over time. Often used for traditional designs.
Maple – A versatile pale hardwood that takes stain well. Provides a clean, contemporary look.
Metal
Iron – Heavier and more durable than many metals. Often wrought iron for decorative shapes.
Brass – A warm, golden metal that can be polished to a bright shine or given an antique patina.
Bronze – A classic metal with an earthy, brownish hue. Available in matte or shiny finishes.
Upholstery Fabric
Linen – A natural fiber fabric with an understated, casual texture. Breathable and relaxing.
Velvet – A luxuriously soft pile fabric with a dramatic, elegant drape.
Leather – A rich, handsome material that develops a relaxed patina over time.
The material for an adjustable bed headboard or footboard sets the overall aesthetic tone and durability. Warm wooden headboards provide a welcoming natural look and feel. Metal offers cool, sleek lines with vintage or modern styling. Plush upholstered headboards create a soft, cozy mood. Consider the overall design vision for your bedroom along with practical factors like budget and maintenance when choosing materials. The options provide diverse looks to match any decor.
Sizes of Adjustable Bed Headboards and Footboards
When selecting an adjustable bed headboard or footboard, you'll want to make sure to get the proper size designed to fit your adjustable bed frame. There are five common size options:
Twin – This size fits twin and twin XL adjustable beds. Twin headboards are approximately 38-39 inches wide.
Full – For full and full XL adjustable bed frames. Full headboard width is around 53-54 inches.
Queen – Fits queen adjustable beds. Queen headboards span approximately 60-61 inches wide.
King – Made to suit standard king size adjustable bases. King headboard width is about 76-78 inches.
California King – For Cal king adjustable beds, which are longer and narrower. Cal king headboard width ranges from 72-74 inches.
When determining the right adjustable bed headboard or footboard size, always cross-reference the dimensions of your specific adjustable bed model. While sizing is relatively standard, slight variations can exist. Measure the width of your adjustable base to ensure the headboard and footboard will properly fit flush against the bed frame.
Having the correct size headboard and footboard not only provides proper fit but also ensures your adjustable bed will be supported properly and the room aesthetics will remain balanced. Consider your needs for size, style and functionality as you shop. With standard bed sizes covered, you're sure to find the ideal adjustable headboard and footboard combination.
Features and Functions of Adjustable Bed Headboards and Footboards
Modern adjustable bed headboards and footboards offer much more than just decorative style. Clever design features and integrated functions can enhance comfort, convenience, and utility. Here are some key features to consider:
Detachable Headboards and Footboards
Some headboards and footboards attach securely to the adjustable base but are also completely detachable. This allows for easy moving and transport through doorways or stairwells. It also enables quick replacement or switching out to a different style.
Storage and Shelving
Storage headboards and footboards maximize space and reduce nightstand clutter. Built-in shelving, cabinets, and cubbies provide organized storage to stash books, devices, remotes, glasses, and more within arm's reach.
Lighting
Ambient headboard lighting sets a relaxing mood while accent lighting illuminates reading nooks. Opt for adjustable brightness, timer functions, and tap-to-control. Some even sync colors with sunrise/sunset.
USB Ports and Device Docks
Integrated USB charging ports make it easy to power up devices right from bed. Headboards with device docks securely hold phones, tablets, e-readers, and remotes in place for convenient access.
Adjustable and Movable
Look for height-adjustable headboards and footboards that can be adapted to sit at the ideal position for your needs. Movable designs with side-to-side rotation increase accessibility in getting in and out of bed.
The right features can enhance the utility of your adjustable bed and bedside space. Prioritize must-have functions like storage or lighting based on your needs and room layout. The wide range of integrated features allows a fully customized adjustable bed and headboard/footboard experience.
Design and Style Options for Adjustable Bed Headboards and Footboards
The design and style of your adjustable bed headboard and footboard establish the overall aesthetic and visual impact of the bed. There are many directions you can take to complement your existing decor or create a whole new bedroom look.
Traditional Style
Traditional headboards feature graceful curved lines, detailed moldings, and ornate shapes for timeless elegance. Tufted upholstery, carved wood, and scrolled metalwork evoke a formal, polished impression. Floral fabrics and vintage artwork enhance the classic vibe.
Contemporary Style
Contemporary headboards make a sleek, modern statement with clean lines and minimal ornamentation. Upholstered heads with crisp tailored edges or simple wood plank designs embody understated sophistication. Metallic finishes and neutral bedding keep the look current.
Rustic Style
Rustic headboards capture cozy farmhouse charm with reclaimed wood materials and visible wood grains. Whitewashed finishes, weathered patinas, and distressed details express casual warmth. Layered natural textures and earthy colors cultivate an invitingly casual and relaxed environment.
Industrial Style
The industrial aesthetic brings a gritty chic attitude with metal pipe frames, exposed brick walls, and galvanized steel. Streamlined floating headboards and stripped-down metal bases reference structural elements. Concrete, leather, and steel infuse urbane edge.
Eclectic Style
Eclectic headboards artfully blend assorted designs for a curated collected look. Mix varied textures like wood, metal, and fabrics or combine vintage elements with modern shapes. The personalized layers reflect depth and character.
Seek inspiration from your favorite spaces then customize the perfect style to elevate your bedroom.
Choosing the Right Headboard and Footboard for Your Adjustable Bed
Selecting the ideal adjustable bed headboard and footboard requires balancing functional needs with personal style preferences. Here are key factors to consider when making this important decision:
Bed Size
Match the headboard and footboard sizes to your exact mattress dimensions. Measure the width of your adjustable bed base, accounting for any overhang. Standard sizes include twin, full, queen, king, and California king. Custom sizing is also available. Ensure proper fit for visual balance and support.
Design Theme and Aesthetics
Choose headboard and footboard styles that complement your existing bedroom decor and design goals. Seek inspiration from your favorite looks – traditional, modern, rustic, etc. Fabric, wood type, and finish impact the overall aesthetic. Select options that enhance your intended mood.
Budget
Headboard and footboard prices span a wide range, mainly based on materials and construction. Simple metal and upholstered vinyl options tend to be the most affordable. Handcrafted wood and leather-wrapped designs are premium. Set realistic budget parameters that align with your value priorities.
Needed Features
Consider functional features like storage, lighting, device docks, and adjustability based on your habits and needs. Added conveniences may increase costs but can optimize bedside utility. Prioritize features that will enhance everyday use.
Ease of Installation
Look for headboards and footboards designed for straightforward DIY installation or that come with white glove delivery and professional installation. Complex designs or heavy materials may require professional assistance. Assess your skills and capacity for hassle-free setup.
Balancing all factors from space constraints to price to functionality will guide you toward the ideal headboard and footboard for your personalized adjustable bed retreat.
Accessorizing Your Adjustable Bed for an Inviting Oasis
The right accessories can take your adjustable bed from simply a sleeping surface to an inviting personal oasis. Complement with carefully selected accents that enhance comfort and create an ambiance you love.
Pillows and Blankets
Curate your ideal mix of supportive and cozy pillows to customize your adjustable bed. Play with different fills, firmness levels, and pile heights. Layer on breathable blankets and comforting throws to encourage relaxation.
Lighting
Lighting casts both a visual and emotional glow. Mount adjustable reading lights to illuminate without glare. Set the mood with ambient accent lamps or string lights. Opt for smart bulbs to control settings from bed.
Wall Décor
Make the wall behind your adjustable bed a captivating focal point. Hang artwork, tapestries, or shelves to reflect your personality. Coordinate frames and colors for a pulled-together look.
Nightstands
Bedside nightstands expand usable space for books, beverages, devices, remotes, and personal items you want close by. Seek nightstands with charging stations built in for convenience.
Area Rugs
Define the adjustable bed space with a soft area rug underneath. Layering rugs adds cozy texture and helps define the layout. Rotate or slide rugs to reposition your focal point.
Thoughtfully embellishing your adjustable bed surround transports you to a relaxing retreat. Mix meaningful pieces that delight the senses and nourish your spirit. Soon your personalized oasis will become your favorite room.
Adjustable bed headboards and footboards empower you to curate a sleeping space aligned with your functional needs and personal style. With the wide range of sizes, materials, features, and design aesthetics available, you can find options to complement any bedroom decor.
Consider your priorities for comfort, storage, technology integrations, and visual appeal as you select adjustable bed headboards and footboards. Then pull your look together by accessorizing with pillows, lighting, artwork, and other accents you love.
The ability to customize both form and function allows your adjustable bed to become the centerpiece of a relaxing oasis perfectly tailored to how you live and recharge.