Buyer's Guide to Gothic Twin Bed Frames
Gothic twin bed frames evoke mystery and romance with their dramatic silhouettes and elaborate details. As this striking furniture style enjoys renewed popularity, finding the right gothic twin bed frame can transform a boring bedroom into a moody, enchanting retreat. But between construction quality, styling varieties, and investment costs, choosing a gothic twin bed demands careful thought.
In this buyer's guide, we cut through the confusion surrounding gothic twin bed frames. You'll uncover what defines the gothic look, materials and decorative details to look for, and tips for incorporating gothic beds into different decor aesthetics.
History and Characteristics of Gothic Style Furniture
Gothic furniture emerged in Europe during the Late Middle Ages and expressed the aesthetic ideals of the grand cathedrals being built across the continent at that time. Drawing inspiration from Gothic architecture, furniture makers incorporated design elements like pointed arches, arched vaulted panels, elaborate carving, and finial decoration into their work.
The rise of Gothic style furniture coincided with the flourishing prosperity and extravagance of the medieval era. Nobles and aristocrats wished to emulate the splendor of the great Gothic cathedrals within their castle chambers and manor homes. Gothic motifs reflected religiosity while also displaying status and wealth.
Defining Features of Gothic Furniture
Arched or pointed shapes in headboards, footboards, and chair backs
Intricate hand-carved details incorporating nature themes, tracery, and scrollwork
Elaborate turned spindles and posts topped with decorative finials
Dark, ornate wood varieties like oak, walnut, and mahogany
Upholstered panels and use of leather or velvet trims
Expressive figurative carvings drawing from biblical tales
As tastes shifted with the Renaissance and into the 18th century, Gothic furniture evolved into the Gothic Revival and Neo-Gothic movements which reimagined the medieval style. Modern craftsmen still employ Gothic elements for a dramatic, Old World aesthetic.
Key Elements of a Gothic Twin Bed Frame
The ornate details and dramatic silhouettes of gothic furniture come to life in the design of a gothic twin bed frame. While modern tastes may simplify some of the extravagance, several signature elements create the classic gothic look.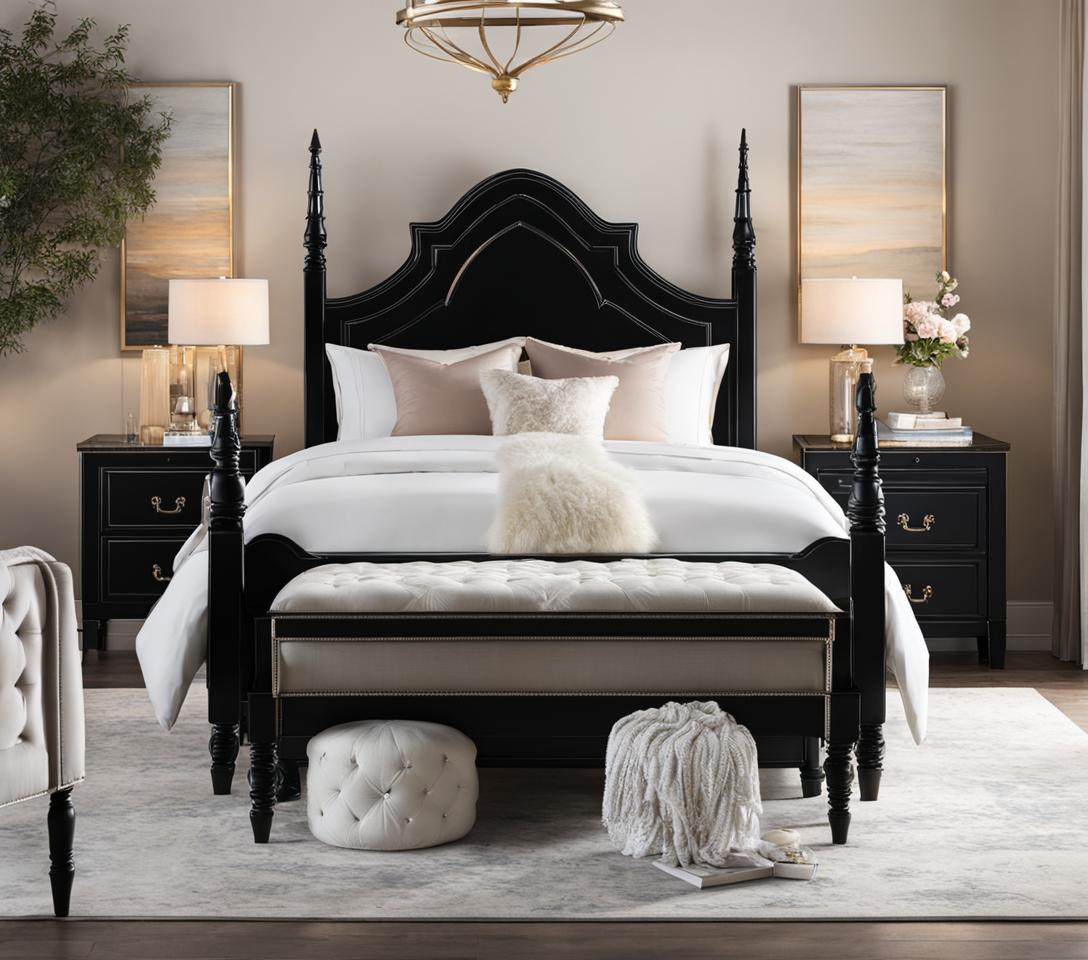 Headboard and Footboard
The headboard and footboard epitomize Gothic style with their arched or pointed shape. Headboards may feature intricate carved decoration, vertical spindle work, or be softly upholstered and tufted. Footboards traditionally mirrored the same motifs but can be plainer. The feet often end in gently curved or scrolled shapes.
Side Rails
Sturdy side rails reinforce the frame and support the box spring and mattress. Wood side rails with detailed spindle work maintain the gothic aesthetic. Wrought iron or antique brass rails offer a lighter look yet strong support.
Posts and Finials
Posts at the corners continue the vertical lines and exaggerated height of gothic furniture. The posts extend above the bed frame and end in finials – decorative ornamentation like spirals, acorns, and spires. Finials evolved from Greek and Roman architecture and amplified the majestic nature of the Gothic style.
Spindle Work
Turned spindles, small rounded dowels, and open fretwork add lightness and intricacy to Gothic bed frames. Groupings of vertical spindles often adorn headboards, footboards, and side rails. The repetitive nature of the delicate spindle work contrasts with bolder carved elements.
Pokerwork Motifs
Also called tracery, pokerwork refers to perforated carving designs that create lacelike patterns. The technique developed from Gothic stone tracery converted into woodwork. Geometric shapes, arches, circles, and plants like vines or flowers typify pokerwork on Gothic revival beds.
Canopy Frames
While not mandatory, canopy bed frames suit the medieval origins of the style. Elaborate canopy frames with pointed arches, turned posts, and ornate joinery enhances the visual drama. Canopies range from metal hoops with fabric drapes to fully carved wooden ceiling frames.
Materials and Construction
The materials and construction methods used for a gothic twin bed frame greatly impact its quality, durability, and cost. Assessing these key features helps ensure you choose a bed that matches your needs and budget.
Wood Types and Quality
Gothic beds are traditionally crafted from quality hardwoods like oak, walnut, mahogany and cherry. Solid woods or multi-ply woods offer superior strength versus wood veneers over cheaper cores. Check that the edges are fully solid wood, not just veneer. Dense woods like mahogany and walnut resist dents and wear for heirloom-quality furniture.
Oak: Strong and sculptural for dramatic carved details
Pine: Affordable softwood for painted Gothic pieces
Mahogany: Rich darker woodgrain is perfect for stain
Cherry: Ages to a lovely patina over time
Metal Accents
Wrought iron, antique brass, and pewter metalwork lend Gothic elegance. Seek thick, heavy-gauge metals that won't bend easily. Iron finishes include:
Distressed: Intentionally aged and rusted
Painted: Color like matte black suit a Gothic mood
Polished: Smooth and shiny metal surface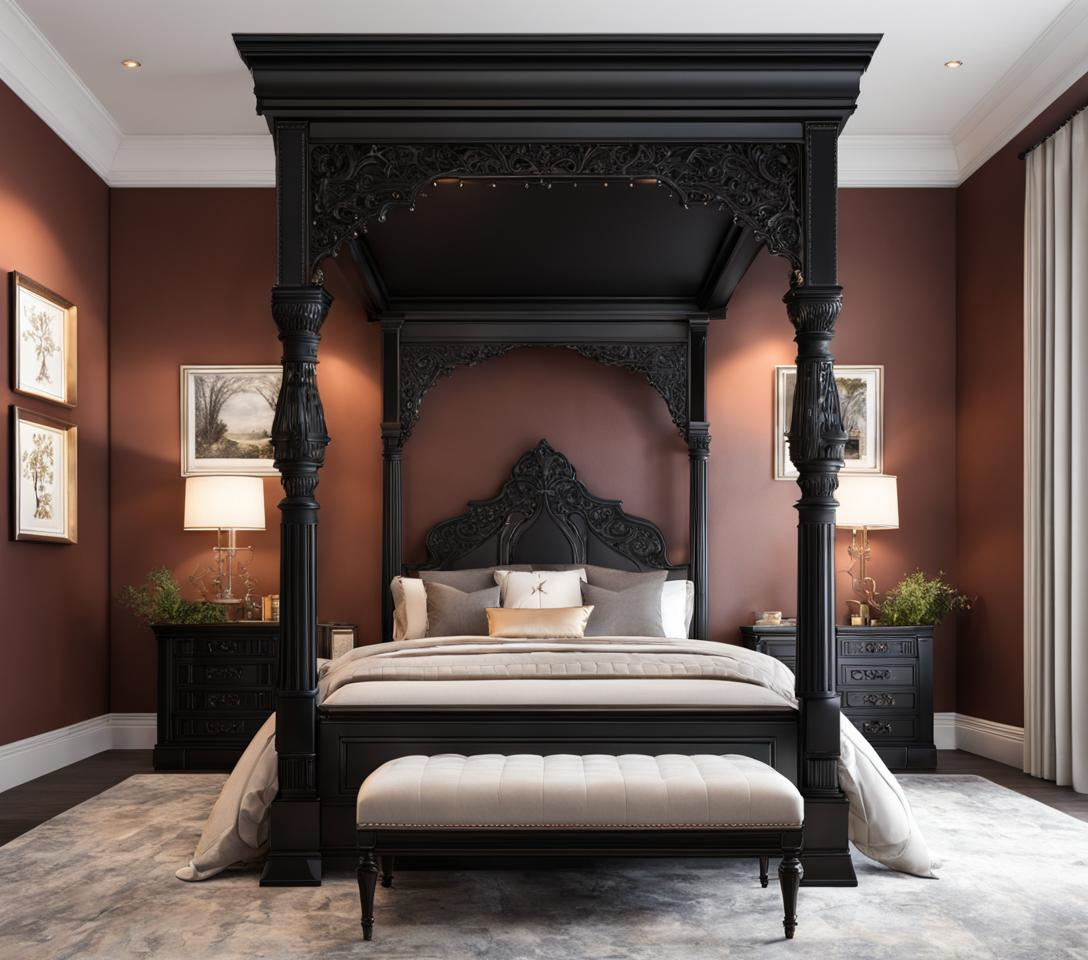 Joinery and Reinforcement
Proper joinery and reinforcements prevent loosening or collapse of the bed frame over time. Mortise and tenon joints allow for sturdy connections. Check for corner blocking and supports under the frame. Center legs, feet, or cross-braces should securely support bed weight.
Hardware and Mechanisms
Look for strong, thick bolts and steel support rails. Slats should be closely and securely spaced for mattress support. Moving components like hinges and lifts need smooth operation without binding or friction.
Assembled Mattress Support
Gothic beds require either a box spring/mattress combo or a supportive slat system. Platform beds with solid wood slats or slotted metal allow for air circulation. Individual bent-wood or metal cross-slats offer flexibility.
Size and Configuration Options
Gothic bed frames come in all standard mattress sizes, from twin to king, to suit any bedroom. While ornate carved headboards define the style, you can also find more affordable gothic-inspired beds with just metal or wood side rails.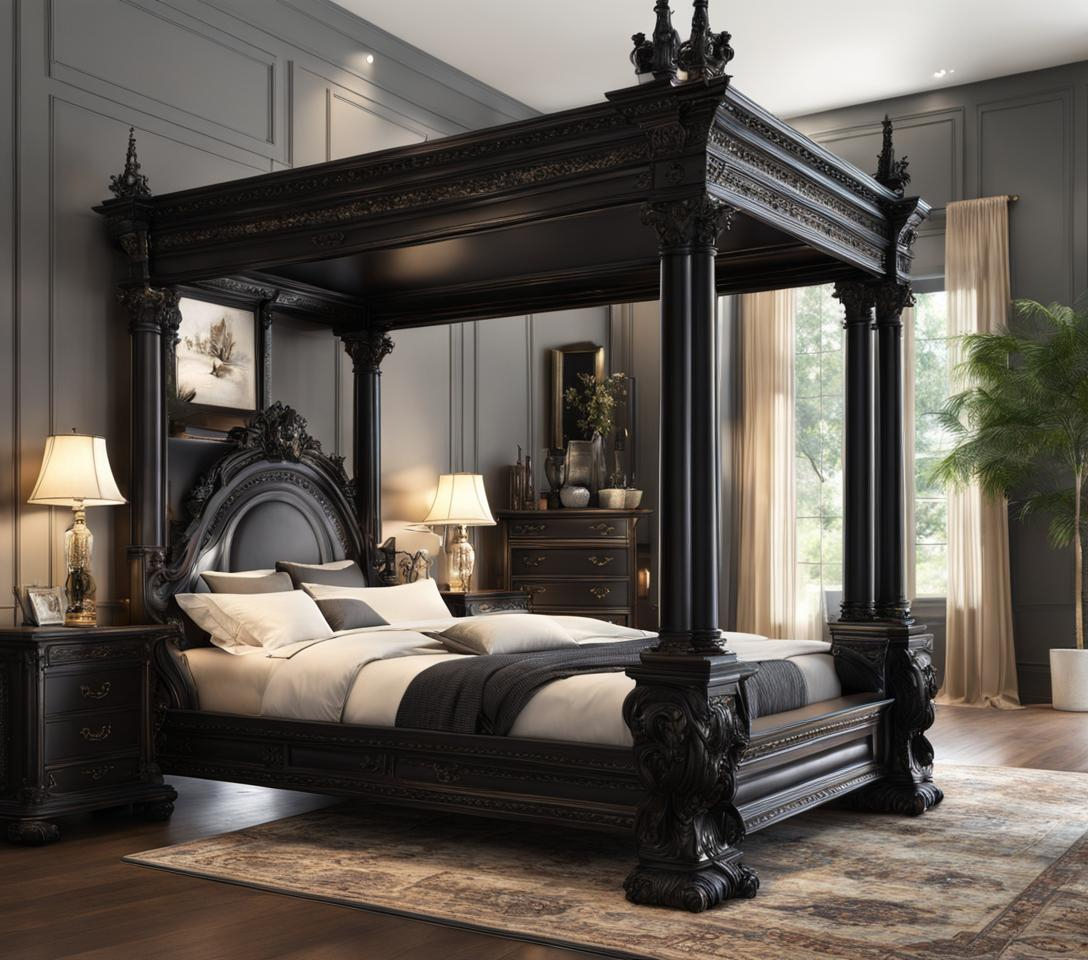 Twin
A twin gothic bed offers an efficient use of space for guest rooms or kids' rooms. The smaller scale highlights the decorative headboard as a statement piece.
Full
With more width than a twin but less length than a queen, full beds work well in modestly sized bedrooms. Two kids or teens can comfortably share a full size.
Queen
The popular queen size provides an ideal balance of generous sleeping space without consuming too much bedroom real estate. Queen beds offer couples comfort and intimacy.
King
For ultimate luxury, a Gothic king bed makes a dramatic centerpiece for master suites or guest quarters. The expansive width allows for luxurious sleeping and lounging.
Platform Beds
Gothic platform beds have a solid or slatted foundation to support the mattress without the need for a box spring or bed frame. Many have built-in storage drawers.
Headboard Only
Just purchasing the headboard is a budget way to get the gothic look. Pair with basic metal side rails and legs of your choice.
Storage Beds
Storage beds maximize space efficiency with drawers built into the base, perfect for storing linens, clothing, or extra blankets. Look for high-quality joinery on built-ins.
Gothic Style Bedroom Decor
A gothic bed serves as the crowning jewel of an overall gothic-inspired bedroom design. Crafting a cohesive look involves layering furnishings, textures, and accessories that echo the drama and romance of the chosen bed frame.
Color Palette
Deep, saturated hues create an intimate yet vivid backdrop. Classic gothic color combinations include:
Burgundy walls with black and purple accents
Navy blue with metallic gold and bronze tones
Forest greens layered with crimson and wine tones
Regal purples enriched with garnet and ruby accents
Avoid pale or pastel shades that dilute the mood. Use dark paints and wallpapers to make architectural details pop.
Layers of Texture
Furry throw blankets, velvet pillows, and smooth satin bedding add luxurious layers. Flowing drapes frame gothic scenes through tall windows. Display intricately woven tapestries or embroidered wall hangings layered over stone-look wallpaper. Distressed woods and hammered metals also boost texture.
Ornate Accents
Carved side tables, stately armoires, and decadent upholstered chairs complement your bed frame. Place flower-filled pewter or crystal vases atop aged drawer chests. Scatter ornate picture frames and candelabra sculptures about.
Statement Lighting
Wrought iron chandeliers, elegant wall sconces, and stained glass lamps cast a moody glow. Go for pieces with metalwork, curving silhouettes, or tapered candlestick bases. Layer ambient and task lighting.
Rugs
Oversized floral medallion rugs or busy Persian carpets align with Gothic grandeur. Deep pile absorbs sound within the space. Aubusson rugs feature baroque scrollwork and florals. Distressed Persian rugs add old world charm.
Purchasing a gothic twin bed frame allows you to infuse any bedroom with compelling medieval drama and romance. From the exquisite craftsmanship of hand-carved woods to the sensual allure of tufted leather and velvet, gothic beds provide a conduit to the past.
Take time to seek out a quality frame built from durable materials like oak, mahogany, or wrought iron. Study the hallmarks of time-honored gothic design like arched silhouettes, detailed turned spindles, and pokerwork piercing.
Whether you source an antique bed passed down through generations or commission a custom gothic creation, choose a size and configuration that suits your needs. Aim for ornate yet graceful lines that don't overwhelm the space. Finally, complete the look by layering gothic touches like tapestries, sconces, and floral carpets throughout your moody, regal bedroom retreat. With the right Gothic bed as your inspiration, you can craft a space as memorable and enchanting as the lavish cathedrals of old.