Strategies How to Lighten Up a Kitchen with Cherry Cabinets
Dark cherry cabinets can make a kitchen feel closed in and dated. The rich color and traditional styling can overwhelm a space, making it seem dark and gloomy. With some simple lighting and design changes, it's possible to brighten up a kitchen with cherry cabinets.
Strategically increasing natural and artificial light can make the space feel more open and airy. We'll also look at reflective surfaces, neutral paint colors, and an open floor plan to reflect light around and amplify the brightness. With a few affordable tweaks, you can transform the ambiance of your cherry cabinet kitchen from oppressive to uplifting.
Let's explore effortless ways to say goodbye to your dark, depressing kitchen and hello to a lighter, brighter space you'll love spending time in.
Let the Light In: Windows and Skylights
Nothing brightens up a space like natural light. When tackling a dark cherry wood kitchen, maximizing sunlight should be priority number one. Start by taking a critical look at your window treatments.
Do you have heavy drapes, valances or blinds blocking precious light? Open them up! Replace with sheer curtains, bamboo shades or other light, airy options that allow sunlight to filter through.
Consider removing the upper cabinets to create a more open, airy feel. This allows light to travel from windows on adjacent walls and illuminate the entire kitchen.
For small kitchens, be sure to reference small kitchen floor plans with dimensions to ensure adequate workspace remains when eliminating storage. Glass-front upper cabinets can also enhance brightness. Just be sure to regularly clean them since they show every speck of dust and grease.
If your kitchen lacks windows, adding more natural light sources like skylights and additional windows can make a dramatic difference. New windows and skylights may require construction, but the impact is worth the investment.
Ample daylight flooding your space gives the illusion of a larger, lighter kitchen. Position new windows/skylights to maximize sunlight during morning and afternoon hours when you utilize the kitchen most.
The benefits of maximizing natural light are twofold. Sun streaming in literally brightens up the space, counteracting those brooding cherry cabinets. But it also makes kitchens feel more open and airy by creating the illusion of more space.
Reflective Surfaces: Backsplash and Accessories
Strategically placed reflective surfaces can maximize light in a dark cherry kitchen. An easy upgrade is installing a light-colored, glossy backsplash. White subway tiles or glass tiles bounce light around the space, making it feel airier and brighter. Mirrored backsplashes take this luminous effect even further.
Here are some backsplash ideas for light reflection:
White, beige or light gray subway tiles
Stainless steel or tin backsplash tiles
Glossy glass tiles or mosaic sheets
Mirror tiles or a large mirror behind the sink
Cleaning is crucial since grease, soap and grime on the backsplash will diminish reflectivity. Avoid matte or porous materials that absorb light rather than amplify it.
Beyond the backsplash, placing mirrors strategically around the kitchen creatively reflects and distributes natural light. Lean a tall mirror against the wall by a window to amplify incoming sunlight.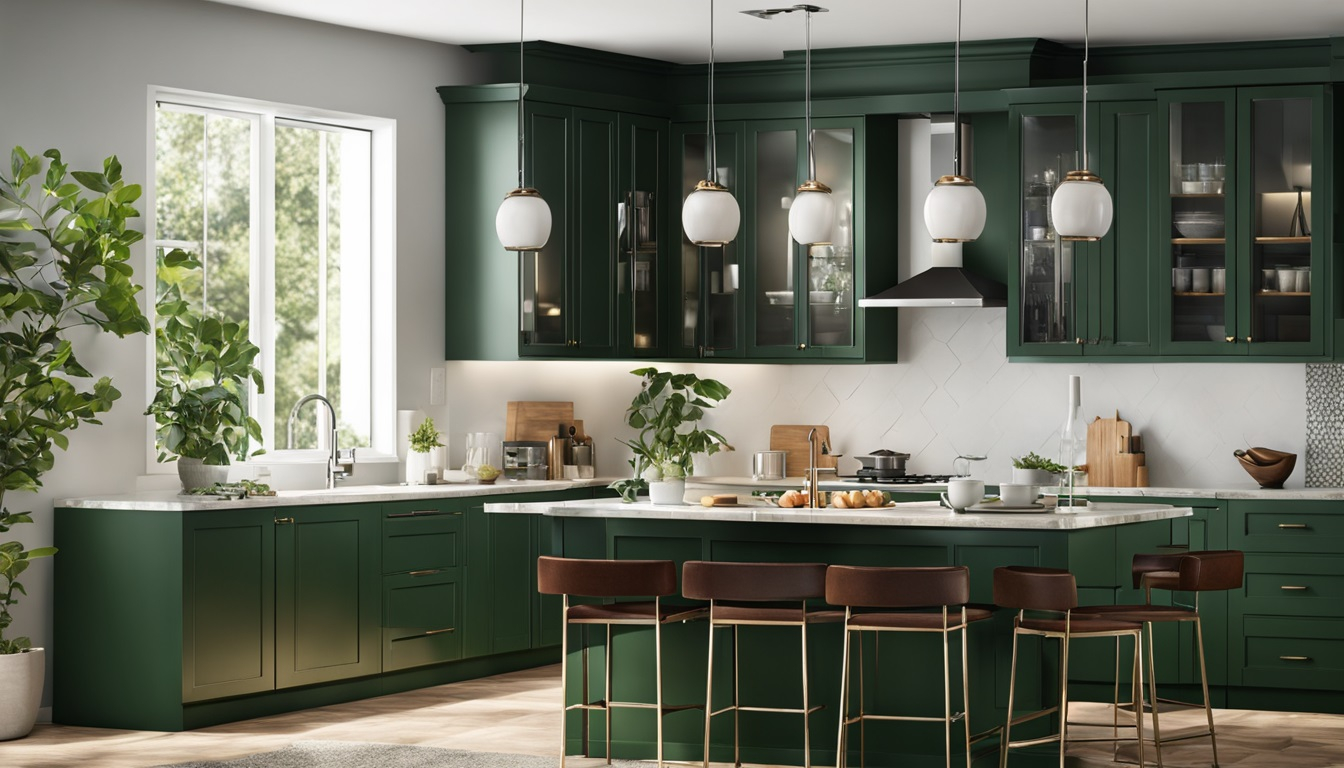 Hang a mirror opposite a light source to double the brightness. Or mount one behind an island or sink to open up the look and feel.
When selecting fixtures, appliances and accessories, opt for reflective metallic finishes. Stainless steel and unlacquered brass introduce more light-bouncing surfaces into the space. Even small touches like nickel cabinet knobs, silver cutlery or a chrome faucet make a surprising impact.
Paint the Walls and Ceiling a Light Color
Paint color plays a pivotal role in brightening up a dark cherry kitchen. Stark white can feel sterile and harsh, especially against rich cabinetry. Aim for soft off-whites, antique whites or very light grays with a subtle undertone. Here are some recommended hues:
Alabaster or cream white
Light gray with a greige or taupe hue
Pale frost or vanilla shades
Avoid going too dark or warm with wall colors. Light cool paint tones open up and expand space. If your kitchen has limited natural light, lighter colors make it feel brighter and airier.
Extend your pale wall color all the way up to the ceiling. Painting the ceiling a light color helps remove visual barriers so your eyes focus up and out rather than dropping down to dark cherry cabinetry. It gives the illusion of a taller, more expansive space. For a playful touch, consider painting the ceiling a brighter white than the walls.
When selecting a paint, opt for an eggshell or satin finish rather than high-gloss. The subtle sheen adds depth without being overly shiny. Eggshell paint also stands up well to moisture and frequent cleaning.
Be sure to use quality primer and paint that works well in high-traffic areas like kitchens. Applying two coats ensures proper coverage and longevity.
For more green kitchen paint color ideas that pair beautifully with cherry cabinets, consult with a color expert at your local paint store. With the right light, and airy hues, your kitchen will feel worlds brighter.
Task Lighting and Ambient Lighting
Proper lighting transforms a dark, dated cherry kitchen into a bright, welcoming space. Carefully layering task lighting, accent lighting and ambient lighting keeps the mood uplifting.
Task lighting illuminates specific work areas. Under-cabinet lighting provides focused illumination for food prep zones and sink spaces.
Opt for LED strip lighting with a high lumen output, or puck lights placed strategically under cabinets. Position the lights to avoid glare and shadows. Placing the strip slightly behind the cabinet front creates a soft glow.
Pendant lighting adds both task lighting and style over key areas like kitchen islands, dining nooks and sinks. Multi-pendant configurations make a dramatic style statement and cast ample light for meal prep and clean up.
Place single pendants centered above sinks or prep zones. Scale the pendant size and height appropriately – often 30-36 inches above the counter.
Recessed can lighting provides ambient illumination, but the harsh light generally doesn't pair well with rich cherry tones. Use recessed lighting sparingly, like over an eat-in dining nook to brighten the full space. Otherwise, focus on less intense ambient options.
For style and mood lighting, consider sleek track lighting or decorative sconces. Track lights shine directionally to highlight cabinetry or accent walls.
Sconces mounted on walls to wash surfaces in a soft glow. Decorative pendant lights like drum pendants or chandeliers add elegance. Just avoid massive, ornate chandeliers that feel heavy.
Mixing lighting types creates depth and dimension. Combine task lighting, accent lighting like mini-pendants over an island, and ambient options like recessed lights with dimmers.
Beyond the Kitchen: Adjacent Living Spaces
To make your cherry kitchen feel bright and expansive, consider how it connects to nearby living areas. Carry over design elements like lighting fixtures and wall colors into adjacent rooms to create cohesion. Sconces, pendants and under-cabinet lighting should flow from the kitchen into dining rooms, sitting rooms, etc.
Repeat paint colors in the same undertones on adjoining walls and ceilings. Neutral tones like soft grays, creams and whites promote brightness throughout open concept floor plans.
If remodeling, refer to open concept kitchen living room floor plans to knock down dividing walls. Removing visual barriers allows natural light to filter between rooms.
Widen doorways and interior pass-throughs to improve light circulation. Open shelving or half walls keep separation while still permitting light flow. The more unobstructed the traffic between the kitchen and other living spaces, the better connected the light feels.
If the floor plan is closed off, strategic architectural changes can drastically improve light movement and openness:
Widen doorways and remove doors where possible
Replace walls between rooms with half walls or peninsulas
Swap solid walls for frosted glass panels
Install lighting tracks on ceilings to extend through multiple rooms
The goal is to allow as much light spillage between the kitchen and surrounding rooms as possible. Illuminating the entire open concept creates cohesion. With smart intentional design, your kitchen makeover will not only revitalize that space but invite light into the heart of your home.