10 Green Kitchen Paint Ideas That Will Transform Your Space
If you're thinking about refreshing your kitchen, painting the walls with a green colorway can do wonders to transform the space. The color green represents nature, life, and energy, which can add a vibrant and refreshing touch to your kitchen. With its wide range of shades, from mint green to forest green, there is no shortage of options when it comes to choosing the perfect hue for your kitchen. Keep reading to learn how to choose the right green paint color for your kitchen and make it feel more comfortable.
The Psychology of Green Color
Using green paint in your kitchen can also have other benefits beyond aesthetics. Green is a versatile color that can transform any room in the house, including the kitchen.
The psychology of green suggests that the color can evoke different emotions and moods depending on the shade used. For instance, lighter shades of green tend to create a sense of freshness and growth, while darker shades may evoke a feeling of balance, calm, and relaxation.
When used in the kitchen, green can have a significant impact on the human psyche and transform the room's atmosphere. The right shade of green can create a clean, refreshing, and calming environment that inspires creativity while providing a sense of calm.
Popular Green Kitchen Paint Color Ideas
As we head into 2023, green is the color on every kitchen designer's radar. Whether you're looking for a subtle way to add a pop of color or want to go all out with a bold statement, there's a shade of green that will suit your style. Some of the most popular green paint colors for kitchen walls, cabinets, and accents include sage, olive, emerald, and forest green.
These colors are beloved for their ability to evoke feelings of calm and relaxation while also adding a touch of elegance to any space. Green is versatile and can be used in a variety of kitchen styles, from modern and minimalist to rustic and farmhouse. Let's explore ten green kitchen paint ideas that will transform your space and bring a fresh, natural feel to your home.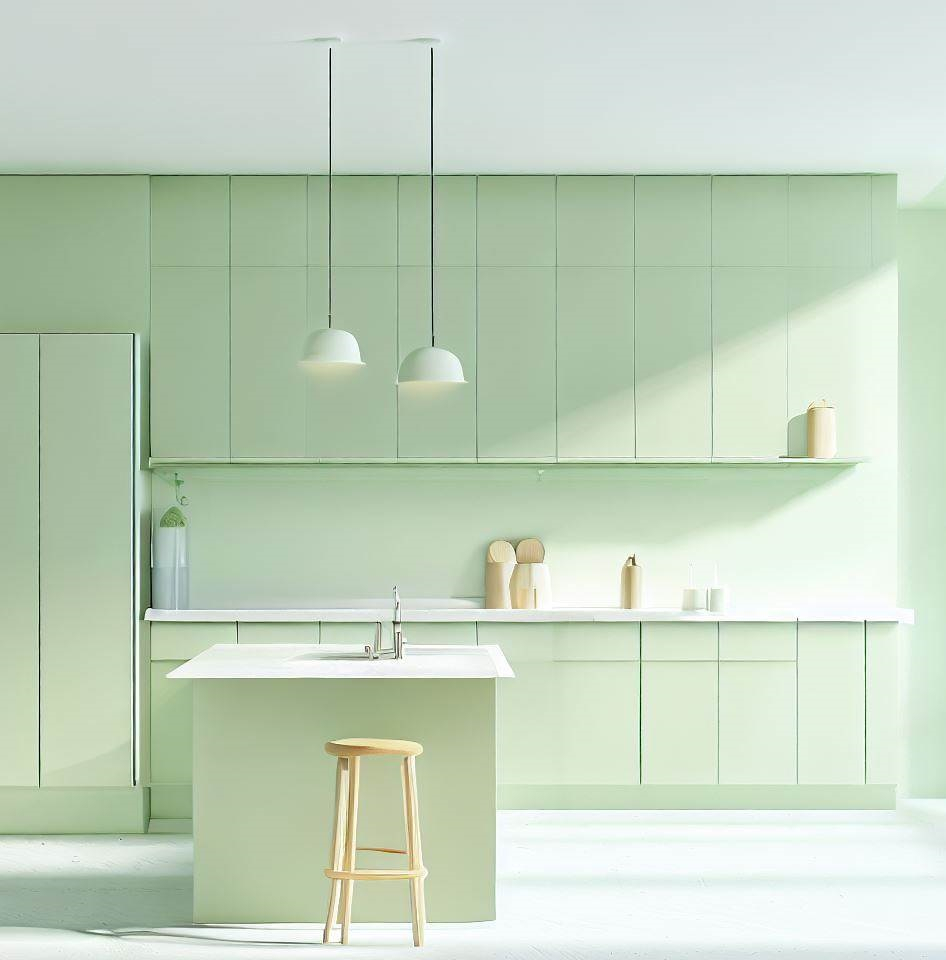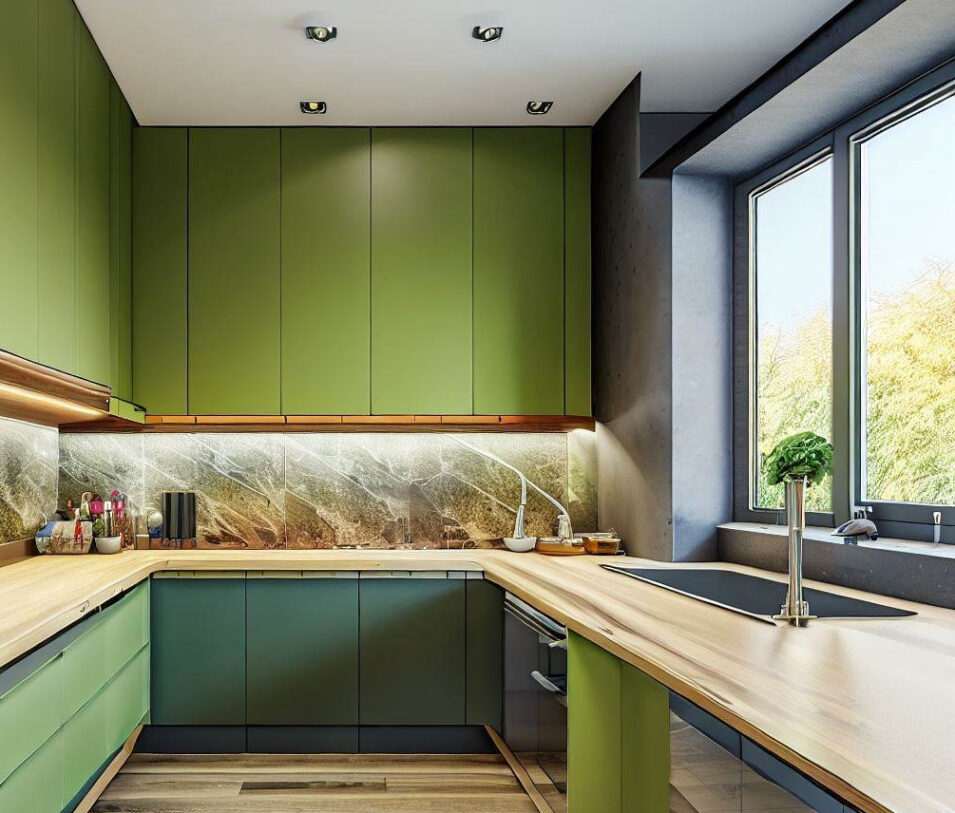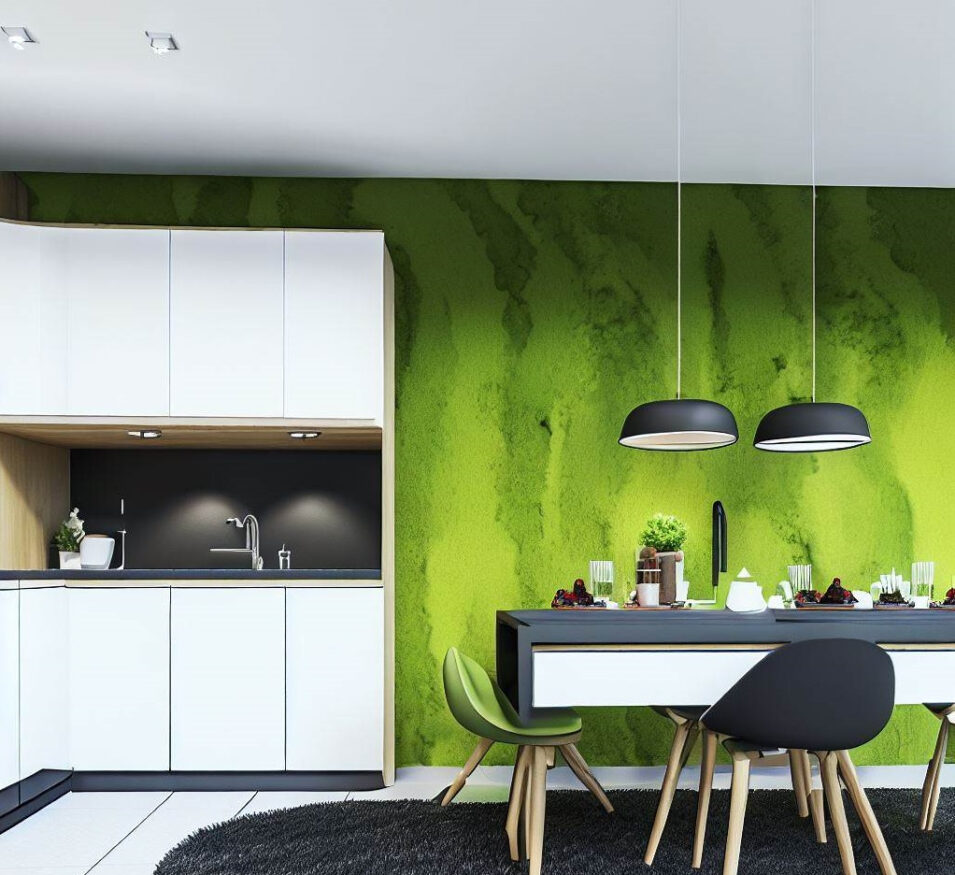 How to Choose the Perfect Green Paint Color for Your Kitchen
If you're looking to transform your kitchen with a new coat of paint, selecting the perfect green color can make all the difference. Here are some steps to help you choose the right green paint color for your kitchen:
Consider your lighting: The amount of natural and artificial light in your kitchen can affect how the green pigment appears on the walls. Test out different shades at different times of day to see how the light affects the color.
Think about your color scheme: The green paint you choose should complement the colors in your kitchen, including your countertops, cabinetry, and flooring. A monochrome green palette can be very stylish, while a mix of greens and blues can be cool and calming.
Reflect on your personal style: Choose a green that reflects your personal style and the overall aesthetic of your kitchen. If you prefer a brighter, more colorful space, go for a vibrant green. If you prefer a more refined and elegant look, a cooler, greyish green might be the right choice.
Test out samples: Always test out paint samples on your kitchen walls before making the final decision. This will allow you to see how the color looks in your specific space and lighting conditions.
Don't forget about textures: Green paint can be used to highlight different textures in your kitchen, including your countertops, ceramic dishes, and pottery. Glossy greens can give a modern look, while muted greens can give a more natural feel.
Embrace sustainability: Choose a green paint that is environmentally friendly and sustainable, like low-VOC paints, to minimize your carbon footprint and make your kitchen a more eco-friendly space.
How to Style Your Green Kitchen with the Right Furniture and Appliances
Are you ready to give your kitchen a colorful update? Choosing the perfect shade of green paint is just the beginning of your decorating journey. Whether you prefer muted or bold shades, this versatile color can transform your space into a peaceful oasis or a lively hub for cooking and entertaining. Here are some ideas on how to style your green kitchen with the right furniture and appliances:
Choose complementary furniture and appliances
Look for pieces that complement your green walls or cabinets. For example, wooden countertops or floors create a warm and inviting atmosphere, while black or stainless steel appliances add a sleek and modern touch.
Create a cohesive design style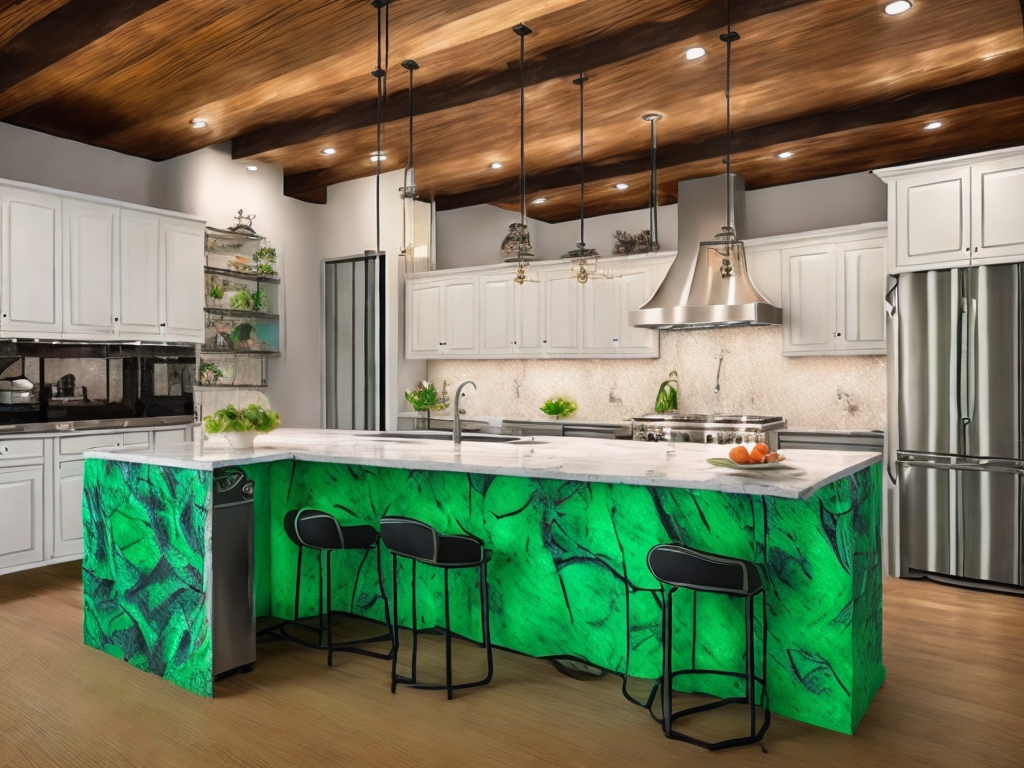 To create a cohesive design style in your kitchen, consider the theme and color scheme. If you're going for a natural, earthy vibe, incorporate elements such as wood, clay, and stone. If you want a more modern feel, opt for sleek and minimalist furniture and appliances.
Showcase real-life examples
Want some inspiration? Check out real-life examples of green kitchen designs! You can see how different shades of green look with different furniture and appliances, and get ideas for your own kitchen.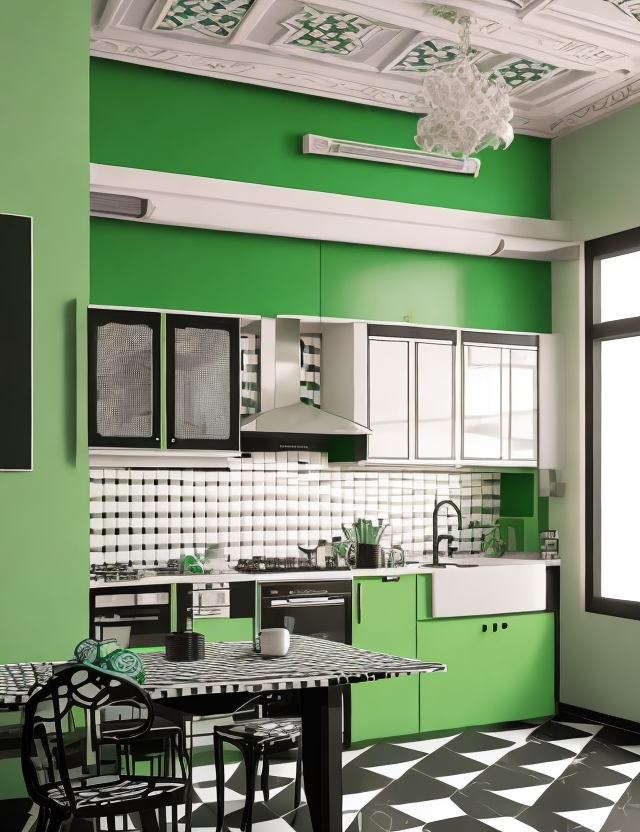 Don't be afraid to get creative
Green is a versatile color that can be paired with a variety of other hues. Try adding pops of turquoise, violet, or even neon to create a unique and eye-catching look. You can also experiment with wallpaper, decorative tiles, or colored appliances for added flair.
Keep it bright and clean
To make your green kitchen really shine, keep it well-lit and clean. Take advantage of natural sunlight by positioning your sink or cooking area near a window, and add incandescent or LED lights to highlight key features. And don't forget to clean and maintain your countertops, floors, and appliances to keep them looking their best.
By following these tips, you can create a cohesive and stylish design for your green kitchen. Keep in mind that when it comes to decorating your kitchen, there are no hard and fast rules. Get creative and experiment with different colors, textures, and patterns until you find the perfect combination that suits your taste and style.