Give Your Oak Cabinets a Fresh New Look with These Kitchen Wall Color Ideas
Choosing the perfect wall color to pair with oak kitchen cabinets can be a daunting task. With their warm, reddish-brown undertones, oak cabinets require colors that complement (rather than clash with) their natural wood tones.
Get ready to jazz up your kitchen! We're diving into some awesome paint colors that perfectly match oak cabinets, giving your kitchen walls a cool and cohesive vibe. From earthy greens and sunny yellows to navy blues and rich reds, we'll cover color schemes that enhance – not compete with – the beautiful wood tones of oak. With the right approach, a simple coat of paint can transform the entire feel of your kitchen while showcasing your cabinetry.
Let's look at how to reinvent your oak kitchen with on-trend wall colors that make your cabinetry pop.
Warm Undertones are Key for Complementing Oak
When selecting a wall color for your kitchen with oak cabinets, it's crucial to choose paint colors with warm undertones that complement (rather than fight against) the natural reddish-brown tone of the wood. Cool-toned grays, blues, and whites may seem like safe choices, but alongside oak cabinets, these colors can appear jarringly mismatched and clinical.
The key is to look for wall colors with yellow, peach, terracotta, or golden undertones that align with oak's natural warmth. Soft sage greens, buttery yellows, peach, and warm beiges are excellent options that will harmonize beautifully with the cabinets' rich hue. Even warmer shades of white like Swiss Coffee or Accessible Beige can offer a subtle background that adds brightness without clashing.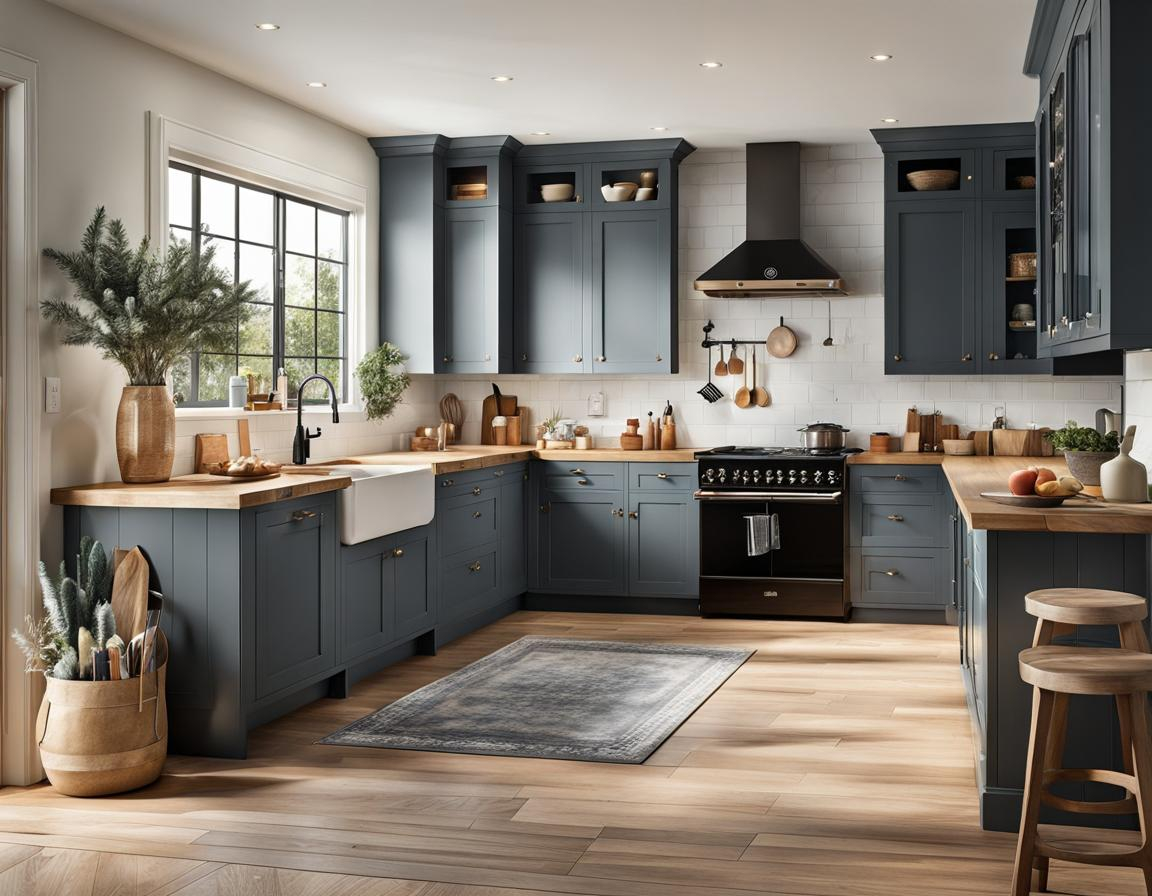 More vibrant paint choices like brick reds, burnt oranges, and sunny yellows can also coordinate well if you want to make a bold statement. Just stick to these warm, earthy tones. The general rule of thumb is that if the color has a reddish, orange, or golden cast to it, it will flatter oak's distinctive wood grain. Cool-toned grays, blues, violets, and frosty whites, on the other hand, will look jarringly mismatched.
Go for Earthy Sage Greens
These organic hues add a natural, peaceful vibe that complements oak's warm, woodsy appeal. Specific green paint colors like Benjamin Moore's Mystic Green, Sherwin-Williams' Renwick Olive Green, or Behr's Sweet Basil are ideal options.
The muted, dusty quality of sage greens stops them from feeling too bold or overwhelming alongside golden oak cabinets. At the same time, these colors add richness and dimension that elevate the kitchen's atmosphere. Unlike stark whites or cool grays, green hues feel vibrant and full of life next to the wood cabinetry.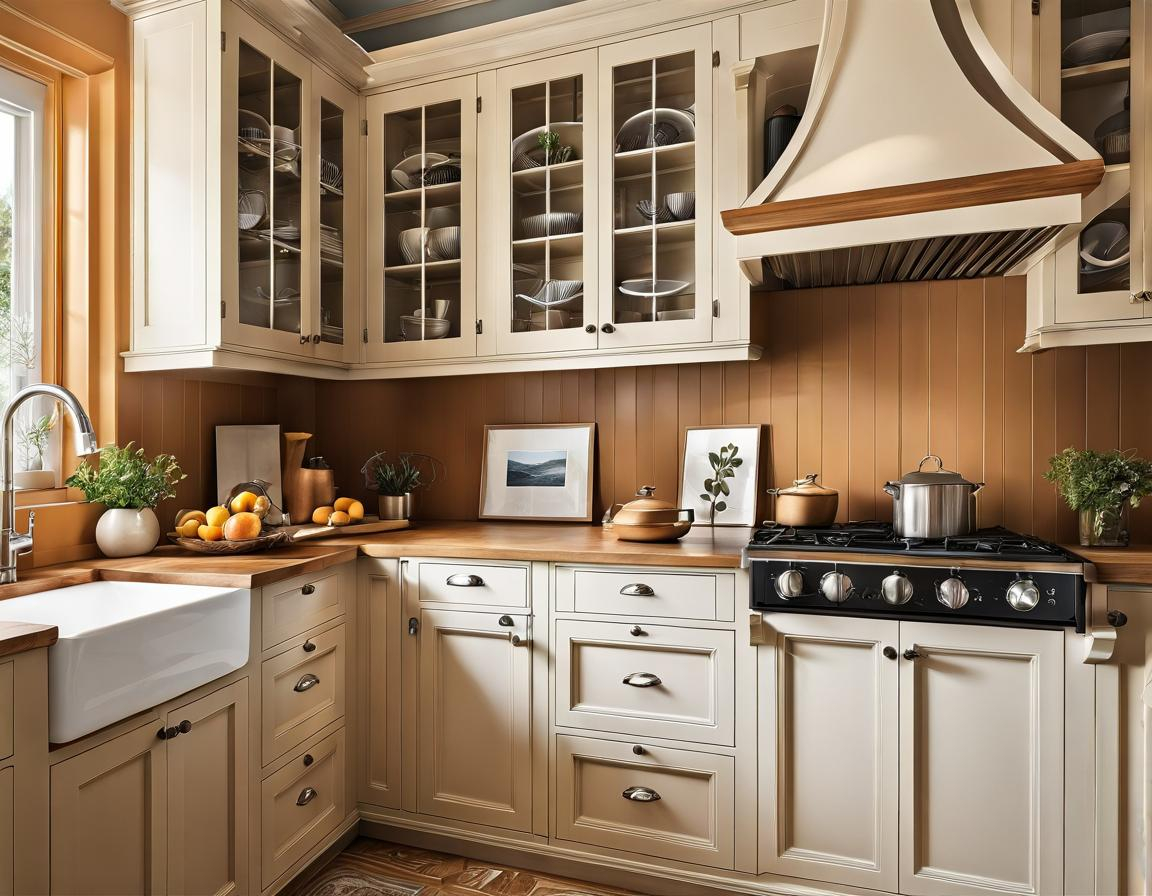 If you want to get specific, look for green paint options with yellow, brown, or gray undertones. Stay away from greens with blue undertones, which can feel too cold against warm oak.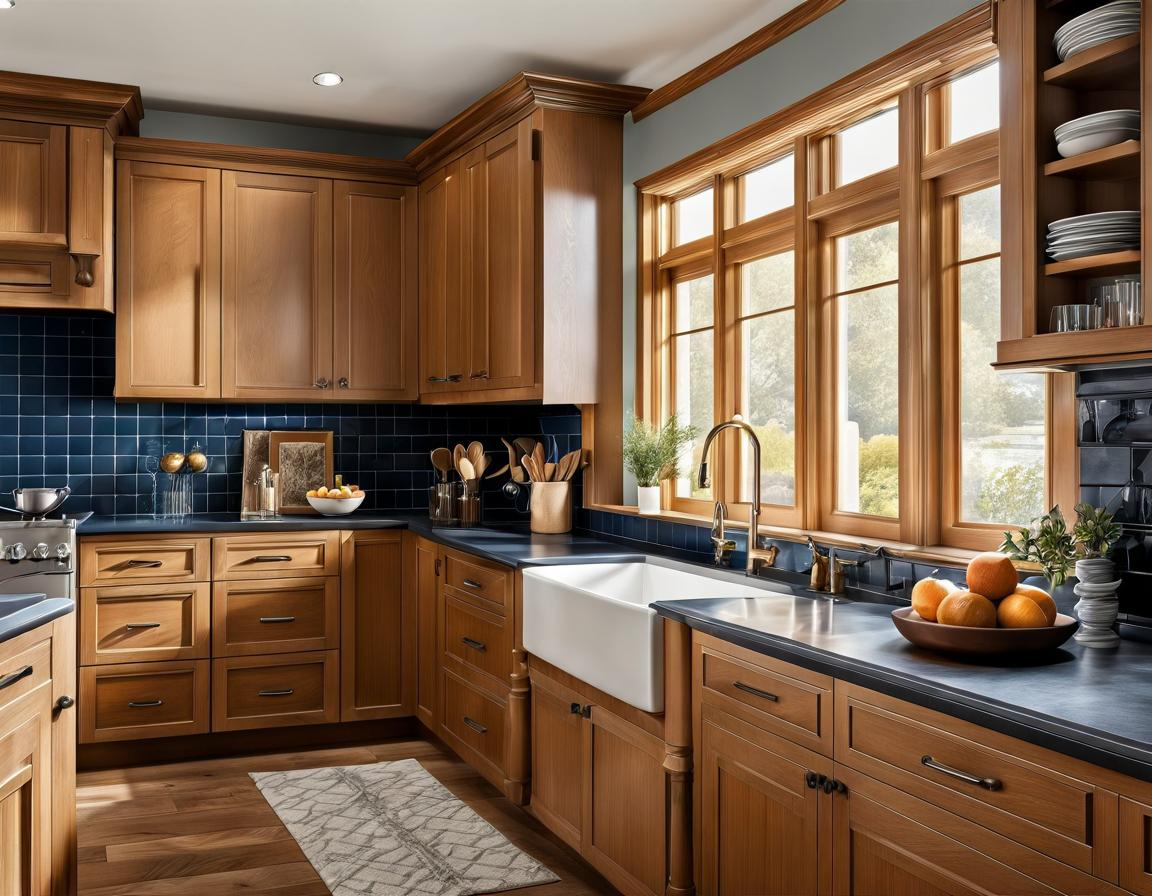 Softened greens like Behr Silver Drop or Benjamin Moore Carriage House feel beautifully organic and will add a sense of harmony. For a bit more vibrancy, go for zesty greens like Behr Grateful or Sherwin-Williams Green Tint – these offer pops of color that celebrate the oak's natural pattern.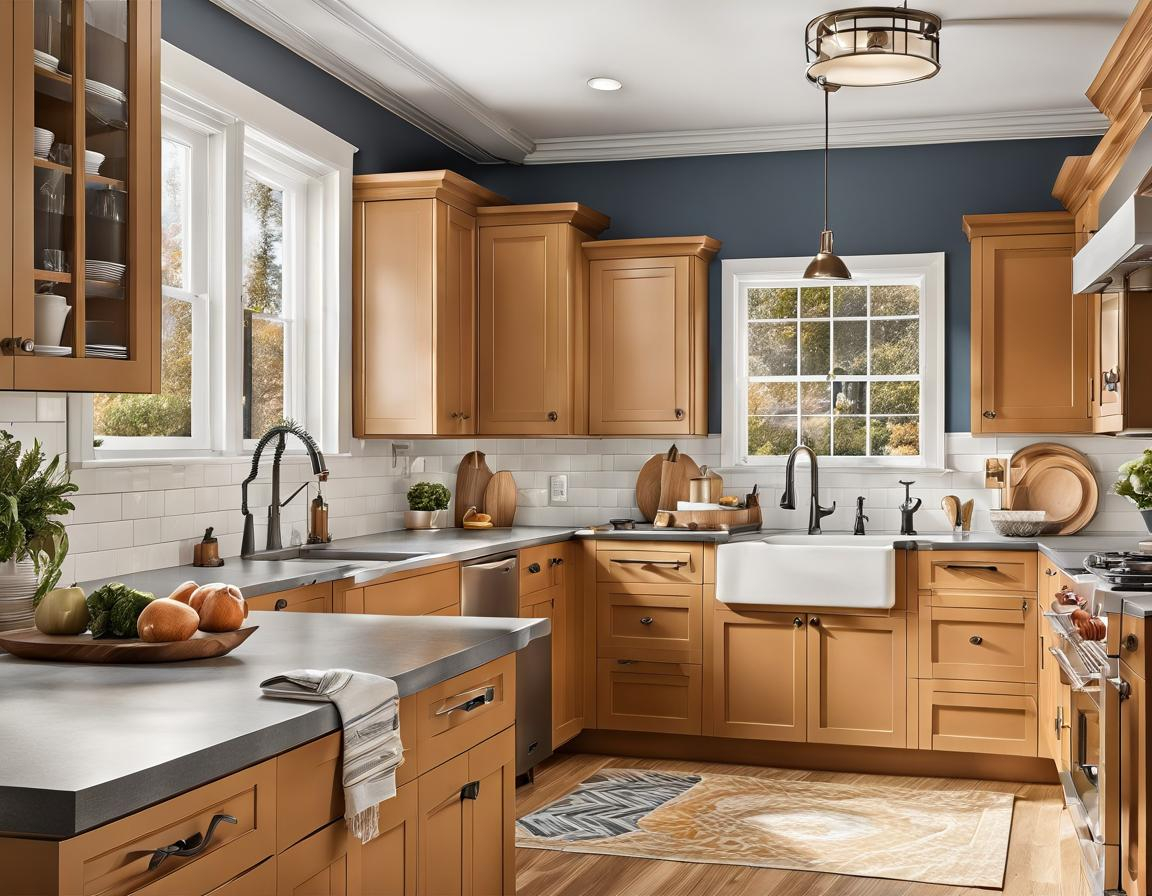 Don't be afraid to sample a few options on the wall to see which earthy green truly complements your kitchen's finishes. Paired correctly, the right organic green will give your oak cabinets a stylishly fresh look. For more inspiration, check out our guide to track lighting for the kitchen and other ways to spotlight your beautiful new color scheme.
Mustard Yellows Add Cheerful Contrast
For oak cabinets with warm, woodsy undertones, sunny mustard yellows make an uplifting contrast. These spicy shades add a burst of energy without clashing with the cabinetry. Some specific yellow paint colors to consider:
Sherwin-Williams Online – A rich golden hue that celebrates oak's natural pattern
Behr Golfer – A soft, buttery yellow with a hint of orange
Benjamin Moore Banana Leaf – A mellow chartreuse with green undertones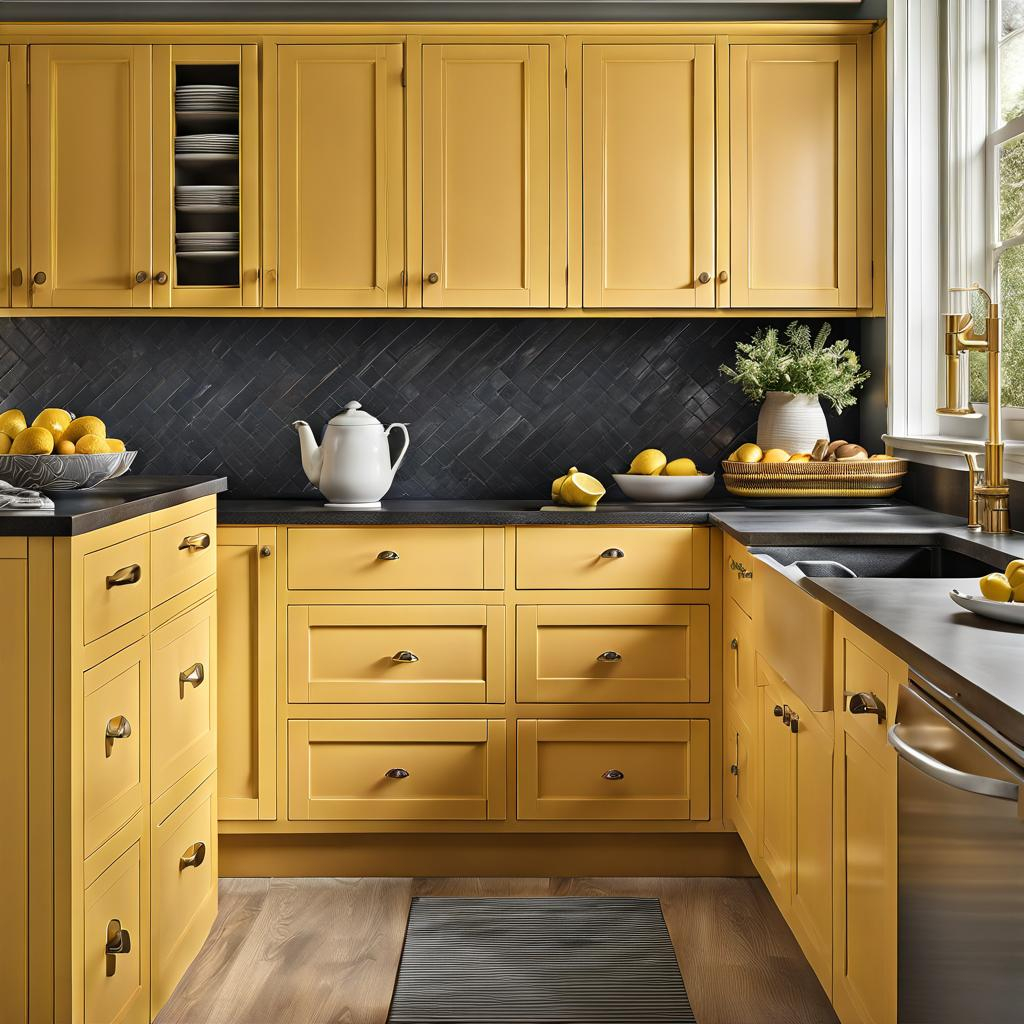 When choosing a yellow, stick to these warm, goldenrod-inspired tones. Avoid lemony yellows, which may skew too cool against oak cabinets. Mustardy shades with touches of orange and brown will complement the oak beautifully.
Here are some tips for pulling off a cheerful yellow wall color with oak cabinetry:
Use it in moderation – yellow can feel overpowering on every wall. Consider just painting one focal accent wall.
Pair with neutral tones – soft whites or earthy blacks and browns ground the look.
Add texture – yellow pops against organic materials like wood or brick.
Use oak flooring – repeating the oak tones gives cohesion.
Display oak accessories – trays, cutting boards, and bowls tie in the cabinet color.
Try a Deeper Navy Blue
While bright, flashy blues don't always complement oak's warm reddish tones, deeper shades of navy blue can complement beautifully. These rich, moody hues add drama and sophistication that celebrates (rather than competes with) oak's striking wood grain.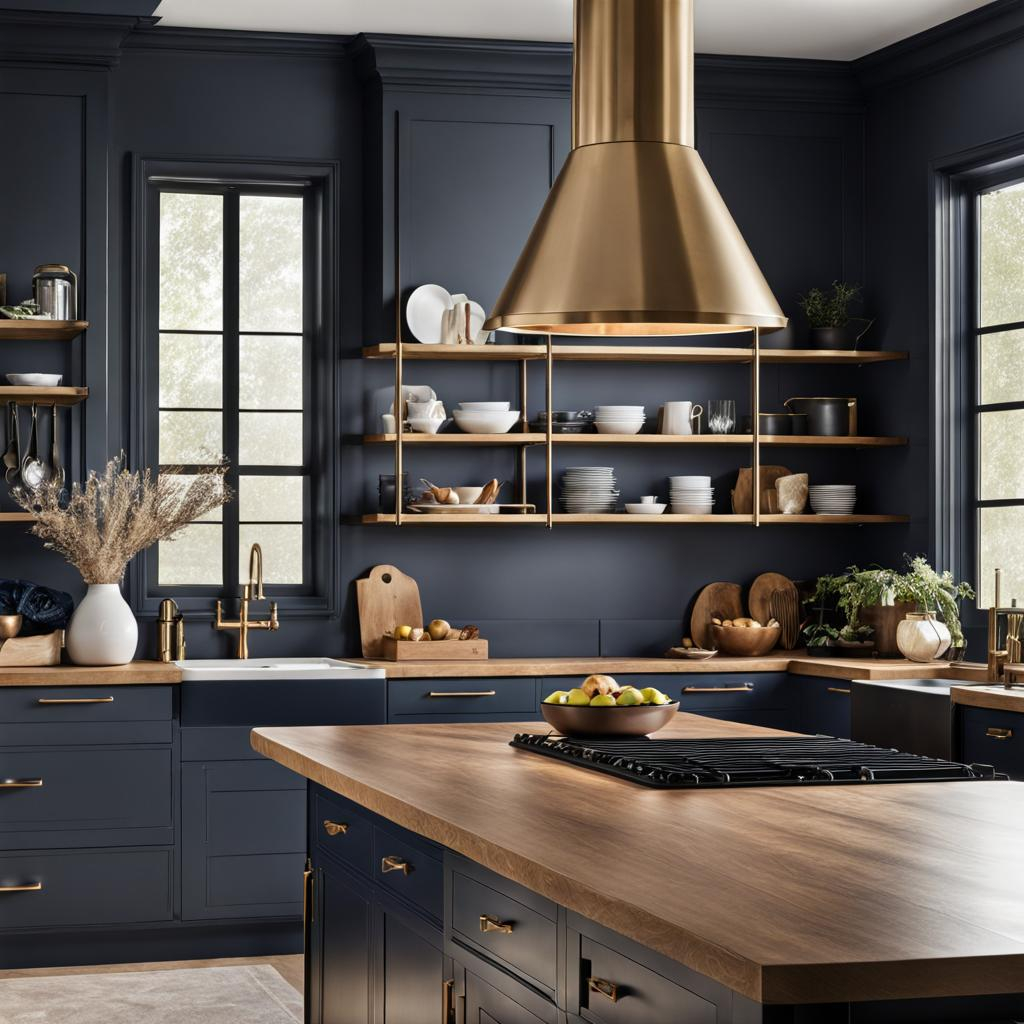 Specific navy blue paint colors to consider:
Behr Blue Dusk – A dusty periwinkle navy with subtle gray undertones
Benjamin Moore Hale Navy – A classic, neutral navy shade
Sherwin-Williams Naval – A very dark navy with hints of brown
Valspar Secluded Sea – A bright but deep navy with blue undertones
Behr Evening Sapphire – A lush teal-tinged navy hue
When incorporating a deep navy wall color with golden oak cabinets:
Opt for matte finishes – shiny paint will contrast too starkly. Matte adds subdued elegance.
Add warm metallics – brass, copper, and bronze accessories bridge the cool/warm balance.
Incorporate oak flooring – visible oak floors establish cohesion throughout the space.
Use oak open shelving – floating oak shelves reinforce the cabinet color.
Display natural textures – stone, jute, leather and wood accessories harmonize the tones.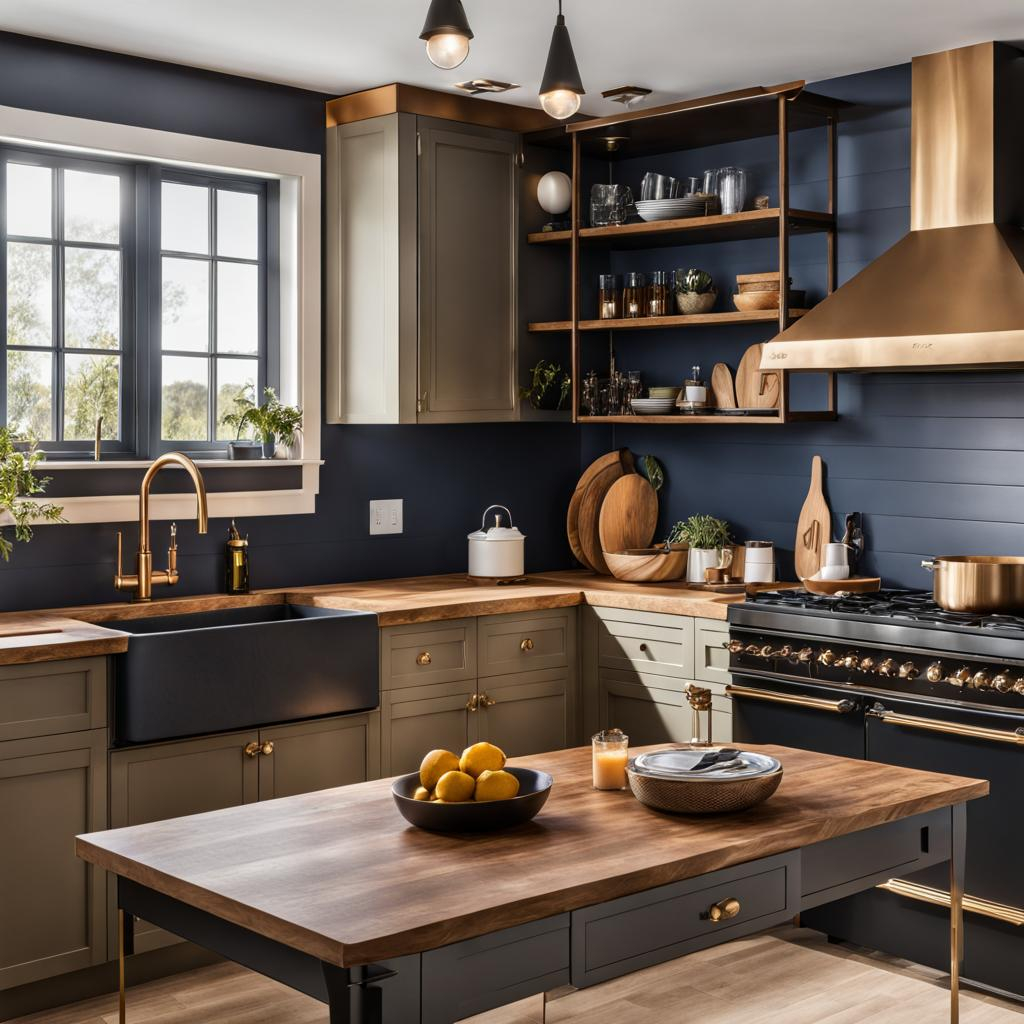 With the right navy shade and accents, you can create a moody-chic kitchen backdrop. See how this dramatic combo looks stunning alongside our favorite kitchens with gray flooring.
Warm Terracotta Reds for Drama
For those seeking a bold, dramatic accent wall to contrast their oak cabinets, rich terracotta reds are a fantastic option. These deep, earthy tones connect to the wood cabinets with their warm reddish undercurrents. Specific paint colors to consider:
Behr Canyon Echo – Vibrant orange-red with a subtle sheen
Benjamin Moore Americano – A muted, dusty red-orange
Sherwin-Williams Terracotta – Classic reddish-brown hue
Valspar Terracotta Pot – Burnt orange with a touch of brown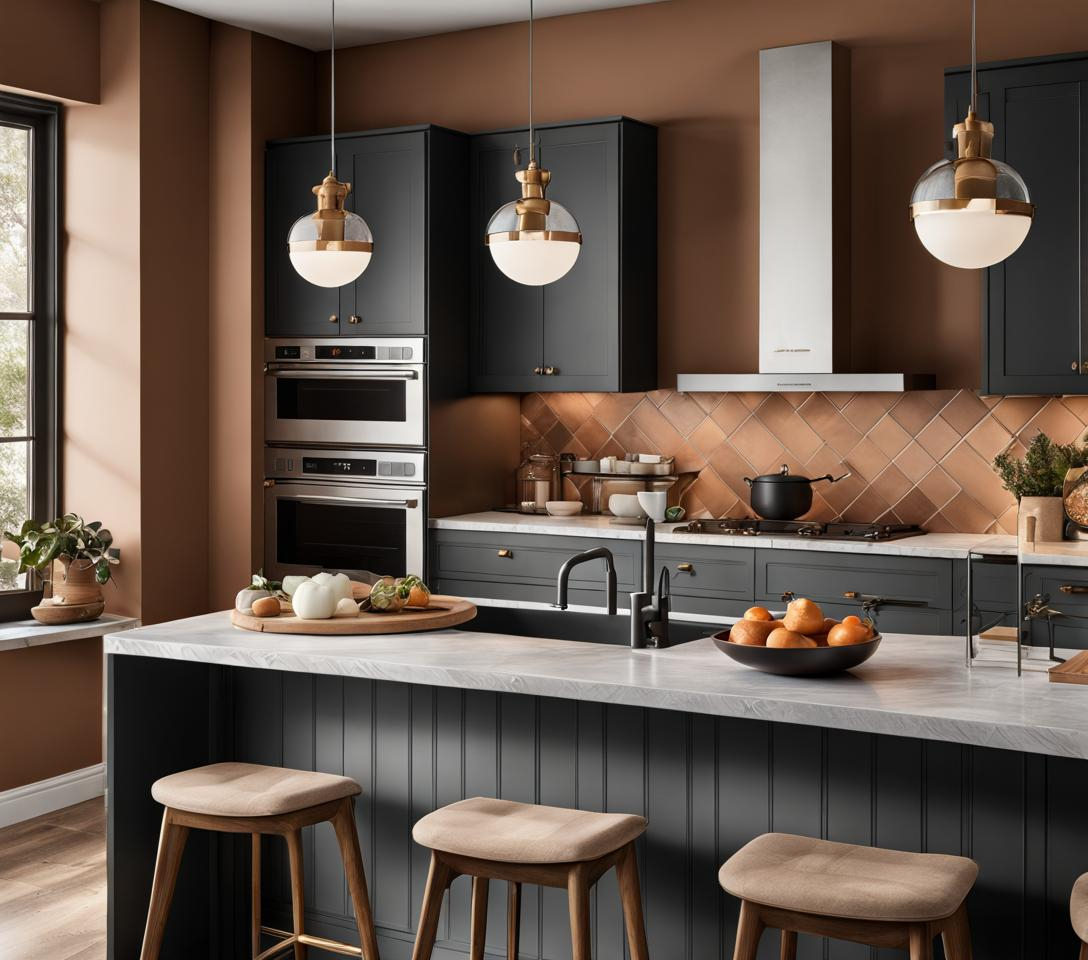 When using terracotta reds:
Limit to one accent wall – too much red can overwhelm.
Add texture – exposed brick, wood beams, and wainscoting add depth.
Incorporate black accents – matte black fixtures, knobs and appliances ground the look.
Display oak open shelving – floating oak shelves tie in the cabinet color.
Use warm metal finishes – oil-rubbed bronze and antique brass complement the tones.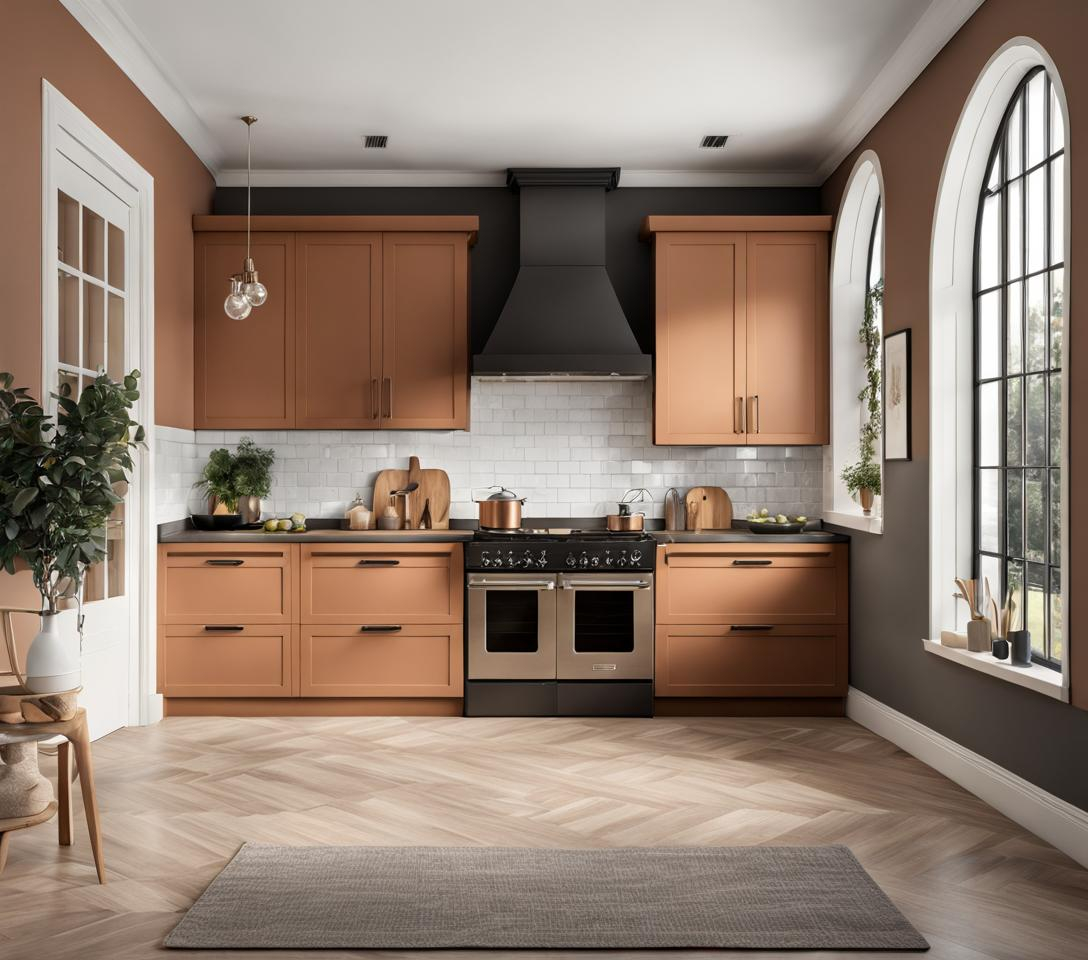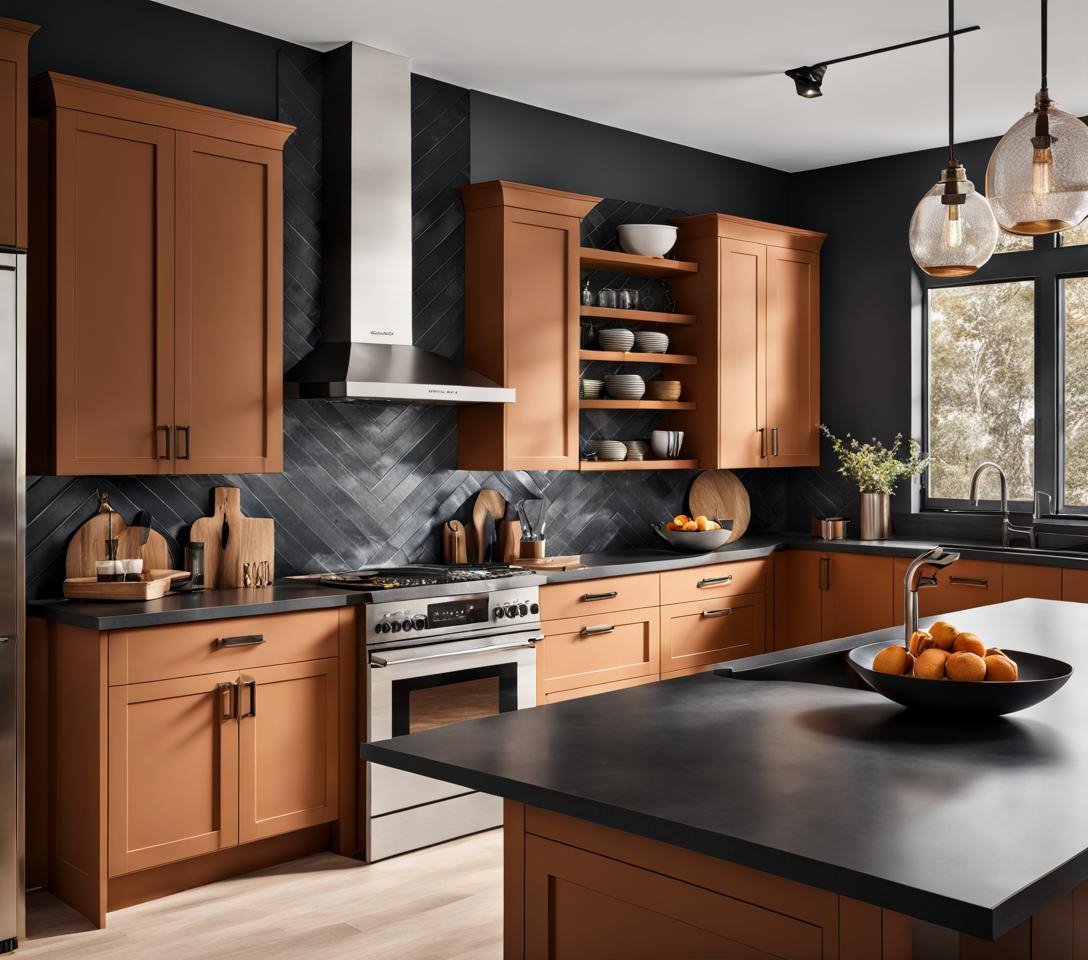 With strategic accents, a single terracotta focal wall can make oak cabinets the star. The bold color excites without diminishing the wood's natural pattern. For balance, paint the remaining walls a soft hue like Benjamin Moore Chantilly Lace. This dynamic combo is equal parts cozy and captivating.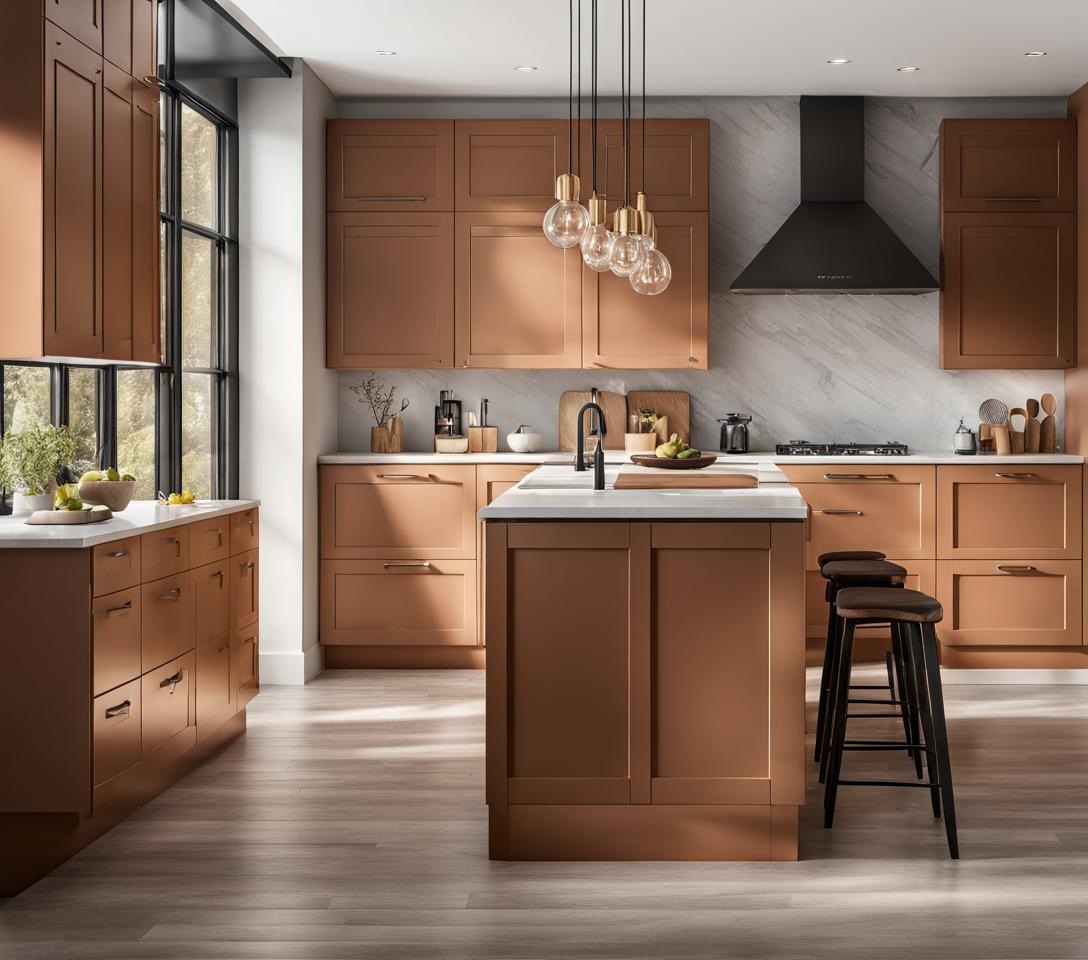 When remodeling your kitchen, repainting the walls is an easy and affordable way to give oak cabinets a fresh new look. As we've discussed, it's crucial to select wall colors with warm undertones that complement the wood cabinets rather than clash with them. Earthy sage greens, sunny yellows, deep navies, and terracotta reds are excellent options that highlight the oak's natural pattern and warmth.
On the other hand, cool whites, grays, and blues can make oak cabinets appear dated and drab if the undertones conflict. Always sample potential paint colors on the wall before fully committing. You want a shade that truly enhances those beautiful cabinets you've invested in.
With a harmonious new wall color that celebrates the oak's distinctive grain, you can transform the whole ambiance of your kitchen. Suddenly, that outdated oak cabinetry will feel modern and fresh again. It's incredible what a simple new coat of paint can do.
So move forward confidently in choosing a wall color for your oak kitchen. Trust in warm, earthy hues that align with the wood tones. Consider bold accent walls or all-over saturated shades if you're feeling adventurous. Most importantly, choose a color that you find uplifting and joyful. Your refreshed kitchen with lively new walls and stunning oak cabinets will become the heart of your home.