Complementing Sleek Black Appliances with the Perfect Kitchen Color Scheme
With their sophisticated, modern aesthetic, black kitchen appliances have become a popular choice for today's homeowners looking to make a stylish statement. The deep, rich tone emanates an air of luxury while the unified palette creates a soothing sense of cohesion in the kitchen. Black appliances also blend in seamlessly as neutral backdrops that place greater emphasis on other elements like cabinetry and countertops. Their versatility allows for bolder color choices throughout the rest of the kitchen's design.
From sleek black refrigerators to ovens with the polished sheen of obsidian, dark-hued appliances add subtle drama to any kitchen. Their visual weight balances light, bright colors that can otherwise look washed out or overwhelming. Black appliances add definition and contrast, giving other surfaces and materials a chance to shine.
Choosing Color Schemes that Flatter Black
When incorporating black appliances into kitchen design, the colors chosen for walls, cabinetry, counters, backsplashes, and accents take on greater significance. The right hues can make black appliances pop while colors that miss the mark can leave the kitchen looking dull or awkward.
Consider colors that contrast with black but also balance its strong visual presence. Lively hues like cobalt blue, emerald green, and brick red all make black appliances stand out while introducing an element of vibrancy. Even neutral shades like beige, gray, and white have more visual impact against the darkness of black appliances. Crisp, bright whites allow the appliances to anchor the space while preventing an all-black kitchen from feeling too somber.
Monochromatic Schemes in Shades of Gray
For a more subdued approach, stick to a monochromatic color scheme in whites and blacks. Varying shades of gray and beige add subtle visual interest while maintaining a cohesive look.
Soft, warm grays create a soothing vibe
Cool grays with blue undertones feel crisp and modern
Distressed grays mimic weathered wood for casual chicness
Black subway tile backsplash anchors the monochrome palette
Matte black hardware matches appliances seamlessly while brushed nickel offers a pleasing contrast. Opt for gray quartz countertops with white cabinets for a refined yet minimalist aesthetic. Add pops of glossy black accessories like vases, kitchen utensils, and bar stools to tie the dramatic color scheme together.
Vibrant Accent Colors
While black appliances pair beautifully with neutral shades, bold accents in colors like cobalt blue, fire engine red, and sunflower yellow also make the appliances stand out. Just take care not to overdo the bright accents – a little goes a long way.
Some ways to incorporate lively accent colors:
Vivid red bar stools
A single azure blue wall while the others remain white
Mustard yellow cafe curtains over the sink
Glossy cherry red shelves
Allow ample amounts of white or neutral shades in nearby materials like the cabinets, countertops, backsplash, and flooring so the vibrant accents pop but don't overwhelm them. Black appliances provide that perfect dose of contrast that keeps everything from blending together.
Materials and Textures
Beyond wall colors, the textures and materials chosen for surfaces like countertops, cabinetry, backsplashes, and floors also impact the overall aesthetic. Pairing cool, smooth textures like polished quartz countertops and glass tile backsplashes with black appliances creates a sleek, ultra-modern feeling. Rougher wood cabinetry and stone backsplashes communicate warmth and earthiness.
Consider a few texture combinations:
Glossy black granite countertops with matching black subway tile backsplash
White oak plank flooring with rugged concrete-style quartz counters
Stainless steel or tin tile backsplash reflecting light beautifully
While black appliances anchor the kitchen's color scheme, attention to textures and materials takes the design to the next level. Carefully chosen surfaces not only complement the appliances but also each other.
Lighting for Black Appliances
With their deep, dark hue, black appliances inherently absorb and deflect light differently than stainless steel or white appliances. Take lighting into consideration so that black surfaces don't end up looking too murky or colorless.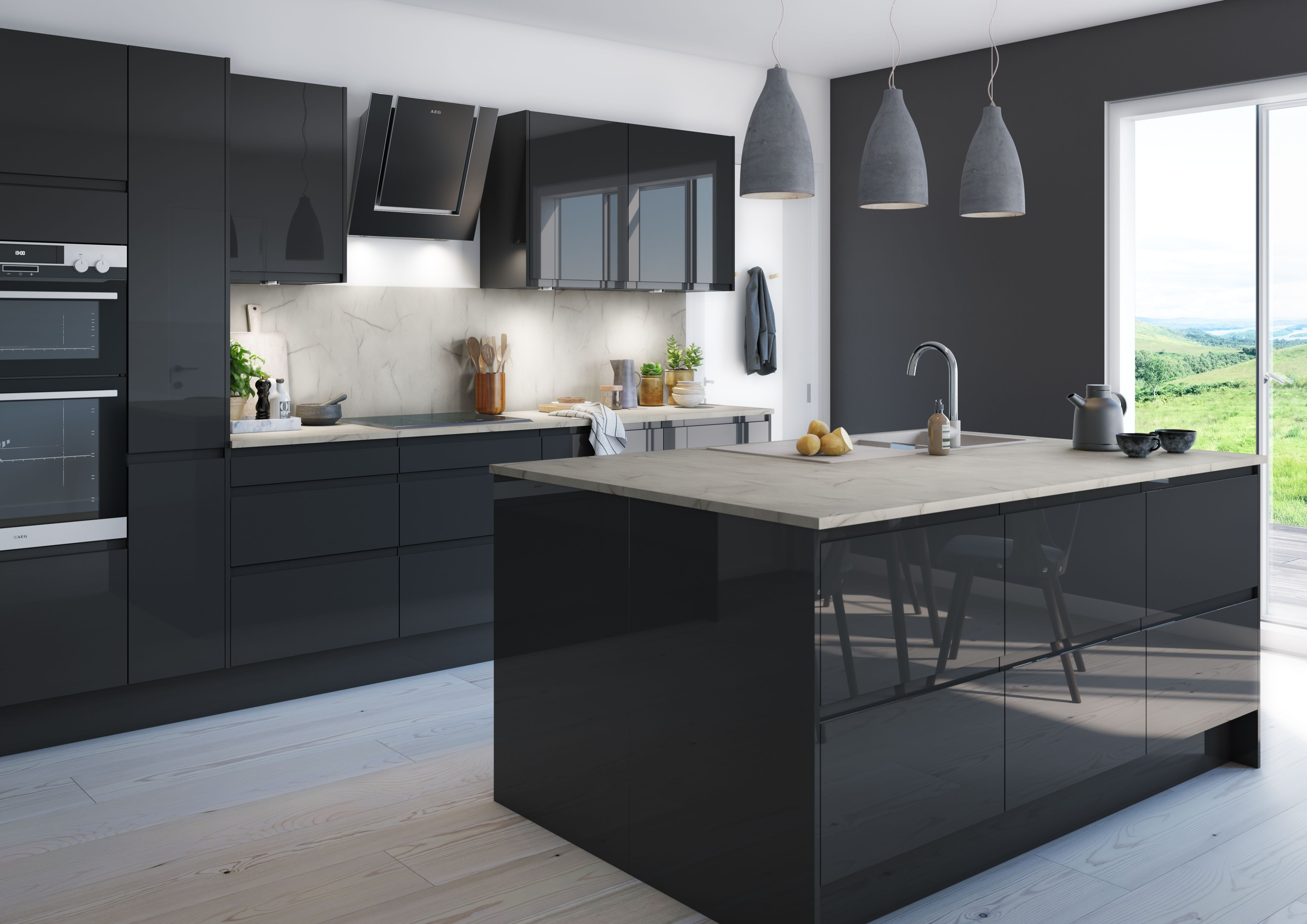 Natural light sources like windows and skylights wash the space in brightness, allowing the subtle dimension in black appliances to shine through. For kitchens with limited natural light, incorporate ample task lighting. LED strips accentuate backsplashes while pendant lights above islands cast a warm glow over nearby appliances.
However, too much overhead lighting can give off a sterile, uninviting ambiance. Temper brilliant task lighting with dimmable fixtures like chandeliers and wall sconces. Their soft illumination alongside dramatic shadows creates the perfect moody vibe to highlight those sleek black appliances.
Styling Tips for Black Appliances
Beyond paint, tile, and cabinetry, small styling flourishes help black appliances feel like intentional design choices rather than haphazard additions.
Black appliance garage doors hide mess while continuing the dramatic color scheme.
Bold black and white art prints accessorize walls in modern fashion.
Gleaming black bar ware acts as decorative accents on shelves.
Darkly-hued rugs anchor black appliances to the flooring.
When selecting accent pieces like vases, cookware, and appliances like stand mixers and air fryers, opt for black and other deep, matching colors. Garner visual cohesion by limiting the pops of brightness to intentional accent points only.
With limitless options for stunning color schemes and standout styling, black kitchen appliances act as sophisticated foundations upon which to build an eye-catching kitchen design. By taking contrasts, textures, lighting, and accents into thoughtful consideration, black appliances elevate kitchen aesthetics to new stylish heights.
More than a passing fad, black appliances offer timeless opportunities for creativity and self-expression. Their commanding presence inspires home chefs to concoct ever more sumptuous feasts in kitchens as beautiful as they are functional. With a keen eye and a dash of confidence, black appliances can become the backbone of any kitchen renovation or new build.