Affordable Granite Countertop Ideas for Small Kitchens
Having a small kitchen doesn't mean you have to sacrifice style or function. With some clever design tricks and affordable granite options, you can give your tiny kitchen a makeover that looks amazing and maximizes every inch of space.
Granite is durable, easy to clean, and available in many budget-friendly materials that can fit a small kitchen remodel budget.
This article will explore creative ways to layout and design your small kitchen with granite. We'll also cover affordable granite materials beyond traditional stone slabs as well as style options to consider.
You'll find tips for installing granite in a small kitchen yourself or with a professional. By the end, you'll have plenty of inspiration and ideas for achieving a beautiful and functional kitchen using granite, no matter how tiny the space.
Maximizing Your Small Kitchen's Space
Careful planning is key when incorporating granite into a small kitchen layout. Look for ways to streamline the space while gaining extra function.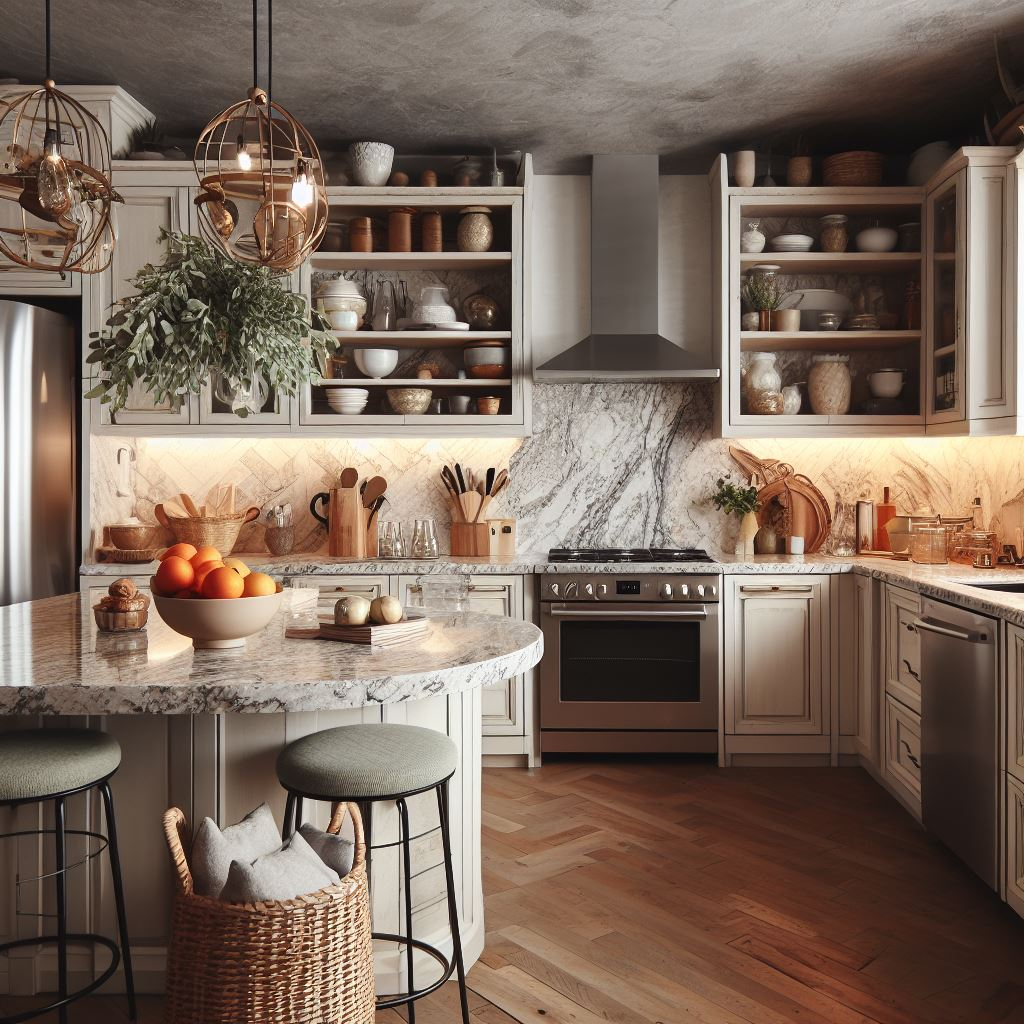 Layout Designs that Expand
Opt for layouts that visually expand the kitchen and allow for a more usable area. A peninsula or kitchen island is excellent for a small room, offering counter and storage space while opening up the floorplan. Consider an angled peninsula in a corner kitchen to use every possible inch.
You can also extend standard countertops and lower cabinets further into an open concept living area to gain a few more feet.
Smart Cabinetry Storage Solutions
Cabinetry that maximizes storage is essential. Have granite slab fronts installed on vertical cabinets to hide extra storage within? Opt for large drawers instead of standard cabinets for easy access to everything. Glass cabinet doors also help maintain an open, spacious look in a small kitchen.
Backsplashes for Style without Eating Space
While backsplashes protect walls and add style, limit their size in a small kitchen. Choose affordable backsplash materials like tile or laminate rather than using granite. Only do a 4-6 inch backsplash area along the countertops to get the look without overwhelming the space.
Affordable Granite Materials for Small Kitchens
Granite tiles, composite quartz, laminate, and other budget-friendly materials offer the look and functionality of natural stone for much less. Here are some top options for small kitchens on a budget.
Granite Tile
Individual granite tiles provide the same visual appeal and durability as a full slab at a portion of the cost. The smaller tile size allows for easier DIY installation in a small kitchen too. Just be prepared to seal the grout regularly as with ceramic tile. Overall, granite tile is one of the most affordable ways to get the look you want.
Quartz Composite
Quartz composite or engineered stone blends ground quartz with resins and polymers to create a non-porous, stain-resistant material that mimics the look of granite. The seamless appearance makes this a great budget option for small kitchens. Composite quartz stands up well to heavy use while costing significantly less than natural stone.
Laminate
The most budget-friendly option is laminate countertops which replicate the look of granite using a printed design layer over particleboard or plywood. While you wouldn't want to subject laminate to heavy use, it works well for protected spaces in a small kitchen. The affordable price and ease of DIY installation also appeal to many homeowners trying to cut costs.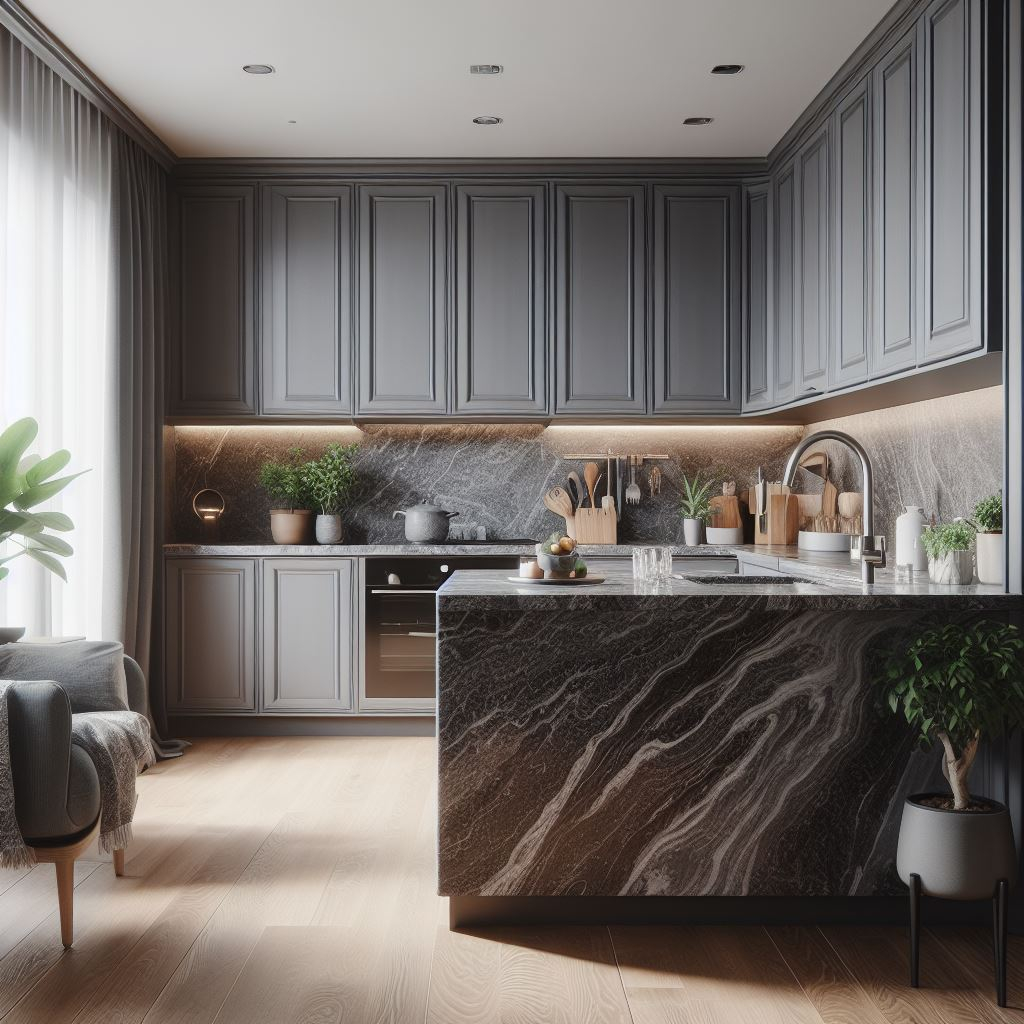 Butcher Block
Butcher block made from wood provides a warm, natural look that pairs well with granite. Using a butcher block island or peninsula with granite countertops allows you to get the benefits of both materials. Just be prepared to periodically seal and condition the wood. Butcher block is very budget-friendly, easy to install, and offers extra workspace.
Achieving Your Ideal Granite Style
While layout, storage, and materials maximize function in a small kitchen, don't forget about style. Granite design elements like color, edges, and patterns give you ample opportunity to reflect your personal taste.
Granite Colors to Consider
Lighter granite colors help make a small kitchen shine. Warm beiges, creams, grays, and whites reflect light beautifully while opening up the space visually. Avoid darker or busier granite colors or patterns that can overwhelm a tiny room. The overall goal is to keep things light and airy.
Edge Styles Enhance Look
Edge treatments change the entire vibe of your countertops. A standard square edge is the most affordable and low-maintenance option. For a more upscale finish, consider decorative ogee, eased, or laminated edges. The rounded profiles soften lines and add stylish detail.
Patterns for Personalization
Make even inexpensive granite your own using custom patterns. Subtle swirls or specks offer natural visual interest. For a unique look, have designs or motifs engraved right into the granite. Mix different patterns and materials like tile for an eclectic style. The options are endless.
Installing Granite in a Small Kitchen
Proper installation ensures your new granite complements your kitchen layout and functions seamlessly. DIY is an option, but professional help is recommended.
Why Hire a Professional
With an experienced installer, you get perfect measurements tailored to your precise space. They have the specialized tools and expertise to cut stone slabs and achieve a flawless custom fit. Professionals also handle securing heavy granite pieces into place, preventing cracks or other damage.
DIY Basics to Know
Installing prefab granite tiles, laminate, or butcher block countertops generally doesn't require professional skills. Focus on reinforcing the existing under-cabinet framework to support weight. Watch for overhangs when placing granite to keep the sink area stable. Get help lifting heavy countertop pieces. With careful planning and patience, DIY granite installation can save money.
Don't let limited space deter you from creating a kitchen you'll love. With some creative layouts, smart storage solutions, and budget-friendly materials, granite can transform small kitchens. Take time to explore different options.
Make choices that reflect your personal style. Include features to maximize organization and function. The end result will be a beautiful, efficient kitchen tailored to your needs – all while staying within budget.
Granite not only handles heavy use with ease, but also provides endless options for achieving your ideal look. A mix of materials and patterns brings affordable character. Lighter granite visually expands tight quarters. You have the freedom to make a tiny kitchen uniquely you. Approach your small kitchen makeover thoughtfully and enjoy your fresh new granite space for years to come.