Upgrade Your Kitchen With A Bay Window Over The Sink
If your kitchen feels small, dark, or disconnected from the outdoors, installing a bay window over the sink can completely transform the space. Not only does a kitchen bay window let in ample natural light, but it also creates an open, airy atmosphere while providing an extra counter area and a lovely view while washing dishes.
Read on to learn if a kitchen bay window could be the perfect upgrade to refresh your cooking space.
What is a Bay Window?
A bay window refers to a window space that protrudes outward from a home, creating an alcove inside. The windows are angled at 30 or 45 degrees, giving the bay its signature shape. This window type is also commonly comprised of three panels, although single panel bay windows are not uncommon.
Bay windows are known for allowing more natural sunlight into a room while opening up interior spaces. They create usable nooks for seating, storage, or adding accessories like houseplants. Common areas for bay windows include living rooms, master bedrooms, and of course – kitchens.
Why Add a Bay Window Over Your Kitchen Sink?
Several reasons make a bay window an excellent addition over a kitchen sink.
First, a bay window lets in significantly more natural light than a standard horizontal window. The extended glass panels capture and refract additional daylight, brightening up the entire kitchen. This helps create a more open, airy atmosphere.
The protruding shape of a bay window also provides extra counter space adjoining the sink. You gain built-in space for meal prep, staging dirty dishes, or displaying decorative items. The counters wrap around the bay seamlessly for a continuous workflow.
A kitchen bay window is perfectly positioned to enjoy views of your backyard gardens or landscaping while washing dishes or working at the sink. The soothing outdoor vistas make kitchen tasks more enjoyable.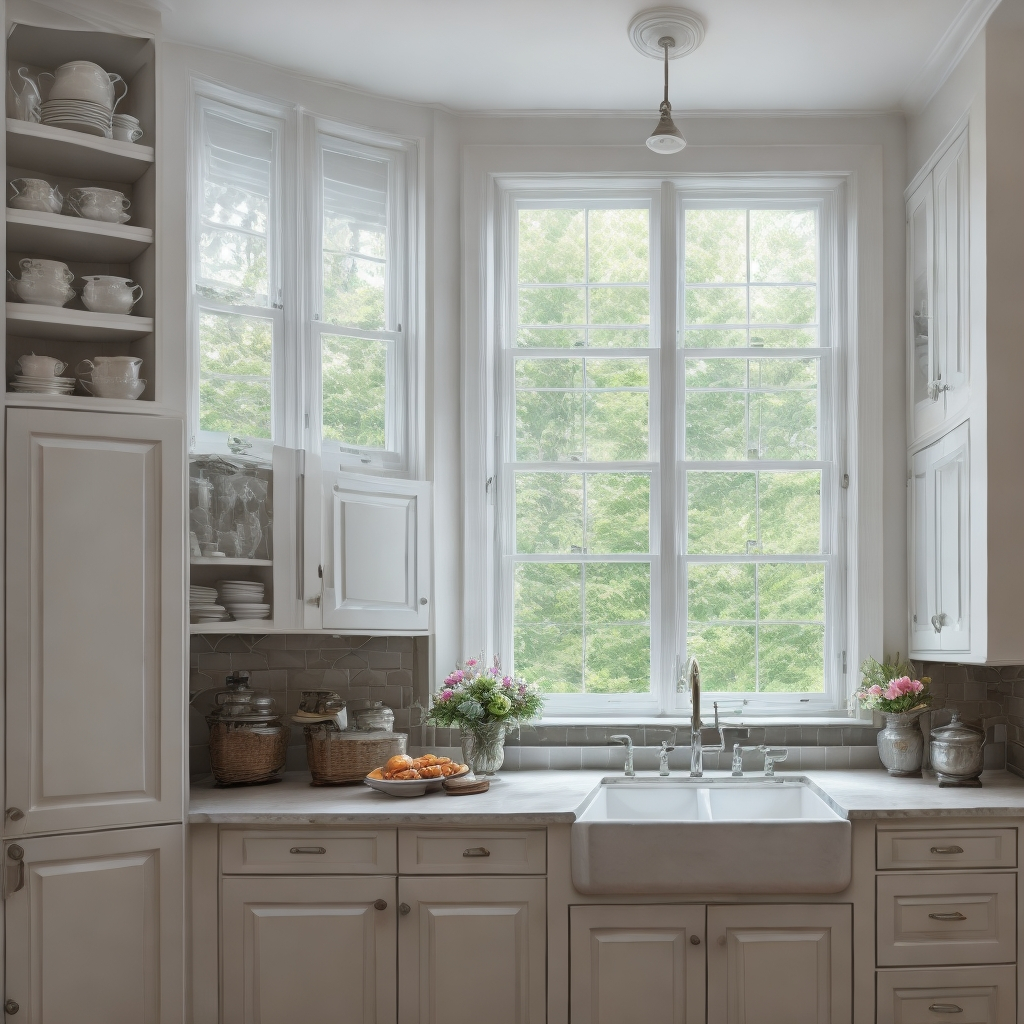 Finally, the architectural details of a bay window lend an upscale, custom feel to kitchens. The elegant window style serves as a built-in focal point that defines the room with charm and character.
Design Considerations for a Kitchen Bay Window
If you're sold on incorporating a bay window over your sink, planning the design carefully is key. Here are some important factors to consider:
The placement of the window should align logically with your existing cabinets and backsplash. You want the transitions to feel seamless. Measure carefully to be sure the bay won't interfere with cabinet door openings or clash with the backsplash layout.
Consider the overall size of the window in proportion to your kitchen space. An oversized bay window can feel imposing, while one too small won't have a proper impact. aim for the bay window size to feel balanced against cabinet lengths and the overall room.
Standard bay window height is typically 36-42 inches above the counter. This allows adequate room for tasks below the window without compromising views and natural light exposure above.
Opt for casement windows that open outward if possible. Casements allow maximum light exposure compared to double hung windows, keeping the space bright.
Cost to Install a Kitchen Bay Window
What's the investment to add this coveted feature? The cost for a kitchen bay window ranges on average between $1,500 – $5,000 or more. The exact price depends on a few factors:
The overall size of the window will drive much of the cost. Larger bay windows require more materials, construction work, and custom cabinetry modifications.
Higher end window materials like wood cost more compared to vinyl or fiberglass. Specialty glass types can also boost the price.
Consider any construction changes needed like moving plumbing or electrical lines to accommodate the bay. This adds labor fees.
Modifying cabinetry to fit the new layout costs more as well. Custom cabinets, fillers, and end panels may be needed.
Alternatives to a Bay Window Over the Sink
While beautiful, a bay window is a significant investment and permanent change. For more affordable or temporary options, consider these bay window alternatives:
Install an extra large window over the sink for sunlight and views without a bay's added space.
Glass cabinet doors keep the space bright while displaying dish collections. Opt for open shelving to skip upper cabinets entirely.
Skylights or sun tunnels pipe natural light into the center of a kitchen without window additions.
A mirror wall visually doubles the space and reflects more light. Use high-gloss tile or mirrored backsplashes.
Tips for Integrating a Bay Window into Your Kitchen
To help your new bay window blend seamlessly:
Select interior trim paint or stain that matches existing cabinetry. Continuity makes the space feel cohesive.
Add a window seat or storage bench below the bay window for function and flair.
Soften the space with curtain panels, valances, or blinds. Frame the view outside.
Incorporate houseplants or an herb garden on the bay window sill to bring the outdoors in.
FAQs about Kitchen Bay Windows Over Sinks
What are the main benefits of a kitchen bay window over the sink?
The benefits include more natural light, increased sense of openness, extra counter space adjacent to the sink, enjoyable views while washing dishes, and added architectural interest.
What should I consider when designing a kitchen bay window?
Carefully consider the window placement, size, height, and type of window to get the most out of the bay window. Make sure it complements your cabinetry, backsplash, and kitchen dimensions.
How much does a kitchen bay window typically cost?
On average, expect to pay $1,500 – $5,000 to add a bay window over your kitchen sink. The exact price depends on window size, materials, construction changes, and custom cabinets required.
What are some good alternatives to a bay window over the kitchen sink?
Alternatives to consider include a large single window, glass cabinet doors, open shelving, skylights or sun tunnels, and mirror walls to reflect more light.
Whether you're looking to brighten up a dark kitchen, expand your usable counter space, or add architectural interest, a bay window over the sink can dramatically upgrade your cooking space. Weigh the options carefully to determine if this investment fits your kitchen vision and budget.