The Best Way To Update Your Kitchen with Willow Grey cabinets
When it comes to paint colors for kitchen cabinets, natural tones are always a popular choice. But what about all the other options out there? If you desire a subtle yet sophisticated change to your kitchen, willow grey cabinets may be the perfect update for you.
Why are they such a great choice for kitchens? Not only do they look great, but they also come with a few advantages that make them a popular choice. Use this guide to learn all about how to update your kitchen with beautiful willow grey cabinets!
What You Need to Know About Willow Grey Kitchen Cabinets
Willow grey kitchen cabinets are a beautiful and popular choice for many homeowners. They provide a classic look that can be both elegant and relaxing, making them perfect for any style of home.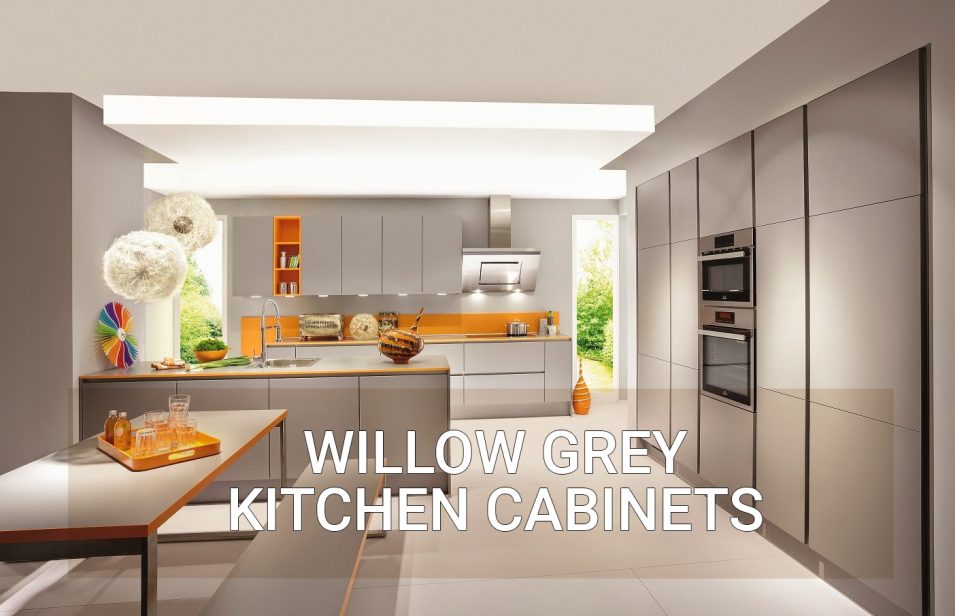 The wood grain in this color is subtle but looks luxurious, which is one of the reasons it's such a popular choice. Not to mention, willow grey cabinets with a modern look are one of the most popular choices among homeowners. However, there are a few things to keep in mind when choosing willow grey kitchen cabinets, such as the type of wood they're made from and the finish you want.
The Pros and Cons of Willow Grey Cabinets
There are many choices to make when deciding on kitchen cabinetry, and one popular option is Willow Grey. Here are some things to consider if this color is right for your home.
Pros:
The light grey tone of Willow Grey can help to brighten up a space and make it feel more open.
This color generally works well with other colors in terms of design and decorating.
Willow Grey can be a good choice if you want something different than the standard white cabinets but not as bold as black or espresso cabinets.
Cons:
One potential downside of having lighter colored cabinets is that they may show dirt or smudges more easily than darker colors.
Another thing to keep in mind is that since grey has become such a popular color over the past few years, it may start to look dated sooner than some other cabinet colors.
In terms of pros and cons, it really comes down to personal preference when deciding if Willow Grey cabinets are right for your home. Consider what style you are going for in your kitchen and whether or not this color will fit with the rest of your decor.
If you go with this color, make sure to use coordinating wall paint and flooring to complete the look. Another potential con is that they may not be the best choice if you're looking for a traditional cabinet look. However, if you're open to trying something new and like the modern look, willow grey is a great option to consider.
Is a Willow Grey Kitchen Right for You?
Kitchens are a big investment, and it's important to choose the right one for your needs and style. If you're thinking of replacing your old kitchen with a willow grey one, don't just take the first one you see. Take the time to inspect several kitchens in person to make sure you're getting what you want.
A willow grey kitchen may be right for you if you are looking for a calming space. The light grey color can create an illusion of more room, making the space feel larger than it is. Willow grey also pairs well with other colors, for example, white for a clean and classic look or green for a fresh feel.
The Benefits of Willow Grey Kitchen Cabinets
Those who are considering willow grey kitchen cabinets for their home should know that there are many benefits to this popular style. Not only is willow grey a trendy color, but it can also help to make small kitchens appear larger and brighter. When paired with the right hardware and accessories, willow grey kitchen cabinets can give any space a fresh, modern look.
Textured willow grey kitchen cabinets are also a great way to add depth and visual interest to any room. Whether you choose glossy or matte finishes, willow grey cabinets can create a stunning focal point in your kitchen.
How To Choose The Right Willow Grey Cabinet For Your Kitchen
When planning a kitchen remodel, one of the most important decisions is choosing the right cabinets. The style and color of the cabinets can set the tone for the entire room, so it's important to choose wisely. If you are considering adding willow grey cabinets to your kitchen, there are a few things to keep in mind in order to choose the right ones for your space.
First, determine what style of cabinets you like best. There are many different styles of willow grey cabinets available on the market, so it is important to select the style that fits your personal taste and decor best. Second, consider the size of your kitchen when selecting willow grey cabinets. Make sure to measure the area where you plan on installing the cabinets before making your purchase so that you can be sure they will fit properly.
Lastly, take into account any special features or design elements that you may want in your cabinets, such as glass doors or pull-out shelves. With these factors in mind, choosing the perfect willow grey cabinet for your kitchen should be a breeze!
How to Care for Willow Grey Kitchen Cabinets
Willow grey kitchen cabinets are a beautiful and popular choice for many kitchens. They provide a warm and inviting feeling that is perfect for any family gathering or dinner party. However, like all cabinets, they require proper care in order to maintain their beauty and functionality. Here are some tips on how to care for your willow grey kitchen cabinets:
Wipe up any spills or splatters immediately, using a damp cloth.
For tougher stains or build-up, use a mild cleaner or soap and water solution. Avoid harsh cleaners that could damage the finish.
Dust regularly with a soft, dry cloth to prevent dirt and grime from settling in.
Apply cabinet wax or polish every few months to protect the finish and keep it looking shiny.
Wipe them down with a mild cleaner such as soap and water or white vinegar whenever they start to look dirty. Avoid using harsh chemicals as they can damage the finish of the cabinets.
Periodically check for signs of wear and tear such as scratches or chips, and touch up the paint as needed. This will help extend the life of your cabinets significantly.
With just a little bit of effort, you can keep your willow grey kitchen cabinets looking like new for many years to come!
Designing a Kitchen with Willow Grey Cabinets
Willow grey cabinets can provide an updated look to your kitchen while still remaining neutral and versatile. They pair well with a variety of countertop materials, backsplash options, and hardware choices.
Curtains above the sink can help to keep the kitchen looking clean. Adding some type of pattern or print to your cabinets can also help to add interest and update the look of your kitchen. Willow grey cabinets pair nicely with a variety of patterns, such as chevron, polka dots, or stripes.
You can use willow grey cabinets as the starting point for a complete kitchen makeover or simply update certain key areas, such as the cook top area or food prep zone. Here are some tips on how to best update your kitchen with willow grey cabinets:
Choose new cabinet pulls or knobs in a style that complements the overall design aesthetic of your kitchen.
Update appliances to stainless steel or another modern finish if desired for a more cohesive look. Consider paneling the refrigerator for a sleek appearance if your budget allows.
Paint walls in complementary colors such as light green, blue, or soft gray tones. These hues can really help bring out the beauty of willow grey cabinets without overwhelming the space.
Install new lighting fixtures above the sink and stove area for better task lighting during meal preparation. Under cabinet lights are also beneficial in this space, consider LED strips for energy efficiency and a long lifespan.
For extra impact, add glass doors to upper level cabinetry (if not already present) or swap out solid doors for these clear panels . This will give your kitchen a high-end look and feel.
As a way to wrap up this article, I would like to say that this is a great color choice for the kitchen. If you are looking for something different than the traditional white cabinets, then go with willow grey. It is a perfect way to add some depth and character to your space.