Light Green Kitchen Walls Breathe New Life Into Cooking Space
Every home beats to the rhythm of its kitchen. With laughter marinating in the air and memories being cooked up with loved ones, this corner no doubt demands a pinch of extra care. When considering a kitchen remodel or refresh, paint color plays a pivotal role. For those seeking to infuse their cooking space with airy elegance, light green walls offer the perfect solution.
In recent years, sage and mint tones have surged in popularity. Unlike stark white or moodier hues, light green exudes a soothing, harmonious ambiance. This versatile neutral pairs well with warm metals, natural wood, and both classic and contemporary styles. From minty backsplashes to textured emerald cabinets, the options satisfy every taste and budget.
Beyond aesthetics, this tranquil color palette promotes creativity and well-being. Studies show that surrounding oneself with verdant tones decreases stress and sharpens focus. For cooks, light green inspires new recipes and presentation ideas. Its soft glow sets the mood for wholesome gatherings around bountiful meals.
Different Shades of Light Green for Kitchen Walls
When selecting a light green paint color for your kitchen walls, the options are virtually endless. Here are some of the most popular shades to consider:
Sage Green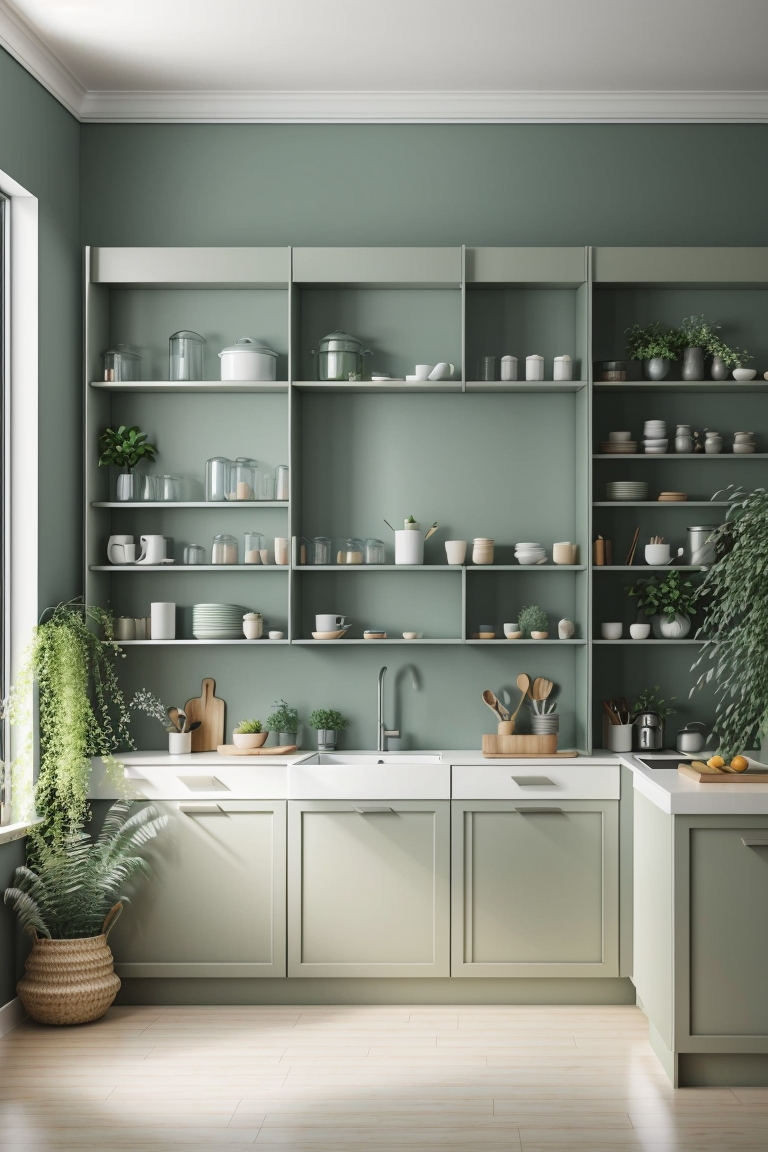 This natural, earthy hue brings a sense of peaceful tranquility to any kitchen. The subtle greenery reminds us of rolling hills and herbs like sage and rosemary. Sage green pairs perfectly with natural wood cabinetry and marble countertops. For a contemporary feel, combine it with sleek metal fixtures. The soothing essence of sage stimulates creativity with new recipes.
Mint Green
Mint green infuses kitchens with a fresh, rejuvenating quality. This vibrant shade evokes thoughts of crisp, aromatic mint leaves straight from the garden. It adds a punch of color without overwhelming. Lean into the botanical vibe by decorating with leafy plants and woven accessories. For counters, try lively patterned tiles or solid mint quartz. Stainless steel pops against this crisp backdrop.
Lime Green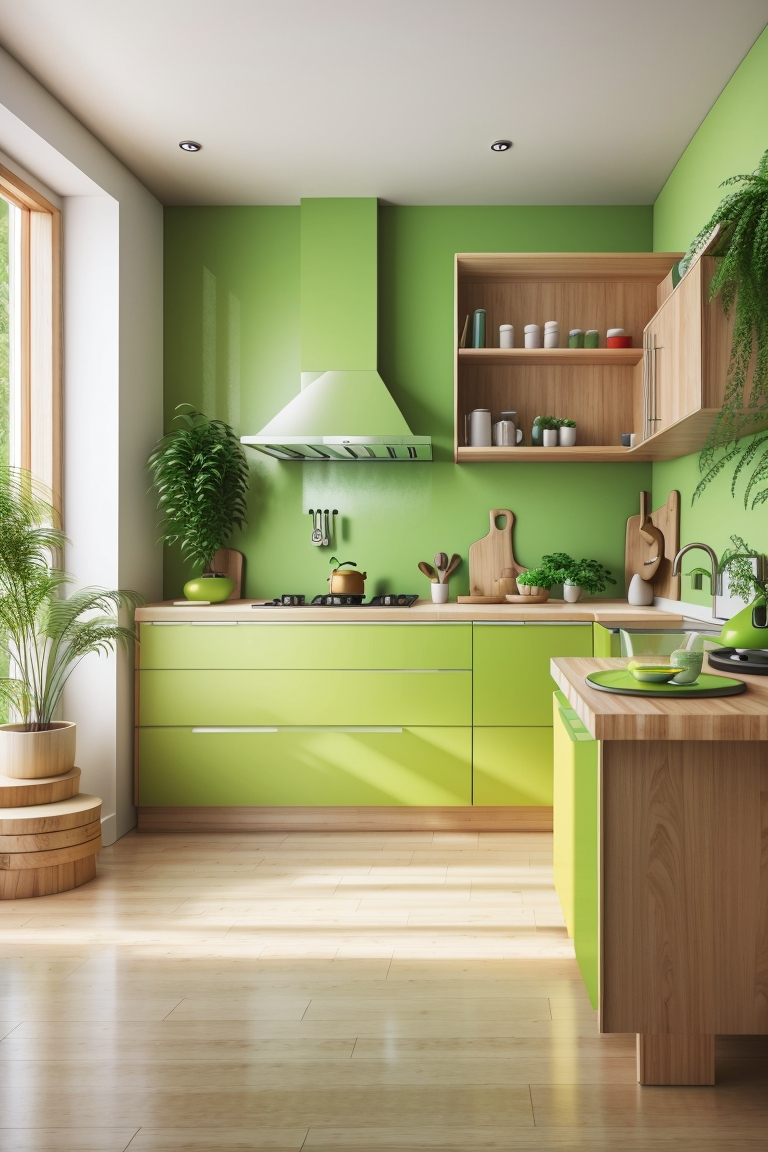 Zesty, tangy lime green energizes any space. This vibrant, citrusy color embodies summer and adds tropical flair to kitchens. It blends beautifully with whites and beiges, creating an illusion of greater brightness. For a bold, eclectic statement, use lime green on an accent wall or island. It provides a fun pop of color amid more neutral cabinetry and countertops.
Aqua Green 
Cool and serene as a quiet cove, soft aqua green evokes the essence of water. These soothing bluish-greens add an airy, relaxed ambiance to kitchens. Try an aqua glass subway tile backsplash with neutral Shaker-style cabinetry. Or opt for pastel aqua walls with crisp white trim for a comforting coastal feel. Gray distressed wood floors warm up the cool tones.
Pale Green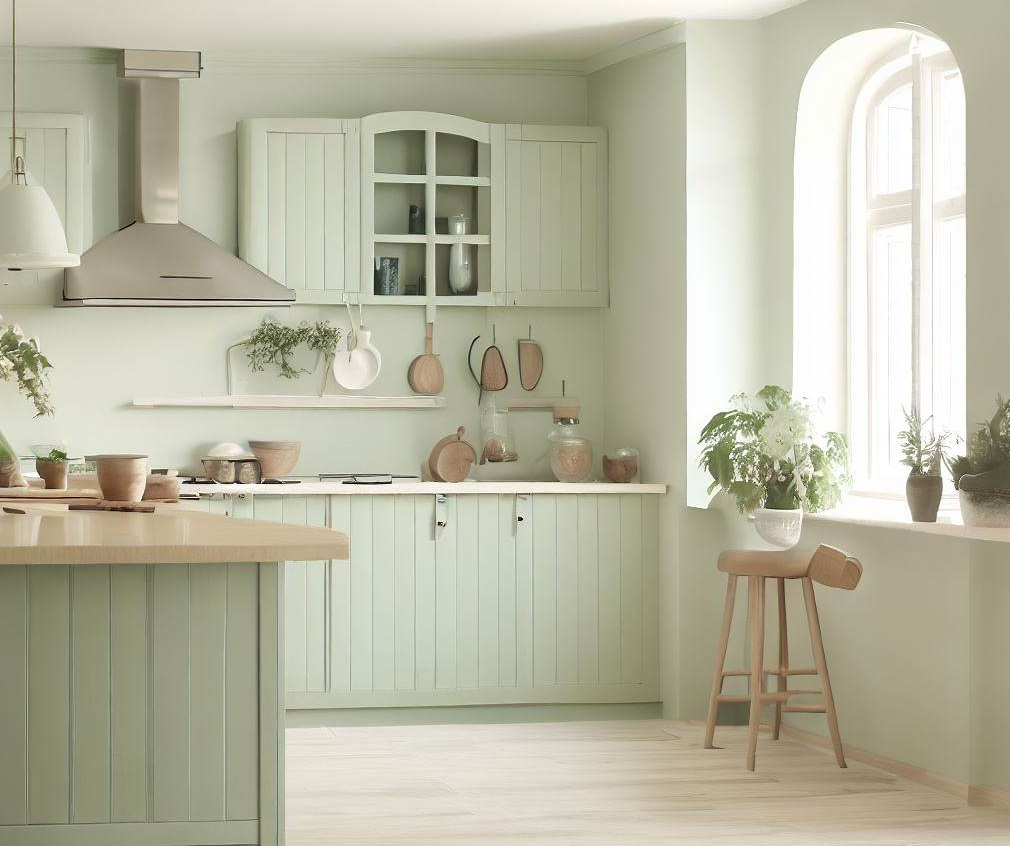 Subtle, sophisticated pale greens lend kitchens an organic modern elegance. These muted mint tones bridge the gap between gray and green for a versatile neutral backdrop. Natural materials like wood, stone, and linen complement pale green walls brilliantly. For contrast, use black matte hardware and industrial-style light fixtures. The key is balancing rich textures with the soft soothing essence of pale green.
Soft Green 
Soft green evokes images of sunlit forests and mossy gardens. These muted jade hues create a warm, welcoming ambiance. The natural color palette promotes calm and comfort in kitchen spaces. Try pairing oft green walls with antique brass hardware and butcher block countertops. For an extra pop of contrast, use deep navy blue on the lower cabinets. Whatever your style, soft green generates harmony and tranquility.
Complementary Colors for Light Green Kitchen Walls
Light green is endlessly versatile, pairing beautifully with a spectrum of complementary hues. Here are some top color combinations for kitchens with light green walls:
Crisp White
A classic pairing, light green and bright white create a fresh, clean look. The high-contrast combo feels energizing yet soothing. Pair minty green walls with glossy white cabinetry, backsplash tiles, and quartz countertops. White delivers a neutral base for light green to pop as the star. For a unified harmony, consider white oak floors and molding. White metals like nickel also complement light green's vibrancy.
Cool Gray
Understated and elegant, light green with soft gray makes kitchens feel gracefully relaxed. Cool-toned grays create a subtle contrast to bring out green's soothing essence. Try pale green cabinets mixed with a gray-veined white marble countertop and backsplash. Using varied green tones and matte grays prevents a flat, monotonous look. Textured woods, wovens, and black metals further enhance the pairing.
Cheery Yellow
For playful whimsy, combine verdant light greens and happy yellows. Mustard paint on an accent wall or island energizes alongside minty green cabinetry. Or pair a chartreuse glass tile backsplash with sage walls and sunshine yellow accessories. Mirroring green's botanical hues, yellow evokes meadows of daffodils. Together they create a warm, welcoming ambiance. Just take care not to overdo bright yellows which can overwhelm the tranquil greens.
Serene Blue
Blue and green are complementary hues. Soft sage walls feel even more soothing paired with light blue cabinetry or backsplash tile. Aqua walls also harmonize beautifully with navy blue accents. Consider a pastel blue ceiling or accent wall that feels like a refreshing rain shower amid the verdant green. Metallic blue hardware and appliances add striking pops of contrast. The pairing recalls lush tropical seas and skies.
Warm Beige
For a contemporary yet comforting look, blend calming light greens with rich beiges. Sage walls glow against cabinetry in cappuccino glazes and warm oak tones. Soft mossy greens merge seamlessly with tawny granite counters and hardwood floors. Black or bronze metals pop crisply against this soothing neutral scheme. Textured beige linen curtains filter light beautifully alongside green's rejuvenating essence.
Wood Tones
Natural wood grains, from light oak to dark walnut, accentuate the organic zen of light green walls. Minty hues feel unexpectedly modern against wood cabinetry, butcher block, and wide-plank floors. For casual elegance, try weathered distressed woods, blackened steel fixtures, and marble tile with a soft green backsplash in brick or herringbone patterns. The outdoorsy combo brings nature's beauty indoors.
Cabinets That Pair Well With Light Green Kitchen Walls
The cabinetry plays a starring role alongside light green walls. Choose a style and color that enhances the soothing essence of verdant greens. Here are some top options:
White Cabinets Color
Timeless white cabinetry allows light green walls to shine as the focal point. The high-contrast pairing has an airy, spacious feel. White reflects light beautifully to illuminate the green tones. For variety, mix glossy white uppers with matte sage lower. Or try open-faced cabinets to highlight colorful dishware. Nickel hardware gives a modern edge, while brass warms up the palette. White cabins fit any home style.
Soothing Gray Cabinets
Understated gray cabinetry enhances the calming vibe of light green walls. Cool-toned grays work best, like light glistening pearl or warmer dove gray. Darker shades can feel too somber and overwhelm the tranquility of green. Mixing matte and high-gloss finishes adds a nice dimension. Try open shelves on gray uppers to offset the solid look. Matte black hardware pops crisply on the muted backdrop. Overall, gray creates a subtly stylish, inviting look.
Natural Wood Cabinets
Warm wood cabinetry feels innately organic with verdant light green walls. Both hues derive from nature, bringing an earthy ambiance indoors. Light oak offers a casual sensibility, while darker walnut feels richer. Distressed, textured finishes make the look relatable and lived-in. For contrast, use glossy green tile backsplashes with natural wood cabinetry. A reclaimed butcher block countertop also pairs gorgeously, merging old and new.
Sage Green Cabinets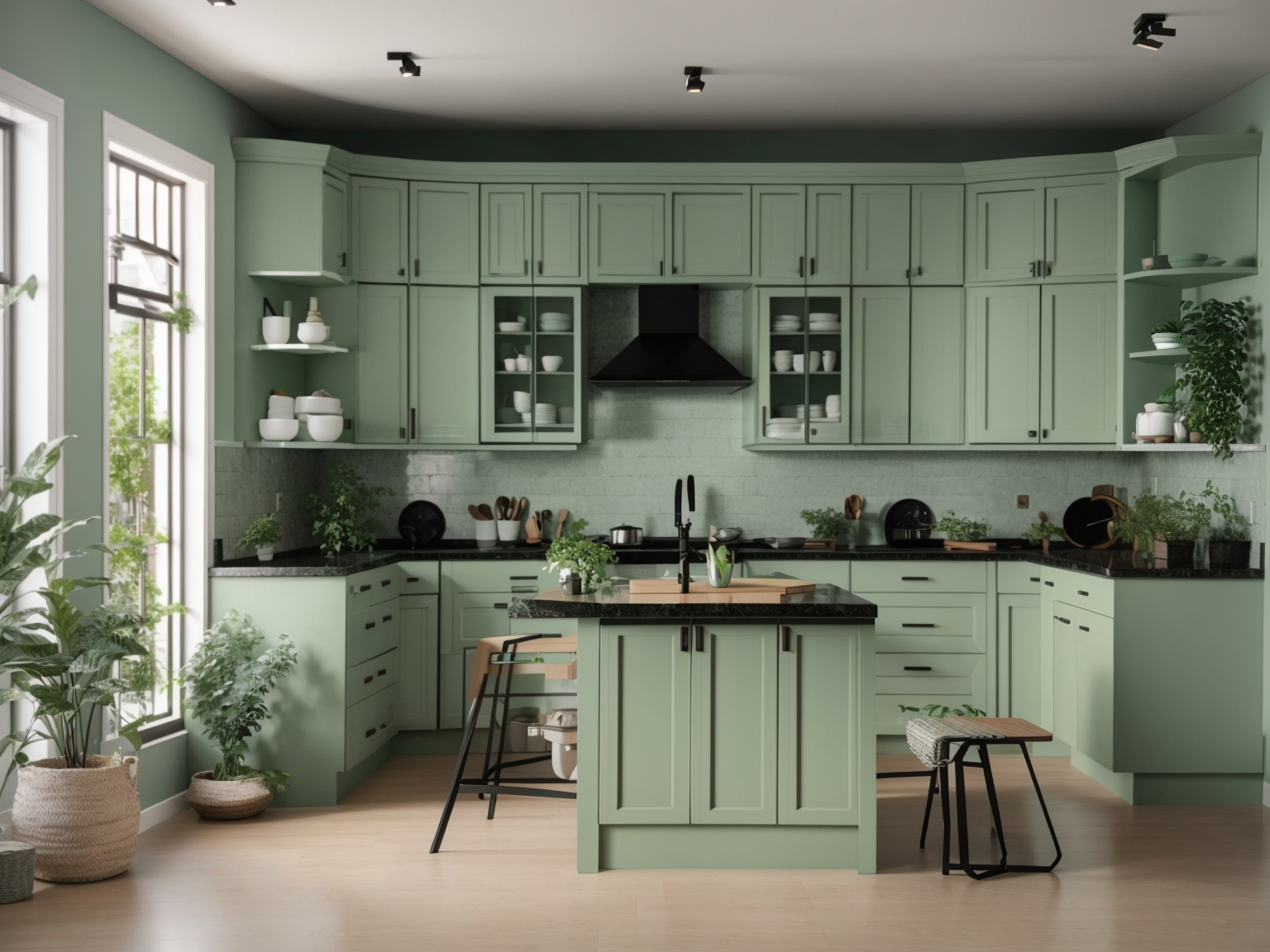 For complete unity, use light green cabinets to match the walls. Softened sage cabinets prevent overwhelming with green. Mixing glossy uppers with matte lowers adds nice depth and variety. Consider open shelving to break up the green. Add texture with woven storage baskets and ceramic knobs. Pair with white marble or quartz for contrast. A multi-toned green backsplash ties the look together elegantly. Light green harmoniously surrounds you.
Styling a Light Green Kitchen
Beyond the major elements like cabinetry and counters, accessories provide the finishing flair in a light green kitchen. Here are some styling ideas:
Vibrant Accessories
Pops of color enliven a light green palette. Choose accessories in citrus yellow, sky blue, and cherry red. Vintage kitchenware in speckled enamels or bright retro colors adds character. Display colorful Fiesta ware on open shelves. Try a cheery retro-style toaster or stand mixer in upbeat hues. Just don't overdo brights, which can overwhelm the tranquil essence of light green.
Soothing Artwork
Select artwork that enhances the zen ambiance of light green walls. Black and white botanical prints, watercolors of sea glass, or abstract Expressionist dabs of sage and mint tones keep things calm. Photos of leafy plants or forest landscapes also suit the vibe beautifully. Sunny yellow accents in frames warm up the space. Avoid jarring imagery that distracts from the harmony.
Abundant Plants
No light green kitchen feels complete without lush potted greenery. Trailing ivy, aloe vera, and succulents add organic texture and purify indoor air. Herb planters allow snipping fresh ingredients while cooking. Place plants in macrame or rattan hanging planters to save counter space. Greenery infuses kitchens with vitality and freshness. Remember to water and rotate plants regularly for healthy growth.
Natural Textures
Use tactile fabrics like linen, cotton, jute and wool to complement light green's earthy tranquility. Try natural fiber area rugs with subtle geometrics or ikat patterns. Hang sheer linen curtains to filter sunlight softly. Use terracotta vases and woven baskets for storage. A wooden bowl filled with citrus fruits connects to nature's bounty. Handcrafted ceramics and wood cutting boards add artisanal appeal.
By thoughtfully styling and accessorizing with intention, your light green kitchen becomes a welcoming oasis for nourishing body and soul.
Flooring Options for a Light Green Kitchen
The flooring choice impacts how the light green walls look and function. Here are some top options:
Warm Wood Flooring
Natural hardwood floors complement light green walls in open concept kitchens. Oak's golden tones and maple's pale hues enhance the tranquility. Wide planks expand the space visually. For durability, choose engineered wood or laminate flooring that resists moisture. Add area rugs to define zones in studio-style kitchens. The soothing grain and matte sheen of wood floors enriches the ambiance.
Bold Patterned Tile
Vivid patterned tile floors energize a light green kitchen. Try lively motifs like Moroccan tiles or funky geometric designs in contrasting colors. Matte finishes prevent slipping. Large tiles expand the look of smaller kitchens. Define separate spaces with area rugs. Use warmed toned grout to prevent a harsh look. Tile floors are a smart, water-resistant option for busy kitchens.
Practical Vinyl Flooring
Durable, cost-effective vinyl flooring suits family-filled light green kitchens. The latest vinyl styles mimic wood or tile with realistic textures. Waterproof, scratch-resistant and easy to clean, vinyl stands up to heavy use. Install a few shades lighter than walls to expand space. Chic contemporary patterns like slate grey plank vinyl suit modern kitchens. Cozy texture underfoot but handle messy cooks.
Sleek Concrete Floors
For an urban edge, polished concrete floors offset the organic light green walls. The matte gray surface feels edgy yet earthen. Cast concrete in varied finishes like satin or high-gloss. Integrate radiant heat for comfort underfoot. The industrial look works best in loft-style open kitchens. Define separate zones with area rugs. Concrete needs regular sealing to prevent staining.
Natural Stone
Timeless beauty radiates from natural stone floors paired with light green walls. Slate's stormy blues and travertine's rustic tans offer subtle color. Opt for tumbled stone or slate with a matte, textured finish to prevent slipping. The heavy material benefits open-concept kitchens. Adding area rugs makes stone floors cozier. This durable, eco-friendly option endures decades of cooking and cleaning.
Lighting for a Light Green Kitchen
Proper lighting showcases a light green kitchen's tranquil beauty. Thoughtful lighting choices enhance both aesthetics and function in your light green kitchen sanctuary. Consider mixing these lighting styles:
Pendant Lights
Hanging pendant lights work well over kitchen islands and dining tables. Choose clear glass orbs to illuminate without competing with light green walls. Vintage-style pendants in mottled glass filter light beautifully. Multi-pendant fixtures make a sculptural style statement. For task lighting, opt for adjustable height and dimmable pendants.
Recessed Lighting
Strategically placed recessed lighting brightens work zones in a light green kitchen. Lights over the sink and stove ensure safe meal prep. New slim, low-profile fixtures fit unobtrusively between cabinets. Some recessed lights offer handy motion-sensors and dimming capabilities. Just avoid overwhelming a light green palette with too harsh recessed lighting.
Under Cabinet Lighting
For a streamlined look, install under cabinet lighting to illuminate countertops without glare. Led strip lighting comes in soft white and colors like green. Linked to dimmers, customize as needed. Under cabinet lighting highlights pretty kitchenware displays. Kitchen hood light fixtures also provide direct task lighting.
Natural Light
Maximize natural light to illuminate light green walls. Strategize smart window placement, like above the sink. Skylights and clerestory windows filter zen-inducing daylight from above. Open shelving and glass cabinet doors allow light to penetrate storage zones. Sheer light green curtains filter sunrays softly. Let the sun's glow enhance light green's revitalizing essence.
Tips for Maintaining Light Green Kitchen Walls
With proper prep and care, light green kitchen walls will maintain their revitalizing beauty for years to come.
First, opt for top-quality acrylic or latex paint in a satiny washable finish. Matte paint stains more easily and requires frequent touch-ups. Use painter's tape for clean edges and apply a minimum of two coats for full color coverage. For high-traffic areas, add a layer of polyurethane sealer for extra protection.
In daily use, regularly wipe down walls with a soft microfiber cloth to prevent grease buildup. Immediately clean any splatters to avoid stains sinking into the paint. Avoid abrasive scouring pads or brushes that may leave scratches. For deeper periodic cleaning, add a small amount of mild detergent to the water and wash walls using gentle circular motions.
Over time, inspect walls yearly for any signs of damage or fading. Repainting every 3-5 years restores light green walls to their vibrant best. Use a small artist's brush to touch up any scuffs or nail holes with leftover paint. Proper prep and maintenance keep your light green kitchen walls looking fresh, clean and rejuvenating for many years of nourishing family meals.
When designed with intention, a light green kitchen cultivates tranquility and nurtures well-being. The verdant palette pairs seamlessly with natural wood tones, crisp whites, and eco-friendly materials. Styled with care, sage walls and mint backsplashes help create an uplifting space for meaningful moments around meals.
Rather than a fleeting trend, light green's enduring appeal stems from its harmony with human nature. Surrounding oneself with soft mossy hues coaxes out our creativity and capacity for joy. For those seeking to infuse their home with vitality and meaning, this humble tint delivers on its soothing potential.