Transform Your Kitchen with Striking Navy Blue Cabinets
Navy blue kitchen cabinets are taking kitchen design by storm. The deep, dramatic blue tone serves as a sophisticated and eye-catching focal point. If you're looking to give your kitchen a bold yet elegant facelift, navy blue cabinets may be the perfect choice.
Modern navy blue kitchen cabinets introduce color in a fresh, current way. The striking blue provides a colorful contrast to elements like white countertops and natural wood flooring. This rich color pairs beautifully with a variety of materials and finishes to create a complete look that is both stylish and timeless.
Selecting the Perfect Navy for Your Design Vision
When incorporating navy cabinets, one of the first decisions is choosing the right shade to suit your style. A deep royal navy has a moodier, dramatic effect, while softened blue tones feel a bit lighter and more casual. The finish you select also impacts the overall vibe, with high gloss cabinets making the boldest statement.
Opt for a distressed navy finish for a timeworn, beachy look. Or choose a solid stained or painted finish for clean, contemporary lines. Glass cabinet doors also lend a lighter, airier accent to balance out the richness of navy.
Door Styles and Hardware for Visual Interest
Simple shaker-style doors allow the color to take center stage while flat panel doors provide a touch more depth. For a more bespoke look, customize with inset cabinet fronts and unique hardware. Brass and nickel knobs and pulls pop against the blue.
Don't be afraid to add even more personality by incorporating knobs or pulls in accent colors like bright yellow, green, or aged brass. This injects extra vibrancy into your navy kitchen design.
Countertops and Backsplashes for Complementary Contrast
One of the most striking partnerships is pairing navy kitchen cabinets with crisp white countertops. The cool grey undertones of marble, quartz or granite also complement the blue beautifully. For a bit of warmth, consider butcher block or acrylic counters in a blonde wood tone.
White subway backsplash tile offers a clean, classic look behind navy cabinets. For extra dimension, install glass or marble tile. Dark metal backsplashes in a tile or sheet application also coordinate nicely with the cabinets' deep hue.
Paint Colors and Flooring for a Complete Look
Since navy cabinets make such an impact, keep walls light to prevent the space from feeling too overwhelming. Soft gray, light blue or sage green are soothing wall color options. Crisp white trim really makes navy pop.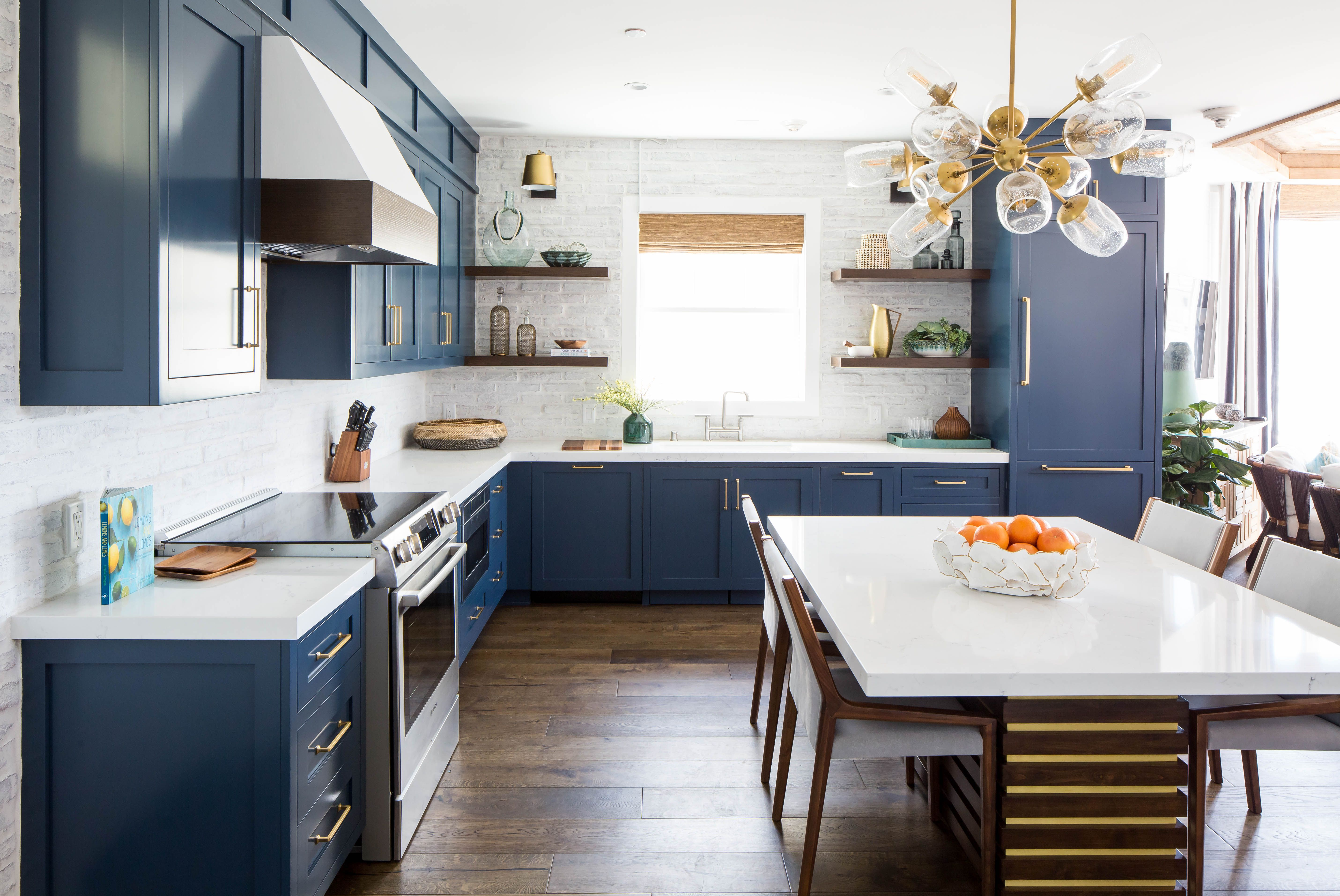 On the floor, medium to light natural wood or porcelain tile in wood-look finishes helps strike balance with cool-toned navy cabinets. For a beachy vibe try weathered gray-washed wood floors. For more details, check this guide.
Incorporating Lighting and Storage
Proper lighting can make all the difference in your navy kitchen. Statement pendant fixtures over a kitchen island provide both task lighting and visual appeal. Under cabinet lights keep countertops illuminated for food prep and entertaining.
For a lighter look, incorporate glass front cabinet doors and open shelving. This allows light to filter through and display favorite dishware. Built-in shelving also maximizes unused vertical space for storage.
Small Touches With Big Impact
Stainless steel appliances and hardware provide sleek contrast.
Mirrored or marble backsplashes visually open up the space.
High gloss cabinet finishes reflect light beautifully.
Don't shy away from navy cabinets just because you have a petite kitchen. A few smart design choices will prevent it from feeling too overwhelming.
Tying It All Together and Avoiding Clashes
While navy kitchen cabinets provide built-in drama, take care not to create chaos by overwhelming the space with too many loud patterns or competing colors. Maintain cohesion through your choice of finish for hardware and fixtures.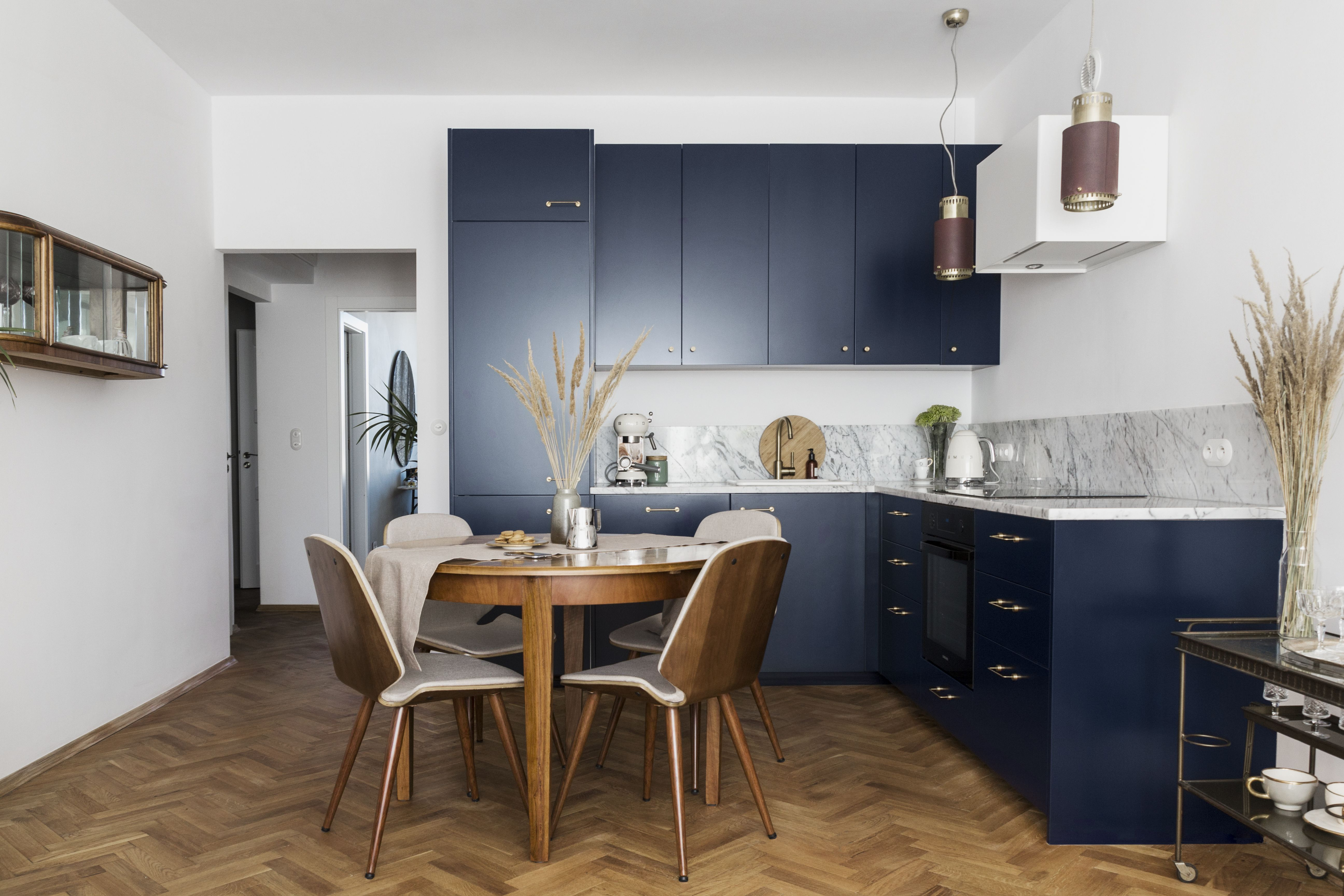 However, don't be afraid to show off your personality through fun details like an accent wallpaper or a colorful oven mitt collection on open shelves. This keeps the space from feeling too matchy-matchy.
Let Navy Inspire Your Kitchen Creativity!
If you feel your kitchen has been stuck in neutral for too long, navy cabinets can provide the jolt of color you've been craving without going too far outside your comfort zone. Achieve the elegant navy kitchen of your dreams by following the design tips and ideas outlined here.
The dramatic impact of navy cabinetry sets the stage to really get creative with your overall kitchen design. So embrace this trend and transform your space with striking style!