Transform Your Kitchen with A Stylish L-Shaped Island
Are you looking to upgrade your kitchen with a stylish new island? The L-shaped design is a popular choice for adding extra seating, workspace and storage. With the right layout and materials, you can create a focal point that transforms the look and function of your kitchen.
An L-shaped island is ideal for larger open concept kitchens. The two sections provide ample surface area for meal prep, entertaining, or just hanging out with family. The long counter space allows you to integrate special features like a sink, appliances, lighting fixtures, and more.
Maximize Your Layout With An L-Shaped Design
One of the biggest benefits of the L-shaped island is the abundant counter space. Typical dimensions range from 4×4 feet to 4×8 feet for each section. Make sure to allow a minimum of 36 inches for walkways on all sides.
Consider the room's traffic flow when positioning your island. It should not obstruct the work triangle between your sink, stove, and refrigerator. Place the island parallel to your kitchen cabinets for a streamlined look.
Choose The Right Countertop
Granite, marble, quartz, and wood are go-to island countertop options. Granite is extremely durable and stain-resistant. Quartz is virtually maintenance-free. Elegant marble requires diligent sealing to prevent stains.
Butcher block wood counters impart a rustic farmhouse vibe but need conditioning to prevent scratches. Evaluate cost, ease of care, and aesthetics when selecting materials.
Incorporate Smart Seating And Storage
One of the biggest perks of an island is having space for bar-height seating. Allow a 12-15 inch overhang for comfortable leg room. Curved and straight shapes work well. Built-in banquettes are a cool alternative to stools.
Maximize storage with a mix of drawers, cabinets, and open shelving. Pull-out trays keep items organized. Glass door cabinets elegantly display dishware.
Creative Design Ideas For Your Island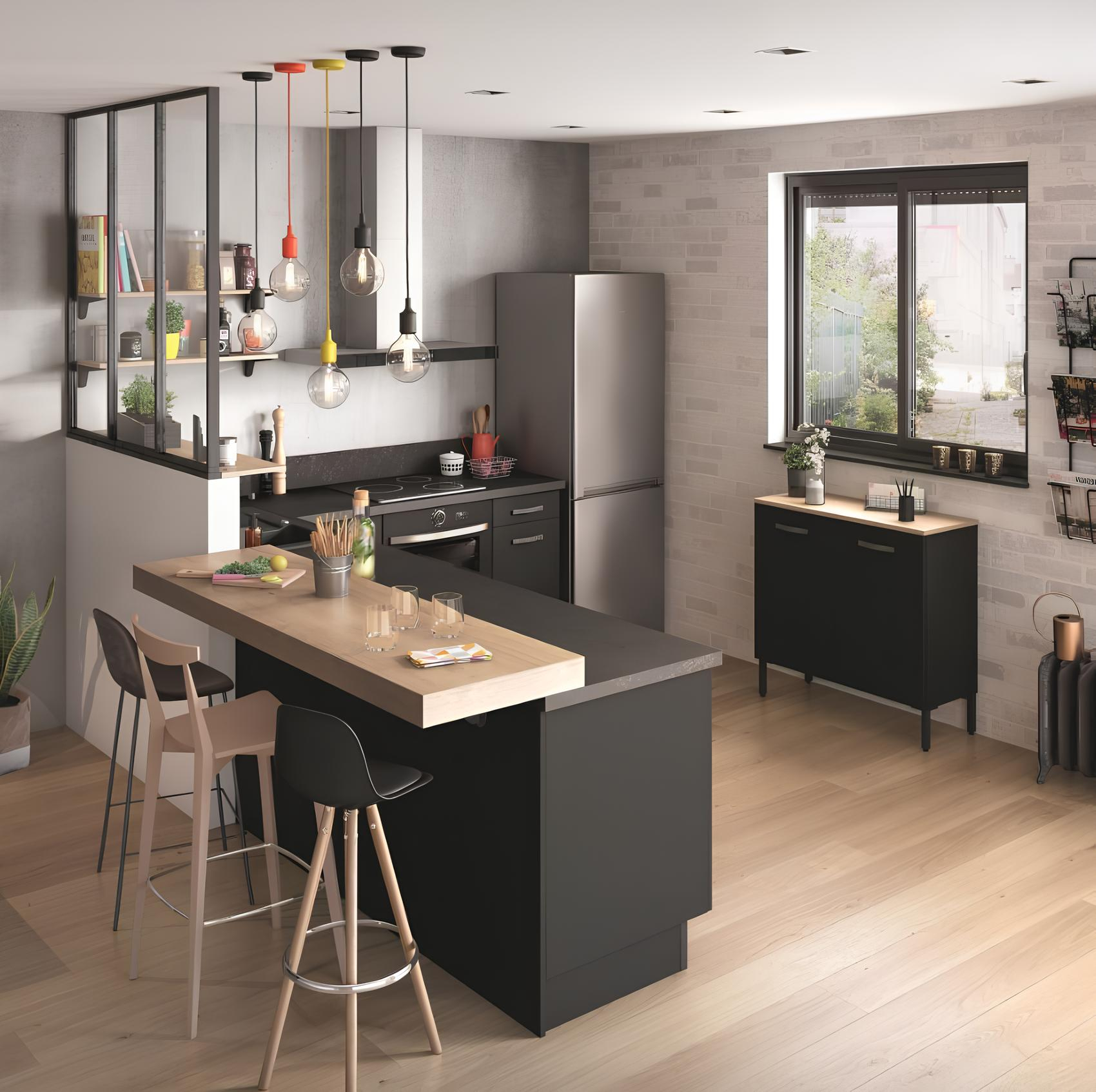 Two-Tier Islands
A two-tier island has distinct countertops at different heights. Quartz on top can provide a smooth eating surface while butcher block below is great for chopping. The split level design adds visual interest.
Another option is an elevated counter just for bar seating. Lower the main prep surface for comfortable working height. Two tiers maximize function and style.
Innovative Breakfast Bar Styles
Jazz up your island's breakfast bar with unique accents. Try integrating shelving or glass dividers for an airy feel. Curved banquettes provide built-in seating. Lighting fixtures illuminate the space in style.
Extending your counter overhang on one side creates space for four seats instead of two. The angled shape adds architectural flair. Get creative with your breakfast bar design!
Gorgeous L-Shaped Island Inspiration
Sleek Contemporary Islands
Contemporary kitchens demand an island with clean lines and minimal fuss. Stainless steel, laminate, or solid surface counters in neutral hues keep the look modern. Use open shelving instead of upper cabinets for easy access to dishes.
Incorporate unexpected materials like wood or colored glass for contrast. Go for a sculptural L-shaped design to anchor your contemporary kitchen.
Rustic Farmhouse Style
A classic farmhouse island has wood countertops and antique-inspired hardware. Butcher block pairs beautifully with cottage cabinetry. Wrought iron fixtures and turned legs boost the vintage charm.
Soft pastels and warm wood finishes give the island a rustic flair. Add vintage pendant lighting overhead to complete the farmhouse look.
Spare no expense designing a glamorous island perfect for entertaining. Opt for elegant white or gray marble counters with veining. Include extras like a wine fridge, ice maker, or dishwasher drawer.
Choose turned legs, carved accents, or glass doors to elevate the luxury style. Coordinating pendant lights and hardware polish off your dream island.
An L-shaped kitchen island can completely transform your space. Take advantage of the generous real estate to create your perfect cooking and gathering spot. Use these ideas as inspiration then customize details to match your personal style.