I've Got Cool Kitchen Soffit Decorating Ideas to Spruce Things Up!
Kitchen soffits present an often overlooked design opportunity in many homes. These voids above kitchen cabinets offer blank space that can be transformed into an artistic accent with some creative thinking. As we explore kitchen soffit decorating ideas, it becomes clear these areas do not have to remain bare and underutilized. With a little imagination, kitchen soffits can become attractive focal points that enhance the style and function of your cooking space.
First, let's briefly examine what kitchen soffits are. Kitchen soffits are the spaces between the tops of kitchen cabinets and the ceiling. They serve practical purposes like hiding ventilation, pipes, and wires. However, when left bare, they can create visual dead space in your kitchen decor.
Some may wonder – are kitchen soffits out of date? Not at all! With thoughtful design considerations, kitchen soffits offer the chance to inject personality and flair into your culinary environment.
The goal of this discussion is to inspire creative kitchen soffit decorating ideas that transform these voids from bland to beautiful. With a mix of materials, lighting, color, and imagination, your kitchen soffits can shift from forgettable to an artistic element you are excited to showcase.
Rethink Your Kitchen Soffits' Potential
Kitchen soffits present a unique design opportunity, yet they are often overlooked blank canvases full of untapped potential. As we explore creative kitchen soffit decorating ideas, it becomes clear these void spaces can be transformed into artistic statements that liven up your cooking area.
Rather than leaving your kitchen soffits bare, view them as a chance to inject bold personality and flair. A blank soffit awaits your creative vision – will you make it a stunning focal point or let it fade into the background? With the right materials and approach, you can reimagine those rectangles above your cabinets as anything from an ornate sculpture to a lush vertical garden.
When approaching kitchen soffit decor, first reflect on the overall look and feel you want to achieve. Is your style traditional, modern, or rustic? Making decor choices that align with your kitchen's aesthetic will result in a cohesive and harmonious environment. At the same time, don't be afraid to make a dramatic statement by contrasting your existing decor. Vibrant wallpaper or an abstract painting can liven up classic kitchens, while sleek tiles can give a fresh Contemporary edge to country decor.
Some ideas to inspire you in rethinking your kitchen soffits:
Turn it into an art installation with colorful patterned tiles, graffiti murals, fabric panels, or commissioned paintings.
Install recessed or track lighting to spotlight the area while adding ambient light.
Incorporate meaningful memorabilia like old family photos, vintage signs, or travel souvenirs.
Add open shelving, cabinets, or racks for extra storage and display space.
Create a vertical herb or succulent garden for organic greenery.
Choose the Perfect Kitchen Soffit Decorating Ideas for Your Style
When deciding how to decorate your kitchen soffits, consider options across a spectrum – from simple upgrades to striking accents to full custom designs. Select an approach aligned with your budget, style, and goals for the space.
For straightforward enhancements, paint and tile offer affordable ways to refresh your soffits. A fresh coat of color instantly modernizes the space while tying it into your existing palette. Or make a statement with eye-catching tile patterns, materials, and textures. Mixing glass, stone, or metal tiles creates visual interest.
For more dramatic transformations, play with lighting, wall textures, and mixed media. Recessed lighting casts a glow to highlight architectural details or artwork. Removable wallpaper or textured wall panels, like shiplap or tin, add rustic or industrial flair. Layer in artwork, floating shelves, or greenery for an eclectic accent wall effect.
Custom designs unlock the most potential for a showstopping look. Commission a faux finish mural, digitally printed graphic, or graffiti art to turn your soffit into a focal feature. Or install 3D sculptural elements, from geometric reliefs to organic branching forms. The sky's the limit when customizing the space to your unique taste.
The options are endless when approaching kitchen soffit decor. Simple weekend upgrades or full-blown transformations can imbue these overlooked voids with personality. Whether modernizing with color and tile or installing an ornate focal piece, select an approach aligned with your kitchen's style. With creativity and purpose, your soffits can shift from blah to ta-dah!
Unexpected Materials to Make Your Soffits Shine
While paint, tile, and wood are classic soffit decor materials, consider unexpected options to make a dramatic statement. Unconventional textures, lighting, art, and greenery can transform your soffits from boring to bold.
Wallpaper offers countless patterns, from modern geometric prints to playful floral vines. Faux wood panels like shiplap provide rustic warmth. Or make it 3D with dimensional tiles, wavy tin sheets, or bamboo slats.
Lighting lets you sculpt a mood. Try sconces, pendant lights on tracks, or recessed LED strips. Plant soffit gardens for organic texture and herbs within reach.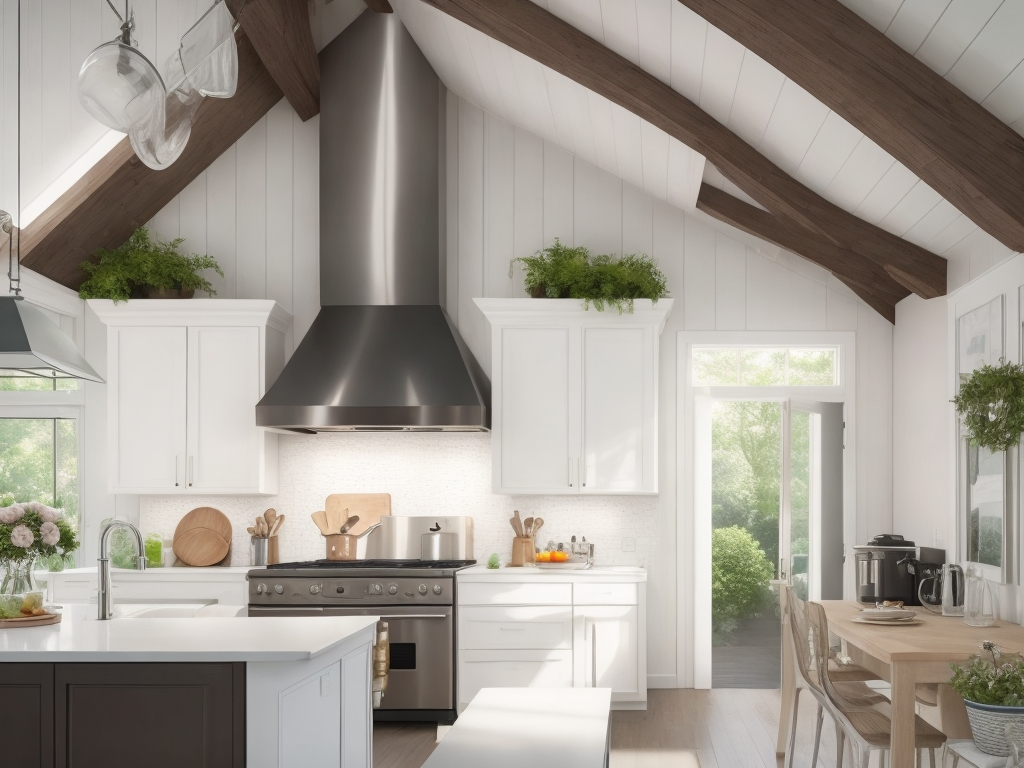 Turn your soffits into a collage canvas with family photos, vintage signs or album covers. Floating shelves display cherished objects. Neon marquee lights broadcast custom messages.
For showstopping drama, create a faux cloud ceiling with sculpted forms and concealed lights. Commission a one-of-a-kind skyline mural. Or craft a mini living wall with succulents or air plants.
Budget at least $3,000+ for materials and professional installation of custom soffits. Costs vary widely based on materials, complexity, labor, and local rates. Work with contractors experienced in specialty finishes and accents.
With creative choices and expert execution, you can infuse overlooked soffits with striking style. Unexpected materials like wallpaper, plants, art and lighting take these blank slates from mundane to marvelous.
Design Ideas to Make Soffits a Focal Point
Your kitchen soffits can shift from an afterthought to an eye-catching focal point with the right creative approach. Designs like collages, textural sculptures, and digital art installations can transform the void into a captivating work of art.
Meaningful memorabilia and photos incorporated in a sentimental family collage mural make a gorgeous feature. Song lyrics and musical notes from your favorite tunes spotlighted turn passions into a graphic element.
For more modern flair, 3D tile mosaics or geometric wall reliefs add artistic intrigue when installed. Suspended kinetic mobiles that twist and turn bring in mesmerizing movement. Creative ideas for kitchen soffits like these make an impact.
Inventive digital artworks are enabled by technology. LED panels programmed with hypnotic light sequences dazzle. Holographic landscapes projected across the soffit surface create illusions. Embedding monitors can display your own continuously evolving art.
If boldness is your goal, commission a one-of-a-kind soffit sculpture as your artistic centerpiece. Consider reflective infinity mirrors, a mini living wall, or abstract wire forms. Work with artists and contractors to make an imaginative statement.
Kitchen soffits provide a unique chance to interject striking and meaningful designs. Artwork and architectural elements aligned with your passions and style transform an overlooked space into a captivating focal point. Make a statement that delights and sparks conversation.
Transforming Your Vision into Reality
Bringing imaginative kitchen soffit designs to life requires sourcing special materials, hiring contractors, and installing lighting and other elements. With careful planning, your unique vision can become a finished reality.
Work with experienced architects and contractors who can handle complex projects. They'll advise on feasibility, coordinate subs, and manage finishing details. Research suppliers to source specialty tiles, fabrics, wallpapers and track lighting for the kitchen to achieve your perfect aesthetic.
Budget extra time to source custom materials like one-of-a-kind art pieces or collectibles for display. Be flexible if certain items are unavailable or too costly.
Factor in expenses for structural changes if adjusting soffit proportions or removing it entirely. Labor and installation costs build up with intricate lighting, electronics, or challenging installations.
Pay close attention to lighting plans to spotlight, accent and animate. A task, ambient and decorative lighting sets the mood. Consider hiring a designer for sophisticated schemes.
With coordination and problem solving, you can bring bold soffit designs to fruition. Making imaginative visions a finished reality requires research, expertise and compromise. But the results are a custom focal point to enjoy for years.
Maintenance Tips to Keep Your Soffits Fabulous
One-of-a-kind kitchen soffits require specialized care and maintenance to keep them looking fabulous. Follow these tips to protect your artistic investment.
For painted murals or graphics, use a gentle cleaner and soft cloth to prevent scratching or fading. Avoid abrasives. Reapply clear coat sealers periodically.
Clean tile, stone, or metal soffits with mild soap and water. Grout may need occasional sealing. Use non-acidic commercial cleaners formulated for each material.
Follow manufacturer instructions to clean upholstered fabric soffits or wallpaper. These may require more delicate attention than hard surfaces.
Living walls need regular watering, pruning and fertilizing. Inspect plants for pests or diseases. Replace greenery that declines over time.
What maintenance is required for art installations depends on the materials used. Protect valuable pieces from moisture, sunlight, and accidents.
Electronics like lighting, screens or holograms need occasional cleaning, bulb replacement and hardware checks to keep operating smoothly.
For movable elements like mobiles or display shelves, periodically inspect connections and remount anything coming loose.
Consider reapplying protective clear coatings every few years to preserve the luster and integrity of customized finishes.
With proper routine care, your imaginative soffit design can stay looking fabulous for years. While more maintenance-intensive than plain drywall, a little upkeep is worth showcasing your creative vision.
Kitchen soffits present a chance to inject personality and transform your cooking space. With the right balance of practicality and imagination, you can craft a focal point that both showcases your style and functions beautifully. Make your kitchen distinctly yours.