Illuminate Your Bedroom in Style with a Light-Up King Headboard
Are you looking to add some stylish flair and functional lighting to your bedroom? Installing a light-up king headboard can illuminate your space beautifully while also providing ambient mood lighting and device charging. Let's look at some of the benefits of choosing a headboard with built-in lighting and USB ports.
Types of Light-Up King Headboards
Today's headboards go far beyond basic designs. You can find king headboards with convenient features like dimmable bedside lamps or strips of LED lights to set a relaxing vibe.
Headboards with Integrated Nightlights
Some headboards have adjustable LED strip lighting or swing arm sconce lamps integrated into the design. The warm, ambient light these fixtures cast is perfect for reading a book before bed or simply creating a tranquil environment. Look for headboards with touch controls, dimmers, or color changing modes to customize your lighting.
Having a headboard with bedside lighting means no more fumbling for a switch in the dark. The lights are right where you need them within arm's reach.
Headboards with Bedside USB Ports
Another practical feature to look for is a king headboard with built-in USB ports. The ports allow you to conveniently charge phones, tablets, e-readers, and other gadgets overnight. No more dealing with a tangled mess of cables and searching for the right charger.
Headboards with USB ports reduce clutter and keep your devices powered up and ready to use first thing in the morning. The ports are discreetly integrated into the headboard for a streamlined look.
Combo Headboards with Both Lights and USB
For the ultimate convenience, look for an illuminated headboard that combines both lighting and USB charging ports. This gives you the best of both worlds – ambient lighting to set the mood plus easily accessible device charging while you sleep.
With the lighting and USB features seamlessly built-in, you avoid having cables and devices cluttering your nightstands. The headboard offers functionality while maintaining a clean, polished aesthetic.
Design Styles and Features
When choosing a light-up king headboard, you'll want one that matches your existing bedroom style. Here are some popular design aesthetics to consider: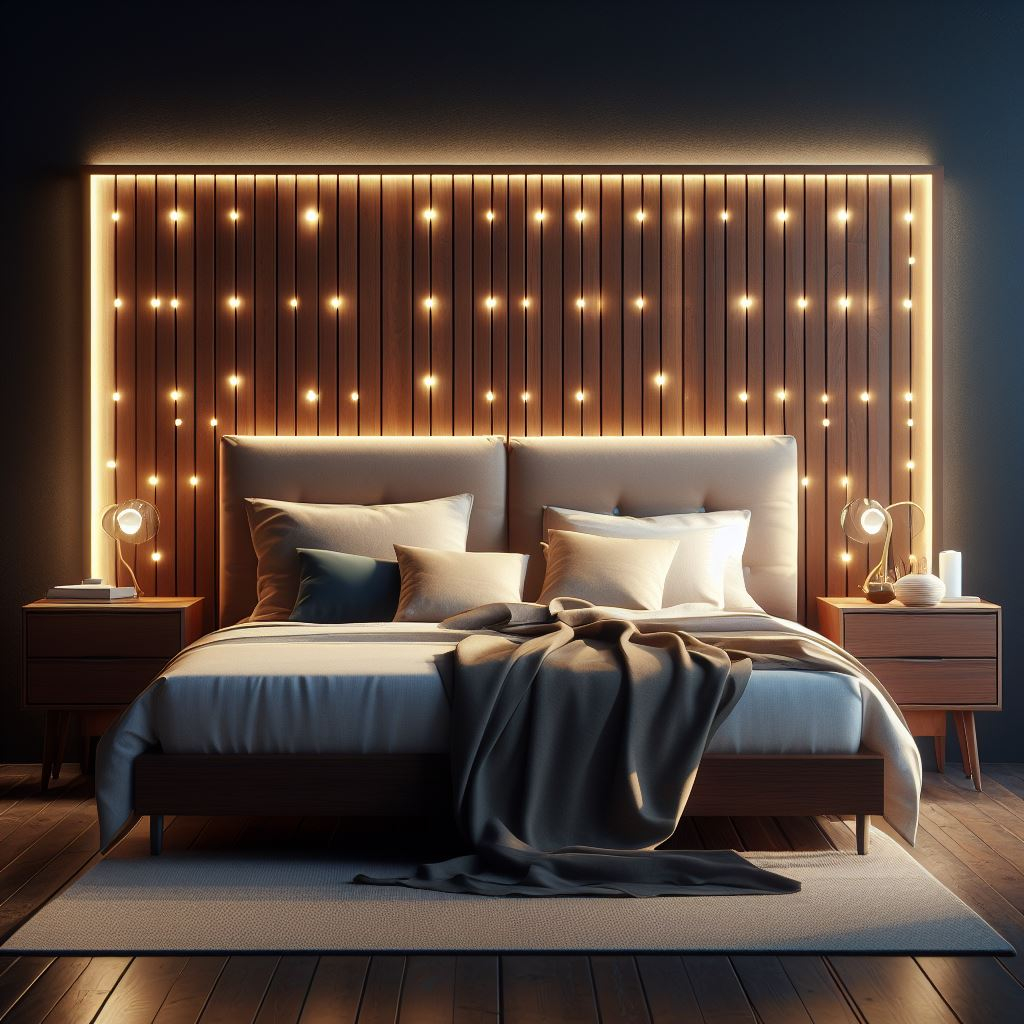 Modern and Contemporary
Modern headboards feature sleek, contemporary styles like angular frames, padded vinyl or leather, and wood materials like walnut. Built-in touch controls and minimalist, hidden light fixtures give a streamlined, tech-forward look.
The subtle integrated lighting adds a gentle glow while metallic, stone, or wood finishes complement the clean lines of other contemporary furnishings.
Rustic and Farmhouse
For a cozy, earthy feel, a rustic headboard brings natural warmth to farmhouse or lodge-inspired bedrooms. Look for distressed wood in oak or pine tones, complemented by vintage Edison-style bulbs or mason jar pendant lights.
The wood grain and rustic charm pair perfectly with textured bedding, wool blankets, and other organic elements to create a soothing sanctuary.
Tufted and Upholstered
Nothing says luxury like a padded, button-tufted headboard upholstered in soft, rich fabric. The plush, padded look provides an extra layer of comfort. Meanwhile, the warm glow of subtle lighting accentuates the tufted details and supple fabric.
The ambient lighting casts a relaxing vibe, making tufted headboards ideal for bedrooms meant for rest and rejuvenation.
Benefits of Choosing a Light-Up Headboard
Here are some of the top benefits of installing a king headboard with built-in lighting:
Sets a Relaxing Mood
The ambient glow of a light-up headboard sets a tranquil, soothing mood perfect for sleep and relaxation. The adjustable lighting lets you customize the tone – bright for reading before bed, or dim for drifting off to sleep.
Charges Devices Without Clutter
Never hunt for cables again with the convenient built-in USB ports in many headboards. Keep your bedside table clutter-free while powering up phones, e-readers, and other gadgets overnight.
Adds Style and Decor
Accent your bedroom decor with the soft accent lighting and stylish designs of a light-up headboard. The lighting elements become a decorative focal point.
Convenience and Functionality
Reading before bed or getting up at night is safer and easier with the hands-free ambient light from your self-illuminated headboard. No need to turn on bright overhead lights that could disrupt your sleep.
Shopping Tips and Considerations
Ready to choose the perfect light-up headboard? Keep these tips in mind while shopping:
Measure your bed size and room dimensions to ensure proper fit
Look for high-quality construction with sturdy joinery
Consider lighting customization features like dimmers or color change modes
Include USB charging ports if you want charging capability
Choose a style that coordinates with your existing decor
With built-in lighting elements and USB charging ports, a light-up king headboard is both stylish and functional. The adjustable ambient lighting sets a relaxing mood in your bedroom while also illuminating your space for reading or nighttime needs. And you'll love the convenience of charging your devices discreetly while you sleep.
Bring both form and function to your bedroom with a king headboard that lights up your space in style.