Unique Sideboards and Buffets to Make a Statement in Your Dining Room
The dining room sideboard assumes center stage, providing essential storage and display. More than just furniture, today's sideboards make a bold statement. From vintage charm to sleek modern designs, unique options abound.
You need storage. You want style. We'll cut through the noise, focusing on sideboard materials, aesthetics and functionality. Skimming big box stores and digging into custom designs, we consider it all. By the end, you'll be ready to find the perfect showstopper sideboard or buffet for your space. No more boring dining rooms. Let's dive in and transform your space with a little help from the one-and-only sideboard.
What Is a Dining Room Sideboard and Buffet?
Sideboards and buffets are dining room staples that offer storage, serving space, and style. While similar, they have some distinct differences.
A Brief History
The origins of the sideboard date back centuries in Europe. Large wooden planks expanded the limited table space for serving medieval feasts. These early utilitarian sideboards evolved into ornately carved furnishings that the wealthy used to show off serving ware.
Iconic styles like Chippendale and Hepplewhite sideboards surged in the 1700s. After falling out of favor in the early 1900s, sideboards reemerged in the mid-20th century with sleek mid-century modern designs. They remain popular statement pieces today.
Key Features and Purposes
The main roles of sideboards and buffets include:
Storage for dishware, table linens, and dining accessories
Serving surface to arrange food and decoration
Display area for cherished items or collections
Integrated lighting to illuminate contents
With storage, surface area, and style, sideboards are functional focal points.
Sideboard vs Buffet Differences
While often used interchangeably, some key variances:
Height: Sideboards are around waist high while buffets are taller with higher counter space.
Orientation: Sideboards emphasize vertical storage while buffets focus on horizontal surfaces.
Serving style: Buffets optimize self-serve access with more counter space. Sideboards spotlight storage.
Most Popular Styles and Designs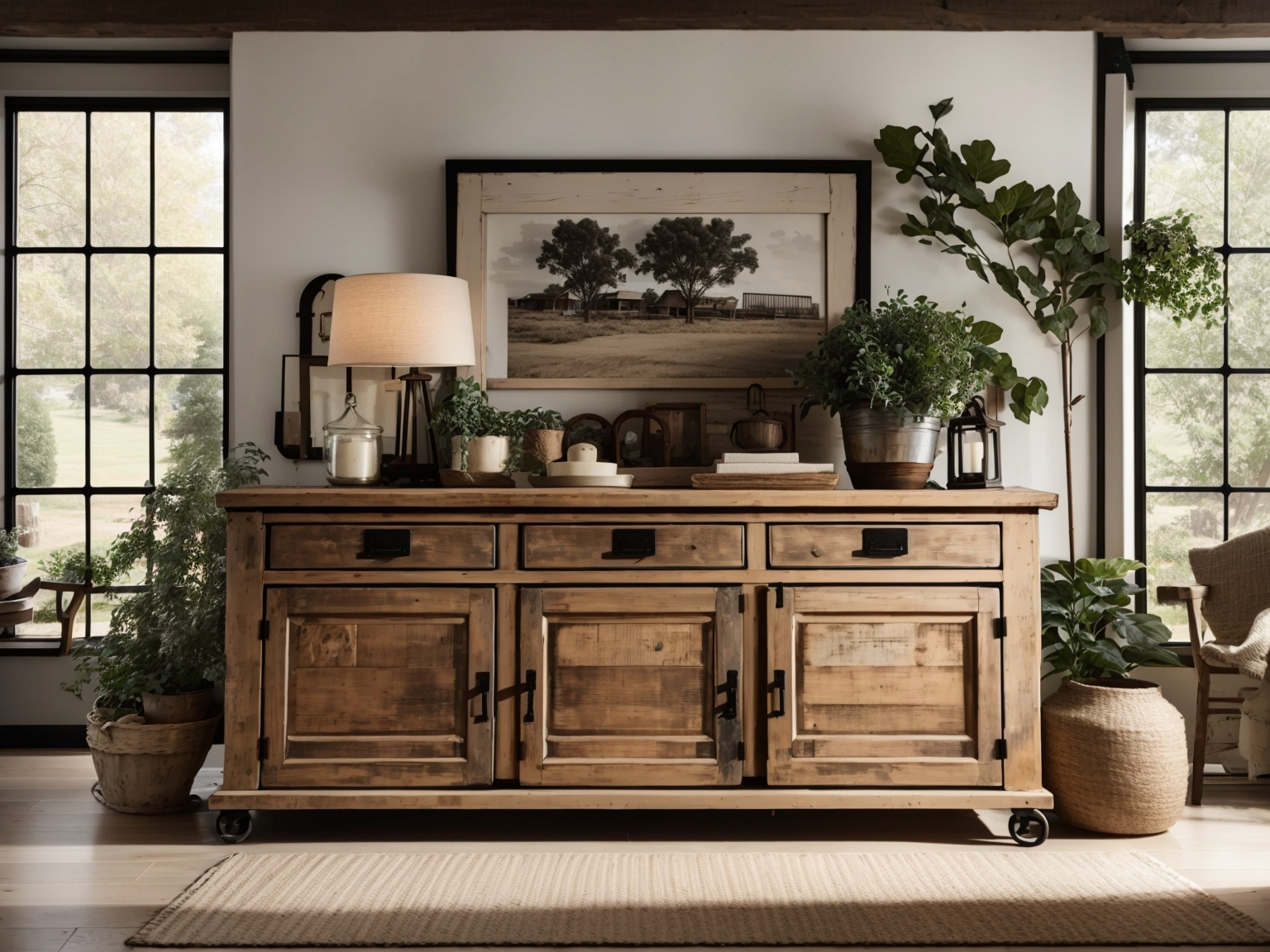 Sideboards and buffets are available in a wide variety of styles to complement any dining room aesthetic. From vintage revivals to contemporary sleekness, here are some of the most popular design influences and characteristics to consider:
Mid-Century Modern
Mid-century modern sideboards reflect the clean, retro-inspired look of the 1950s-60s. Key features include:
Simple, streamlined silhouettes with tapered legs
Materials like wood, glass, and laminates
Pops of bright colors or earth tones
Low-profile, horizontal orientation
Integration of lighting or shelving
This nostalgic style works well in mod and eclectic spaces.
Industrial
Industrial sideboards focus on the raw utilitarian look of factories and warehouses. Elements include:
Metal frames, pipes, and hardware
Unfinished or distressed wood
Exposed construction and joints
Factory cart-style wheels or casters
Open shelving and metal mesh doors
The urban loft vibe pairs nicely with modern and rustic interiors.
Farmhouse
Warm, casual, and inviting define the farmhouse sideboard look:
Painted, distressed, or whitewashed wood
Simple shaker-style doors with antique hardware
Open shelving and cabinets
Butcher block or marble countertops
Vintage touches like beadboard backings
For a relaxed and cozy cottage feel, farmhouse is perfect.
Traditional
Classic and timeless, traditional styles like French Provincial and English look to the past with details like:
Elaborate carved wood trim and legs
Inset cabinets and drawers
Bronze, bone, or painted hardware
Mirrored or paneled doors
Marble, granite, or butcher block tops
Ideal for formal dining rooms or spaces needing an elegant touch.
Scandinavian
Scandinavian and Nordic sideboards take graceful inspiration from mid-century modern with:
Light wood tones like oak, walnut, and ash
Subtle tapering curves and tapered legs
Minimal ornamentation and hardware
Integrated handles and mix of open/closed storage
White lacquer for a light, airy look
This understated, functional style suits calm, uncluttered interiors.
Rustic
Rustic sideboards embrace the raw, natural beauty of the countryside with features like:
Reclaimed or roughly hewn wood
Twig or branch details
Natural wood grains and coloring
Rope, horn, or leather accents
Farmhouse sinks or butcher block tops
Wrought iron hardware
Perfect for bringing an organic warmth to a space.
Materials and Finishes
The materials and finishes of a sideboard or buffet significantly impact its aesthetic, functionality, and durability. From warm wood tones to sleek metal accents, let's explore some top options:
Wood Tones and Finishes
Wood remains the quintessential sideboard material, available in a spectrum of tones and finishes.
Dark woods like walnut, mahogany, and espresso make a dramatic statement. Staining adds rich depth and dimension. Distressing or whitewashing softens the look in the farmhouse and cottage spaces.
Medium wood tones like oak, cherry, and rustic alder provide visual warmth. Natural variations in a wood grain add organic interest. Painted finishes in colors like sage green or navy blue transform the look.
Light woods like maple, birch, and pine have an airy, casual feel. They suit Scandinavian or modern aesthetics. Bleaching brings out natural highlights in the grain.
Natural wood finishes apply tung, linseed, or poly oils to protect the surface while accentuating the natural color tones.
Painted and stained finishes not only change the color but also protect the wood while adding depth. Modern water-based stains avoid harmful fumes.
Metals
Metal introduces sleek contrast and an industrial edge to wood sideboards.
Wrought iron has an artisanal, handcrafted look. It pairs well with rustic styles.
Brass, bronze, or gold tones add a glam touch. The patina finish develops character over time.
Chrome has a clean, streamlined look that suits modern sideboards. Stainless steel provides a similar sheen.
Glass and Mirrors
Glass-front cabinets or shelving enable displaying treasured dishes and objets d'art. Mirrored panels and doors reflect light to expand the visual space while providing a touch of deco flair. Leaded, frosted, and smoked glass also lend unique style.
With endless material and finish options, you can find just the right mix of textures and tones to enhance your dining space.
Functional Considerations
Beyond aesthetics, sideboards and buffets must serve key practical needs for storage, display, and serving. Consider these functional elements:
Storage Capacity
Assess how much enclosed storage you need for:
Dishware, cookware, and glassware
Linens like tablecloths, placemats, napkins
Serving platters, bowls, and utensils
Dining accessories like candles, vases, trays
Then select the configuration of drawers, cabinets, and shelving to accommodate those needs.
Display Opportunities
Glass-front cabinets or open shelving allow showing off:
China, silver, and barware collections
Cherished heirlooms or antique dishes
Framed photos, art, or objets d'art
Sculptural vases, candles, and decorative items
Illuminate displays with integrated lighting like LED strips.
Serving Ease
Plan ample countertop space for:
Arranging appetizers, entrees, and side dishes
Setting up beverage services like coffee, wine, or punches
Carving meats and arranging serving platters
Managing dessert trays and cake stands
Look for expandable fold-out surfaces if needed.
Built-in Convenience
Integrated features like:
Charging stations or outlets
Lighting on shelves or in cabinets
Pull-out trays for small items
Wine racks, stemware holders, and barred cabinets
Hardware like soft-close hinges and full-extension drawer glides
By carefully considering your space needs, a sideboard becomes both beautiful and highly functional.
Placement and Styling Tips
The placement and styling of your sideboard or buffet significantly impact its form and function. Consider these tips:
Strategic Positioning
Place centered on the back wall behind the dining table for a bold focal point. Allow 36-42 inches clearance from a table.
Position against the side wall, floating 6-12 inches away to create walking space behind chairs.
Angle in a corner to utilize dead space and create visual interest.
Use in an entryway or hallway to add storage and decor.
Clever Styling
Dress with table linens, dishware, glassware and layered accessories to bring life to open shelves and cabinets.
Incorporate candles, greenery, floral arrangements, art and decorative bowls. Rotate with the seasons.
Play with height, varying tall and short accessories. Repeat colors from room decor.
Use trays and risers to corral small objects. Contrast metals like mercury glass and silver.
Hide unsightly cords with raceways and baskets. Use drawer liners to conceal clutter.
Lighting Layers
Add adjustable accent lighting inside cabinets or shelves to spotlight displays.
Install a statement light fixture above the sideboard as a focal point.
Use table lamps for ambiance, or sconces for additional task lighting.
With strategic placement and creative vignettes, your sideboard can do double duty as a functional storage piece and decorative display.
Buying Considerations and Budget
Investing in a quality sideboard or buffet is a long-term commitment. Consider the following factors when making this important dining room investment:
The quality of materials significantly influences durability and lifespan. Solid hardwoods like oak and mahogany will far outlast laminates. Dovetail joinery and strong cabinet backs resist warping. High-grade hardware stands up to frequent use. Pieces made from kiln-dried lumber, water-based finishes, and low-VOC paints are eco-friendly options. Judge construction and materials quality in person before purchasing.
Custom-built sideboards allow designing tailored storage and features just for your needs. Start the process with precise room measurements and your vision for the piece. Build with premium materials like thick lumber and joinery for heirloom quality. A designer can assist with drawings and material choices. Premade options offer more immediate gratification, though limited customization.
Factor in delivery concerns like size, access through doorways and staircases, and installation requirements. Hire professional installers for complex configurations. Assembly is generally required for ready-to-assemble pieces – make sure all hardware and instructions are included.
Set a firm budget upfront. Pieces run a wide range costing $500 to over $5000. Add at least 30% for custom work. Quality wood construction starts at around $1000. Take time to find the best intersection of function, aesthetics and affordable price for your dining space.
By carefully evaluating options, you can invest wisely in a sideboard or buffet that perfectly suits your space and brings joy for years to come.