Semi Gloss or Satin for Kitchen Cabinets: Which Finish is Best?
Kitchen cabinet refinishing projects are more popular than ever, with homeowners eager to refresh their space without the expense of a full remodel. One of the most important decisions in any cabinet makeover is selecting the right finish. The debate between semi gloss and satin cabinets divides many looking to update their kitchen. Today, we will analyze the pros and cons of both options to help determine which finish is the best choice for your goals and decor.
We will provide an in-depth look at how factors like cabinet color, kitchen size, style, and ease of maintenance should guide your finish selection. With the right information, you can confidently choose between semi gloss and satin finishes to create your dream kitchen. The information here will allow you to make an informed decision based on the unique needs and aesthetics of your home. Continue reading as we explore this popular kitchen design dilemma from all angles.
Semi Gloss Kitchen Cabinets
Semi gloss is a popular kitchen cabinet finish defined by its medium to a high sheen. Unlike flat or eggshell paints, it has a noticeably shiny appearance when dry. Light readily reflects off the smooth semi gloss surface, creating a vibrant look. The level of reflectiveness falls between high gloss and satin finishes.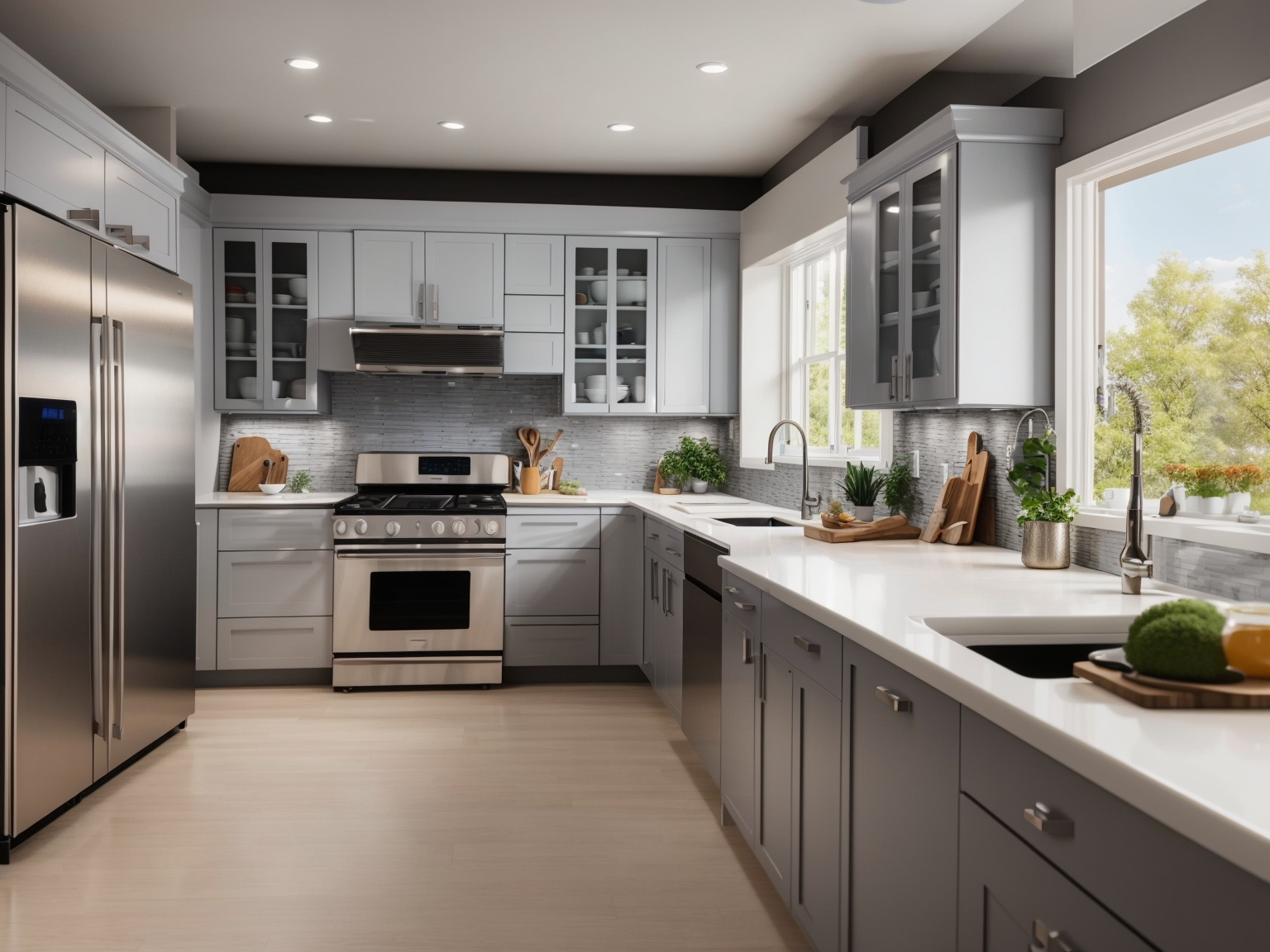 Semi-gloss cabinets offer both benefits and potential downsides in terms of aesthetics.
Pros
Provides a polished, upscale look
Enhances the wood grain
Offers a vintage vibe popular in traditional kitchens
Hides imperfections better than matte
Durable and easy to clean
Shows less scratches and marks
Cons
Smudges and fingerprints show more
Requires frequent cleaning to maintain shine
Can feel sterile and highlight imperfections
Not as modern as satin
Can feel sterile and cold
Semi gloss paint is ideal for lighter cabinet colors where its reflective properties enhance visibility. Dark semi gloss cabinets can appear cold and murky. Neutrals like white, off-white, light gray, and beige allow light to bounce off the finish.
Semi gloss offers a traditional kitchen aesthetic that conceals flaws better than lower-sheen finishes. It pairs well with ornate detailing and darker wood tones. However, the tendency to show dirt and fingermarks requires diligent upkeep. Semi gloss is best for lightly used spaces where fingerprints won't constantly accumulate.
Satin Kitchen Cabinets
Satin is a popular kitchen cabinet finish with a smooth, soft sheen. It is less glossy than semi gloss but more reflective than matte options. Satin provides a subtle surface shine that exudes warmth and softness. Light reflects more gently off satin paint, creating a welcoming glow.
Aesthetically, the pros and cons of a satin kitchen cabinet finish include:
Pros
Provides a smooth, modern look
Forgiving of imperfections and scratches
Creates a warm, inviting aesthetic
Works well with both traditional and contemporary kitchens
Cons
Less durable and moisture-resistant than semi gloss
Can show grease and dirt more noticeably
Provides less contrast between door details
Satin works beautifully with both light and dark cabinet colors, adding lush depth. Its soft luminosity flatters wood grain. Most stains and paint colors pair attractively with satin's understated radiance.
Satin offers a contemporary kitchen look, with a more muted sheen that's both stylish and practical. While it shows wear more easily than semi gloss, satin provides an appealing in-between option balancing durability and aesthetic. Its versatility suits both traditional and modern spaces.
Factors To Consider
Choosing the right cabinet finish comes down to a few key factors we'll walk through. Traditional kitchens tend to suit the polished sheen of semi gloss, while contemporary spaces match the clean glow of satin. Darker cabinets come alive in semi gloss, which adds needed light reflection, but satin works on any shade. Abundant overhead lighting plays up the shine of semi gloss beautifully. In darker kitchens, satin creates a subtle brightness. Visible cabinet flaws? Go for forgiving satin. Flawless doors look spectacular in semi gloss.
Now think about lifestyle. Busy homes with lots of use benefit from satin's durability and grime resistance. Meticulous cleaners will appreciate how semi gloss shows off a job well done. Looking for minimal maintenance? Satin needs less frequent wiping. Don't mind frequent polishing? Semi gloss will shine under your care.
Take stock of your overall design, from ornate traditional to sleek modern. Consider how the space is used – are fingerprint smudges inevitable? Observe the lighting. Examine those cabinet doors up close. The perfect finish aligns with the colors, details and flow of your kitchen. It fits your family's lifestyle and your own cleaning ethic. Keep these factors in mind as you choose between satin and semi gloss. The right one harmonizes with your space and preferences.
Semi Gloss vs. Satin – Which is Better For Most?
If you're wondering about choosing between satin and semi-gloss cabinet finishes, let me tell you, satin is the way to go for most kitchens! Here's why:
Satin is much more forgiving of flaws than semi gloss. Tiny dings, knots, or scrapes practically disappear into satin's gentle sheen. Meanwhile, semi gloss brightly illuminates every imperfection. For real-life cabinets with minor wear and tear, satin offers a more flawless look.
The soft glow of satin also creates a warmer, more natural aesthetic. Semi gloss can appear clinical and cold in some kitchens – especially small or dark spaces. Satin provides a lush finish with inviting depth. Its subtle shine is both stylish and practical for occupied homes prone to fingerprints.
That said, semi gloss offers greater durability and moisture resistance. Its glossy topcoat creates an enhanced protective barrier, while satin provides a thinner coating. For kitchens with young kids or frequent spills, semi gloss holds up better over time. When caring for cabinets is a priority, semi gloss excels.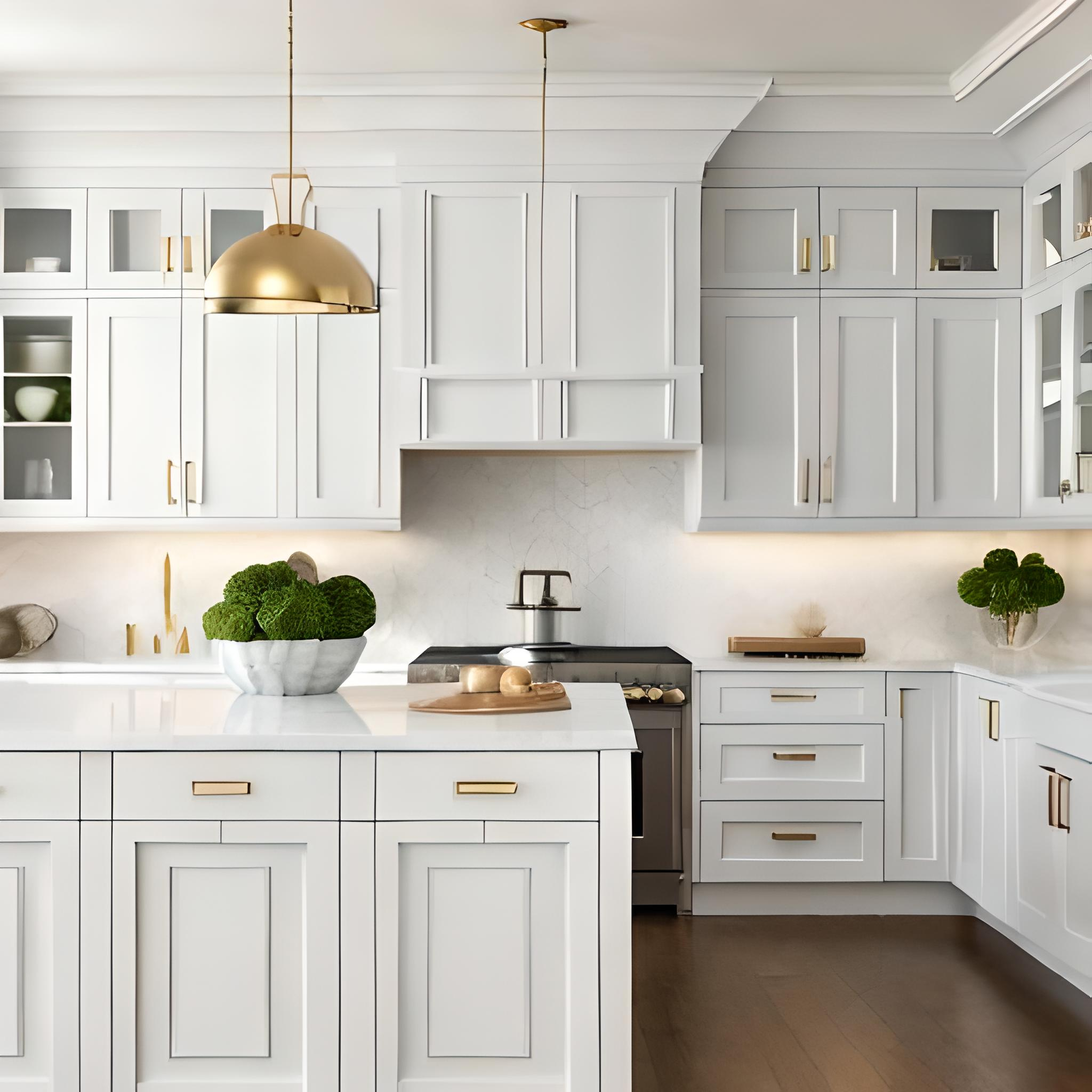 Light, neutral-colored cabinets also best complement semi gloss. The finish's brightness and light reflection show white, off-white, beige or light gray cabinets to their full potential. Darker stains and paints with semi gloss can look murky. For a crisp, bright aesthetic, go for semi gloss on lighter colors.
In most cases, satin provides a better balance of style, durability, and practicality for busy kitchens. The finish forgives small flaws in cabinetry and disguises dirt better. Especially for casual family spaces, satin aligns with real world use and imperfections. Its soft glow creates warmth and style. Semi gloss makes sense for meticulous homeowners without kids and cabinets in top condition. But for most of us, satin is the more liveable, flattering option.
Caring For Your Kitchen Cabinets
Caring for your new satin or semi gloss cabinets will keep them looking like new. Semi gloss requires more frequent attention – wipe down frequently with a microfiber cloth and mild cleaner to sustain the shine. Use a polishing wax or sealant regularly to protect the finish.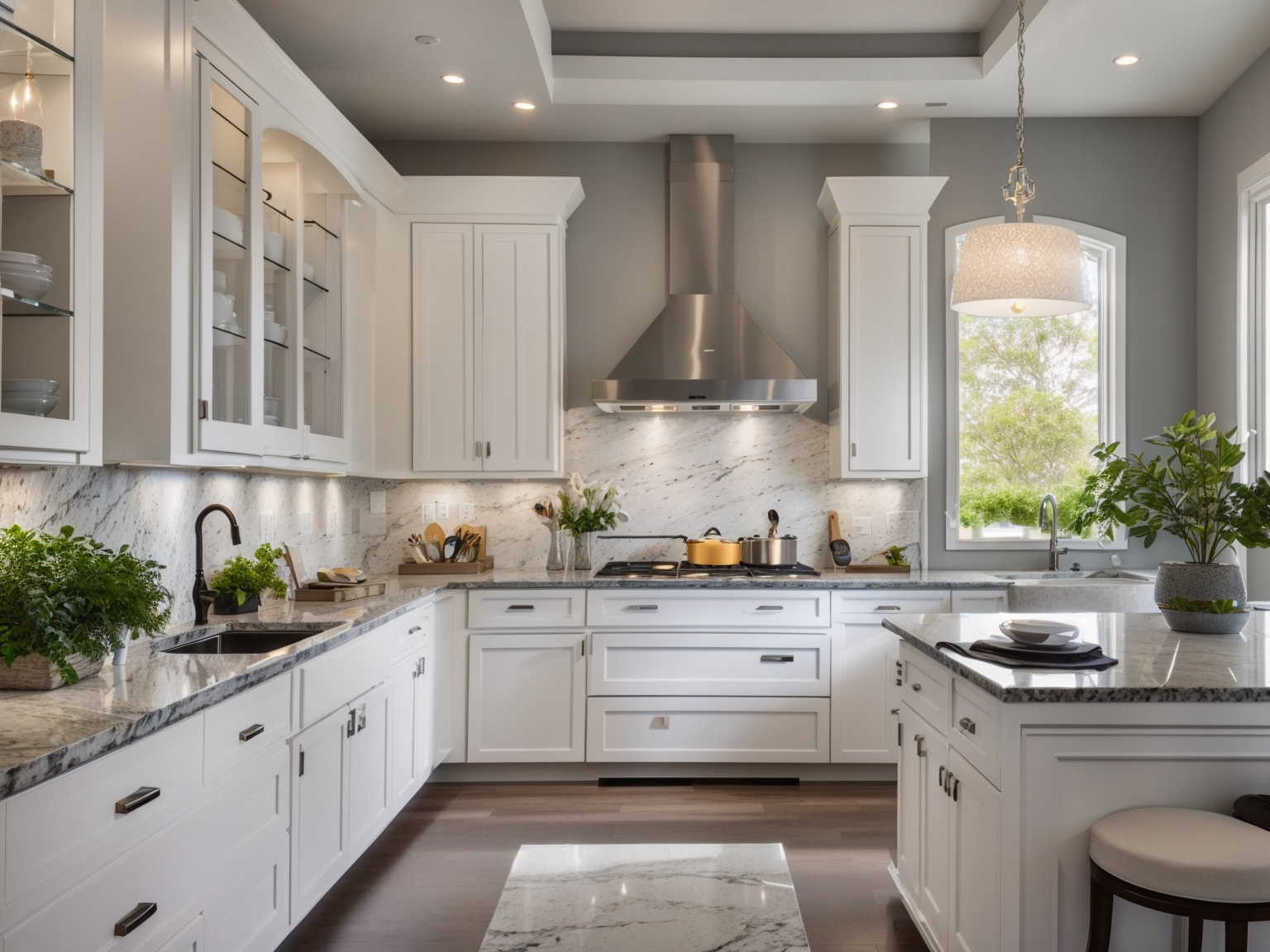 Satin is more prone to grease buildup, so work promptly to clean splatters before stains set in. Use degreasing cleaners formulated for kitchen cabinets to cut through oil. For both finishes, immediately clean spills and messes to prevent permanent damage.
Stay gentle – avoid abrasive scouring pads and chemical-heavy cleaners that could mar the finish. Don't let any moisture dry on the cabinet surface. Work carefully on ornate wood details so they don't chip or peel.
With routine care, you'll enjoy your satin or semi gloss finish for years. Keep cabinets looking fresh by:
Polishing semi gloss cabinets weekly
Degreasing satin cabinets regularly
sing microfiber cloths and mild cleaner
Working surface stains and spills promptly
Avoiding harsh scrubbing or toxic chemicals
Your cabinets will shine, protected from dulling and damage with consistent yet gentle care. With the right maintenance for your finish, your kitchen will stay beautiful from day one through years of family meals.
When choosing a kitchen cabinet finish, start by considering your decor. Traditional kitchens with ornate details often suit a semi gloss finish, as its polished shine complements antique styling. For contemporary spaces with a sleek, modern look, satin's subtle glow tends to pair better.
Factor in cabinet color too. Darker woods and paints come alive with semi gloss's reflective properties to add light. On the other hand, silver-colored metallic finishes look stunning when illuminated gently by a soft satin sheen. For most cabinet colors, satin offers a universally flattering softness.
Look at lighting as well. In low natural light, satin finishes provide a subtle brightness, while semi gloss can appear dark and opaque without ample illumination. Consider usage too – active families may appreciate durable, grime-masking satin, while meticulous cleaners will like how radiant semi gloss appears freshly polished.
Ultimately, both finishes have pros and cons to weigh. While semi gloss offers lasting vibrance, satin creates a flexible warmth suitable for most kitchens. Use the criteria here to confidently select the perfect finish to showcase your unique style.