Princess Throne Chairs: The Luxurious Upholstered Fantasy You've Been Dreaming Of
Since childhood, many of us have dreamed of sitting atop a majestic throne, feeling like royalty as we survey our kingdom. For some, that fantasy has never gone away. Enter the princess throne chair – an ornate, regal seat fit for queens and princesses of all ages.
Far more than just a chair, a princess throne adds an air of luxury and grandeur to any space. These lavish chairs come in a rainbow of colors, from pretty in pink to gilded gold. Vintage and modern styles allow you to choose a look that suits your taste. Fit for royalty or just for fun, princess thrones can transform an ordinary room into a stylish, sophisticated space.
Exploring the Dazzling World of Princess Throne Chairs
When you picture a princess throne chair, what comes to mind? An explosion of pink tulle and rhinestones? A majestic golden seat atop red carpet stairs? There are so many varieties of these fanciful chairs that your options are endless.
Princess thrones range from basic chairs with some royal embellishments to breathtaking works of art. Many have a vintage fairy tale look, with tufted upholstery, crystal accents and hand-carved details. Others go for modern glamour, like acrylic thrones with LED light effects. Themed chairs feature favorite princesses, unicorns, fairies and more. Let's delve into some of the most magical princess throne styles.
Pretty in Pink Princess Chairs
Nothing says princess like pink. These primarily pink chairs run the gamut from soft and sweet to bold and bright. On the feminine side, you'll find blush chairs with floral accents and lace overlays. Pink velvet and satin thrones have a luxurious Victorian vibe. Metallic pink chairs shine bright with studs and glittery details. The boldest hot pink thrones make a seriously fun statement.
Enchanting Gold Throne Chairs
Why settle for a basic chair when you can sit upon a golden throne? Gold princess chairs command attention with their regalstyle. Ornately carved wood frames get touched up with gleaming metallic paint or gold leafing. Luxe materials like velvet take on a rich royal look in deep gold hues. Mirrored accents and crystal details add light-catching allure. A gold throne chair brings majestic vibes to any space.
Ethereal Pastel Princess Chairs
For a soft, dreamy look, choose a pastel princess throne. Chairs in shades of powder blue, lavender, mint green and pale peach evoke a sweet storybook style. These thrones look especially lovely touched up with pearls, flowers and feathers. A soft neutral like blush pink or silver also has an airy, romantic vibe. Paired with sheer curtains and flowers, a pastel throne makes you feel like you're in a fairy tale.
Outdoor Princess Throne Chairs
The magic of princess thrones can extend outside too. Outdoor princess chairs bring regal style to your patio, poolside or garden. Made with weather-resistant materials like bamboo, wicker and aluminum, outdoor thrones can handle the elements. Many have plush cushions for comfort. Accessorize your outdoor princess chair with sun shades, floral pillows and lanterns.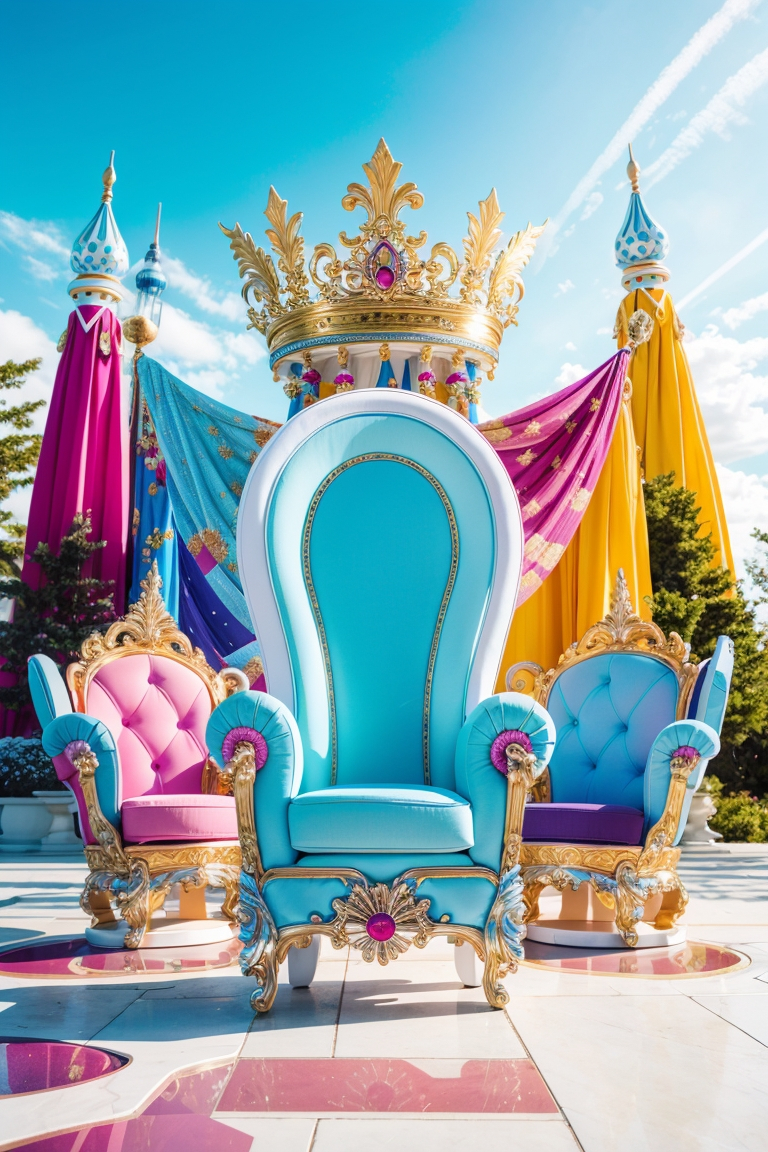 What princess throne chair styles are most popular? Pink is the perennial favorite princess throne color. Tufted designs and styles inspired by Disney princesses also top the trends. Mirrored and acrylic thrones offer modern flair.
Kid-Friendly Princess Chairs: A Magical Touch for Parties
What could be more perfect for a princess birthday party than a miniature throne? Kid-sized princess chairs are big on royal fun and bring joy to parties and playrooms. These pint-sized thrones allow little ones to feel like royalty for a day.
Inflatable Princess Throne Chairs
For parties, inflatable thrones offer the ultimate easy-breezy princess experience. These easily portable chairs inflate in minutes – no assembly required. Kids will have a blast sitting in jumbo-sized inflatable thrones decorated with tulle, crowns and their favorite princess characters. Place them in yards or halls for a photo-ready princess party backdrop.
Themed Princess Chairs
Let the birthday girl's favorite princess or character take center stage with a themed throne chair. Disney princesses like Cinderella and Frozen's Elsa inspire ornate throne designs. Unicorn and fairy princess chairs also dazzle. These of-the-moment themed chairs include accents like crowns, silk flowers and glittery fabric.
Kid-Sized Upholstered Throne Chairs
For a throne that will last beyond the birthday, choose a miniature upholstered chair. Kid-sized ornate chairs feature many of the same luxe details as adult princess thrones, like elegant fabrics and hand-carved accents scaled down to suit little royals. Place one in a bedroom, playroom or corner of the living room for daily pretend play.
Vintage Princess Chairs: Timeless Treasures
Vintage and antique princess chairs possess a timeless charm. Each one has its own unique personality and history. These pre-owned thrones offer more ornate details than modern versions without the high price tags.
Ornately Carved Wood Thrones
Intricately carved wood frames give vintage thrones their fairytale appeal. Flowery vines, leaves and shells offer touches of whimsy. Elaborately turned spindles and claw foot bases have grandeur. Look for hand-painted details like scrolling flowers for added charm.
Velvet and Brocade Princess Chairs
Plush velvet and brocade upholstery lend vintage thrones a luxurious feel. Deep jewel tones like emerald green and burgundy suit a Victorian aesthetic. Look for vintage chairs with tufted buttons, ruffled trim and tassel ties for lots of textural appeal. Minor repairs can restore them to their former glory.
Thrift Store Finds
Keep your eye out for princess throne treasures at flea markets and thrift stores. Sometimes vintage chairs get donated still in good shape, minus some accumulated dust and grime. With a little DIY TLC to replace tattered fabric or flaking paint, you can give a secondhand chair new life. Add your own embellishments for a one-of-a-kind vintage style.
Luxury Princess Chairs: Fit for Royalty
Why not give yourself the royal treatment every day? For sheer luxury, look to high-end thrones made with premium materials and exquisite craftsmanship.
Ornate Hand Carvings
Luxury princess thrones showcase ornate hand carvings fit for palace life. Elaborate frames reflect expert woodworking skill. Consider chairs with hand-carved details like flowers, leaves, vines, shells, unicorns and crowns. Intricate patterns and shapes lend these luxury pieces artistic elegance.
Fine Fabrics
Sumptuous fabrics elevate a princess throne to a luxe experience. Velvet in rich hues feels decadent. Delicate silk lends finesse. Brocades, damasks, tapestries and embroidered fabrics elevate the look. Tufted upholstery, ruffles, fringe and ornate nailhead trim provide gorgeous finishing touches.
Sparkling Accents
When only the finest finishing touches will do, choose a throne dressed up with crystals, rhinestones, pearls and metallic gold or silver trim. Accents that shimmer and shine add glamorous allure. Check that adornments are securely attached so these luxury details will last for years to come. A bedazzled throne brings stylish drama.
Princess Chairs for Adults: Regal Whimsy for All Ages
Are princess throne chairs just for kids? While princess chairs are certainly popular for playrooms and parties, they can add elegance to adult spaces, too. Many ornate thrones are sized for teens and grown-ups.
Princess dreams don't have an age limit! While kids may initially come to mind, princess throne chairs have a regal charm for teens, adults and seniors too.
Nurseries and Kids' Rooms
In a nursery, a princess throne can transition from a nursing chair to a reading nook as the baby grows. In a kid's room, it brings fun fantasy for dress-up, tea parties or lounging with books. For teens, a throne with a more mature style can balance youthful interests with sophisticated design.
Adult Bedrooms and Dens
A plush upholstered throne adds luxe coziness to a master suite, dressing area or reading nook. For entertainment spaces like home theaters, game rooms and bars, an imaginative throne makes a conversation-starting accent. It's also a chic seat for leisurely routines like putting on makeup.
Offices and Studios
Add a playful touch to home offices, craft studios or streaming spaces with a princess throne. Use one as a statement guest seat or outfit it with cushions to create a comfy but fabulous workstation.
How to Incorporate Princess Chairs into Your Decor
Princess chairs stand out as fun statement pieces. Use them thoughtfully, like a precious jewel, to elevate your decor.
Floral Touches
Fresh or faux flowers and leafy greens complement a princess chair's romance. Try wreaths, garlands, floral cushions and tabletop arrangements. Creeping vines add organic flair. For parties, adorn chairs with flower crowns, leis or floral sashes.
Luxe Accents
Play up the glam factor with accents like fur throws, beaded pillows, gilded mirrors and crystal chandeliers. Pair chairs with opulent furnishings like tufted ottomans and clawfoot tables. Candles and ambient lighting set the scene.
Display Strategically
Allow enough space around the throne to admire its splendor. Angle it near a focal point like a fireplace. Float it in open concept spaces or place it at the head of a dining table. Light it dramatically with downlights or sconces to highlight ornate details.
Mix and Match Styles
Thrones make bold statements on their own. For a cohesive look, choose chairs that blend well with your existing aesthetic. A soft vintage style pairs nicely with shabby chic decor, for instance. For an eclectic vibe, mix ornate thrones with contemporary accents.
Princess Throne Chair Rentals: Royal Treatment for Events
Few furniture rentals impress quite like ornate princess thrones. Your guests will feel like the star of any occasion when seated in one of these eye-catching chairs. Take events from basic to best-in-show with throne chair rentals.
Weddings
Surprise your bride by having a princess throne waiting in the bridal suite as she gets ready. Then use two matching thrones on the dais for a royal wedding backdrop. Or seat the mothers of the couple in elegant throne chairs. Guests will delight in taking turns posing for fun wedding photos.
Quinceaneras
For a quinceanera celebration filled with glamorous tradition, a throne rental makes a perfect accent. Use two chairs to spotlight the birthday girl and her escort during the waltz. Guests can take turns sitting in the throne for photos. Accentuate chairs with flowers, tulle and decor in the quinceanera's colors.
Birthday Parties
Surprise the guest of honor at their princess-themed party with a throne just for them. Inflatable thrones easily accommodate all their favorite friends. Have guests sign the chair's back with fabric markers. Anyone can feel like royalty on their special day with a throne chair rental.
Corporate Events
For corporate parties, galas and awards events, throne chair rentals make stunning focal points. Place executive VIPs in ornate chairs on stage as a mark of distinction. Use throne seating to highlight featured guests. Thrones definitely beat basic folding chairs for creating a memorable event ambiance.
Where to Find Princess Throne Chairs for Rent or Purchase
You have plenty of options for sourcing princess throne chairs. Here are some top places to rent or buy new and used thrones.
Party Rental Companies
Businesses that specialize in party rentals often stock an assortment of throne chairs for weddings, sweet sixteens, corporate functions and other celebrations. Search for a party rental company in your area to compare options for short-term rentals.
Kids' Furniture Stores
Retailers that focus on children's furnishings frequently carry pint-sized princess throne chairs ideal for playrooms. Shop in person to test chairs for quality and comfort.
Furniture Websites
Online companies like Overstock, Wayfair and Houzz are go-to sources for brand new princess throne chairs. Browse their massive inventories for the widest selection of styles and prices. Look for free shipping or easy in-store pickup.
Secondhand Sites
Score savings on gently used throne chairs through Craigslist, Facebook Marketplace, thrift stores and consignment shops. Vintage chairs found at estate sales or antique shops possess one-of-a-kind charm. Refinish and reupholster to customize finds.
Etsy
Talented artisans on Etsy create magical handmade princess thrones you won't find anywhere else. These chairs give you luxury custom style at reasonable prices. Message sellers for custom fabric and finish options.
How much do throne chair rentals cost? Rental costs vary but expect to spend $50-250 per throne chair for 1-3 days. Add fees for delivery, pickup, linens and accessories. Book well in advance for popular weekends.
Design Inspiration: Princess Chairs in Hotels and Event Spaces
Looking for ideas on incorporating princess chairs into larger designs? Some hotels and venues use thrones to great effect in their decor and staging.
Disney's Grand Floridian Resort
At Disney World, the Grand Floridian's lobby features a Victorian-inspired design, including ornate white princess chairs. The gilded chairs complement the lush floral displays and transport guests into a fairy tale. This is a sophisticated example of leveraging princess decor for an elegant, welcoming ambiance that all ages appreciate.
The NoMad London Hotel
The NoMad Hotel in London incorporates vintage-style upholstered princess chairs with cabriole legs throughout its dining spaces. Paired with etched glass partitions, floral tablecloths and drapery, the blue velvet princess chairs create a refined garden-party vibe. Their whimsical shape offsets the dining tables' straight lines.
The St. Regis Houston
For an outdoor wedding reception, St. Regis Houston placed blush princess throne chairs behind the head table, designating the place of honor for the bride and groom. Crystals, draping and floral arrangements further dressed up the chairs. This eye-catching setup made a gorgeous backdrop for the newlywed's first dance and cake cutting.
Buying Guide: How to Choose the Perfect Princess Throne
With so many enchanting options, how do you select your dream princess chair? Keep these tips in mind while shopping to find the throne that best fits your style, space and budget.
Set Your Budget
Princess chairs span a wide range of prices to suit various budgets. Inflatable kids' chairs cost less than $50 while hand carved showstoppers run over $2,500. Know your budget upfront so you can quickly narrow your options to what you can afford.
Consider Your Purpose
How will the chair be used? A delicate velvet chair won't hold up to rambunctious play. Prioritize stability and easy cleaning if it will get heavy use. Focus on comfort for reading spaces. Be sure outdoor chairs have weather-resistant materials.
Evaluate Size
Measure your space to ensure you choose a throne sized right for its purpose. Check product dimensions so you get the proportions you want. Allow ample circulation space around it. Size appropriately for kids vs adults. Ottomans can provide extra seating room.
Assess Construction
Study images and reviews to gauge sturdiness. Test chairs in person by shaking them gently. Avoid styles that seem flimsy or rickety. Seek stable wood frames, reinforced joints, strong upholstery and securely attached embellishments.
Princess Throne Chairs: How to Care for Your Royal Seat
Once you welcome a princess throne into your castle, you'll want to preserve its splendor. Follow these care tips to keep your regal chair looking fabulously fit for royalty.
Protect Fabrics
To avoid stains, keep plush velvet, brocade and silk fabric away from spills and messes. Spot clean accidents immediately with a mild cleaner safe for the material. Use furniture covers or remove cushions if kids will use the chair roughly.
Check Embellishments
Adornments like crystals, pearls and embroidery add allure but require gentle care. Use mild, chemical-free cleaners to avoid damaging delicate materials. Check regularly that embellishments are securely attached and repaired as needed.
Clean Carved Details
Over time, carved wood elements can collect dust and dirt in crevices. Use soft brushes and vacuum attachments to remove debris from carvings. Polish periodically with furniture wax to restore shine.
Avoid Direct Sunlight
Prevent fading by keeping your throne out of the direct sun. Bright light can damage and discolor fabrics, wood finishes and gilding. Place the chair thoughtfully or use curtains to filter intense light.
Fluff Cushions
Plump cushions regularly to maintain the throne's comfy shape and form. If flattened, set cushions upright overnight to re-fluff. Consider using foam inserts for extra longevity.
A touch of princely whimsy does the heart good. Princess throne chairs invite you to make every day feel extraordinary. Display one prominently as a shining focal point, or tuck it cozily into a reading nook. However you seat your inner royal highness, may your princess throne bring you days of enchantment.