How to Choose the Perfect Silver Bedroom Set with Lights
Silver bedroom sets with integrated lighting provide an opportunity to create a stylish and luxurious sleeping space. With the right silver furniture and lighting elements, you can design a glamorous and contemporary bedroom that makes a statement. But, how to choose the perfect silver bedroom set and complementary lighting to elevate your bedroom decor?
We'll explore what to look for in silver furniture, from beds and headboards to dressers, mirrors and nightstands. We'll also cover different lighting options like LED strip lights, color-changing bulbs, and sconces to illuminate your silver pieces. With the right information, we can select silver bedroom furniture and lights that will upgrade our space into a sophisticated oasis.
Choosing Silver Bedroom Furniture
Silver is a timeless metallic hue that can elevate any bedroom with its elegant and glamorous appeal. When selecting silver bedroom furniture, keep in mind how well it complements your existing decor. Silver pairs beautifully with several styles:
Modern
The sleekness of silver lends itself perfectly to modern design. It has a contemporary edge that works with minimalist spaces. Polished silver finishes on platform beds, angular dressers, and clean-lined nightstands embody modern chic.
Glam
Nothing says glamour quite like silver. It has an inherent touch of luxury and opulence. Silver epitomizes Hollywood glam when incorporated into tufted headboards, ornate mirrors, and crystal chandeliers.
Contemporary
The sheen of silver furniture gives contemporary rooms a sophisticated lift. Mix silver with other metallics like pewter and chrome for a trendy mixed metal look.
In addition to complementing these styles, silver bedroom furniture creates a cohesive and luxurious look. A focal silver headboard makes a stunning style statement. Matching nightstands and a dresser pull the look together into a complete silver suit.
When selecting individual silver pieces:
Look for quality construction and sturdy hardware in silver colored metal. Real wood finishes coated in metallic silver work beautifully.
Consider storage needs. A dresser with deep drawers and a nightstand with shelves to stow belongings are practical and chic.
Frameless mirrored silver furniture, like headboards and dressers, add light and the illusion of space.
Details like tufting, nailheads, and crystal knobs give silver furniture a glamorous allure.
Stylish Silver Beds with Lights
Illuminated silver beds create dramatic, eye-catching focal points in bedrooms. Lights integrated into the bed frame and headboard provide both function and glamorous style. Here are some lighting options and tips for silver beds:
LED Strip Lights – For ambient glow, install LED strip lighting along the interior frame of the bed. This creates a soft backlight effect. Going around headboards and footboards casts even illumination.
Under Bed Lighting – Underbed lights shine down to wash the floor around the bed in color-changing LEDs. This makes getting in and out of bed safer while setting a mood.
Remote Control – Look for color-changing LED strip lights with remotes. Wirelessly adjust colors from vibrant to soft and control brightness settings for the perfect ambiance.
Headboards – Choose a mirrored silver headboard and install LED lighting around the inside perimeter or behind. This makes the headboard gleam.
Command Attention – A grand, illuminated silver bed grabs attention. Place it centrally on a wall as a dramatic style statement. Add eye-catching details like crystal tufting.
Set the Mood – From bright and energizing to soft and romantic, adjustable lights allow you to set the perfect mood. Cool tones for focus and warm tones to unwind.
Focal Point – Draw the eye by making the bed a focal point. Surround it with complimentary silver and mirrored furnishings and decor.
Safety – Gentle LED floor lighting and strip lighting along staircases aid navigation at night for safe passage.
Thoughtfully designed and illuminated silver beds create an undeniably glamorous environment. The adjustable lighting ensures both function and style for the most eye-catching centerpiece.
Dressers, Nightstands, and More
Silver dressers, nightstands, and accent furniture complete a glamorous bedroom suite when coordinated thoughtfully.
Consider both cohesion and contrast when selecting pieces. Matching collections promote harmony while mixed metals and finishes add appealing texture.
Pulling It All Together
Choose dressers and nightstands in the same metallic silver finish as the bed for a cohesive look.
Consider mixing glass or wood pieces to add contrast against the silver.
Incorporate mirrored furniture to reflect light around the room.
Look for details like crystal knobs that complement each other.
Practical Storage & Display
Thoughtful storage and display options keep belongings organized while contributing to the elegant ambiance.
Opt for roomy drawers and cabinets for ample storage.
Lighted shelves in dressers and nightstands illuminate displayed treasures.
Charging stations in nightstands keep devices powered and ready.
Ambiance and Mood Lighting
Properly designed and placed lighting transforms any bedroom into a relaxing retreat. Here are tips for using illumination to set the perfect ambiance with silver bedroom sets:
Color Changing – Look for RGB, smart bulbs, and strips with remotes. Cycle through colors to energize or unwind. Cool hues promote focus while warm tones comfort and relax.
Accent Lighting – Strategically place directional lighting to highlight artwork, architectural details, furniture features, and more. Wall sconces frame beds. Picture lights showcase paintings. Strip lighting underneath a headboard provides alluring uplight.
Mood Lighting – Install dimmers for easy mood lighting control. Candlelight and firelight emulation promote romance. Bright task lighting aids productivity. Night lights provide a subtle ambiance.
Smart Technology – Control lights remotely when away to deter intruders. Set schedules and timers for automated ambiance at bedtime. Use voice controls for hands-free convenience.
Night Lights – Integrate low-level LEDs along staircases, hallways, and bathrooms. This aids safe navigation in the dark. Accent the bed with strips to find it at night.
Sconces – Mount adjustable silver sconces beside nightstands for reading. Flank the bed with matching sconces for symmetry. Use dimmable bulbs.
Designing Your Silver and Light Bedroom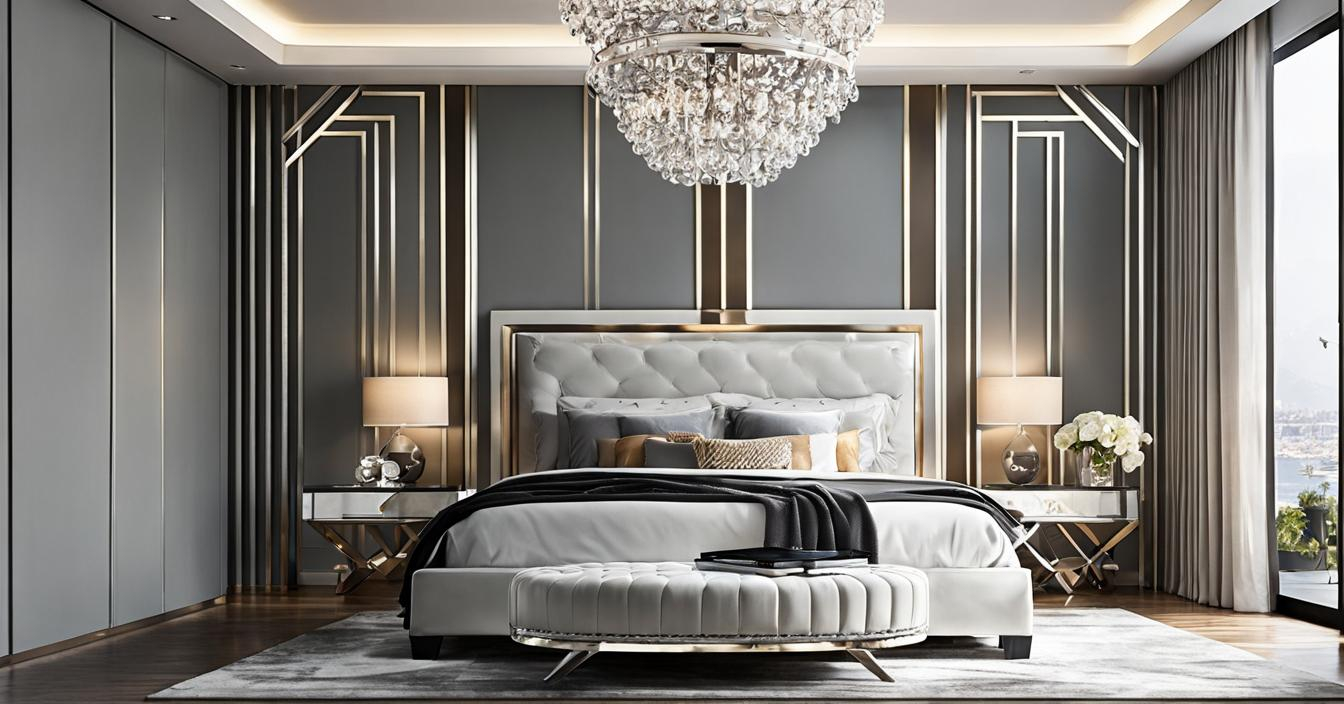 Careful planning and strategic furnishing create a reliably restful and undeniably glamorous silver and light bedroom retreat. Consider the following when designing:
Lighting Placement
Position bedside lamps and sconces to softly illuminate walking paths at night.
Spotlight focal points like artwork and mirrors with directional pictures or display lights.
Install overhead lighting and table lamps for an ambient glow for tasks like reading.
Investment Pieces
Focus budget on key silver elements with style and illumination:
Headboard – This makes a statement. Look for lighting, tufting, and detailing.
Bed Frame – Opt for integrated strips or under-bed lighting. Platform frames suit modern aesthetics.
Nightstands – Complement the bed with matching metallic stands featuring drawers, shelves and lighting.
Accents
Add mirrored furniture like dressers to reflect light.
Incorporate glass, crystal and metallic decor for shimmer.
Layer with rugs, bedding and art in coordinating cool tones.
Considerations
Silver requires careful cleaning to maintain its polished sheen. Avoid abrasive cleaners.
Silver finishes may show minor wear over time. Deeper scratches can be refinished.
Prefer warmer LED lighting to prevent a clinical look. Mix with lamplight.
By focusing on illuminated silver furniture as a foundation and thoughtfully layering complementary accents and lighting, you can craft a breathtaking silver and light bedroom sanctuary.